Konica Minolta Maxxum 5D SLR Review
Konica Minolta Maxxum 5D SLR Review
Bundled Software
The included DiMAGE Master Lite software provides an improved RAW data processing algorithm, ensures more accurate color reproduction, and provides a full range of retouching tools for image editing and fine-tuning, including the ability to remove the effects of dust on the CCD from RAW images.



DM features the same kind of thumbnail browsing as viewer plus it offers side-by-side comparison viewing when adjusting images.



Advanced RAW editing tools include Tone Curves and Exposure Compensation and Sharpening with very controllable Unsharp Mask options like Photoshop.



Complete control over Contrast, Color Balance, Hue, Saturation and Lightness.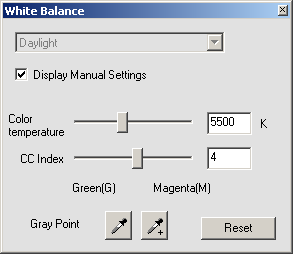 White Balance with selectable camera Presets, Kelvin temperature and Gray Point and Color Space control.



Advanced Color Filter and Effects as well as Dust Removal with a reference photo.



Output options for JPEG with selectable compression, 8 or 16-bit TIFF, BMP, PICT or PNG format.


Visitors of Steves can visit the stores below for real-time pricing and availability. You can also find hot, soon to expire online offers on a variety of cameras and accessories at our very own Camera Deals page.