Konica Minolta DiMAGE A200 Review
Konica Minolta DiMAGE A200 Review
Review posted 12/18/2004

Click on the DiMAGE A200 to take a QuickTime VR tour



Konica Minolta's DiMAGE A200 is a 8.0-megapixel high-performance digital camera that is perfect for all levels of photographic experience from advanced amateur to creative beginner. Equipped with Konica Minolta's Anti-Shake technology featuring a unique CCD-shift mechanism that offsets handheld shaking, it is easy to capture sharp images with the DiMAGE A200, even in low lighting and without the use of a tripod.
The camera's 2/3-inch CCD with 8.0 million effective pixels and the high-performance Konica Minolta 7x optical GT APO zoom lens combine to produce incredibly faithful smooth-toned colors. With its proprietary new advanced LSI engine and CxProcess™ III image-processing technology, the DiMAGE A200 provides high-speed and stress-free image processing with low power consumption. And, its ability to suppress noise and provide exceptionally accurate color reproduction means that users get high-quality images every time.
The A200's Anti-Shake internal stabilizing system is connected directly to a CCD sensor that quickly responds to camera shake, thus rendering sharper images in dim lighting as well as hand-held telephoto shots. Especially helpful when using the 7x optical zoom (28 to 200mm) for landscapes, close-ups, and at sporting events, the DiMAGE A200's Anti-Shake technology is activated with the simple touch of a button. Combined with its three focusing areas - wide focus area, 11-point selectable AF area, and flex focus point - the DiMAGE A200 ensures that photographic subjects are always in perfect focus.
The camera's vari-angle, TFT color LCD monitor can be rotated up to 270° vertically and 180° horizontally, allowing photographers unrestricted shooting at high and low angles. The included multi-functional wireless remote control makes it easier to take self-portraits and movies whenever and wherever. And, because the LCD provides high-speed, real-time viewing at 60 frames per second, there is minimal lag time between the on-screen display of moving images and the press of the shutter release, so there's no need to worry about missing a photo opportunity.
The DiMAGE A200 enables users to record movies in VGA mode (640 x 480 pixels at 30 frames per second) for smooth, true-color playback that rivals TV quality, and SVGA mode (800 x 600 pixels at 15 frames per second), which is ideal for viewing movies or movie stills on large PC screens. This gives users the freedom to choose the screen size and frame rate that suits their needs. Recording high-quality movies is even easier when the camera's Anti-Shake technology is enabled to minimize image blurring.
Images and movies can be stored on any capacity CompactFlash Type I or II card including IBM/Hitachi Microdrives. The camera outfit includes a rechargeable Li-ion battery pack and compact rapid charger. The DiMAGE A200 is PictBridge compatible so photo prints can be made directly via the camera's USB port with most modern photo printers that support the PictBridge standard.

DiMAGE A200 Features:
8-megapixel 2/3" CCD imager, still images up to 3264 x 2448 pixels
7x optical zoom, f/2.8 (28-200mm 35mm equivalent) with manual zoom and focus control rings
Anti-Shake image stabilization for sharp images at low shutter speed or long focal lengths
CCD-RAW, TIFF, RAW+JPEG, Extra Fine JPEG file modes
Lightweight body, professional black finish with a large rubberized grip
Program AE with Shift, Aperture priority, Shutter priority and Manual exposure modes
Scene modes: Portrait, Sports, Night Portrait/Night View, Sunset
Vari-angle TFT 1.8-inch color LCD with 134k pixels rotates 270° vertically and 180° horizontally
Color Viewfinder with 60fps refresh rate and gain-up in low-light, 235k pixels
Color modes: Natural (sRGB), Vivid (sRGB), Portrait (sRGB), Embedded Adobe RGB or B&W
Continuous capture @ 2.3fps up to five full size RAW images
Ultra High-Speed Continuous 10fps @ 640x480, up to 40 frames
Motion video: 800x600 @ 15fps, 640x480 and 320x240 @ 15/30fps with audio
Shutter speeds: 30 seconds to 1/3200 (30 - 1/1600 in S and M modes)
11-point AF area with 3-D Predictive Focus Control and Subject Tracking
Flex Focus Point, change the extra-wide AF area to a cross-hair spot focus point that can be moved to any of the 11 AF points
White balance: Auto, seven presets and two custom settings
ISO Sensitivity: Auto, 50, 100, 200, 400 and 800 equivalents
Up to 15 sec. audio memos can be added to still images
Exposure and White Balance Bracketing
Flash hot shoe for Minolta Program Flashes
Control of sharpness, contrast and color saturation
Popup flash with Advanced Distance Integration flash metering
Three metering modes: 256-segment, center-weighted and spot
Playback/QuickView with histogram feature
Data imprinting that records date, time and descriptive info on images
USB connectivity for easy image downloads
Rechargeable Li-ion battery pack and charger
Wireless remote control for capture and playback
PictBridge, Exif Print 2.2 and Epson PIM II compatible

The suggested retail price for the DiMAGE A200 is $799 and the camera is available now.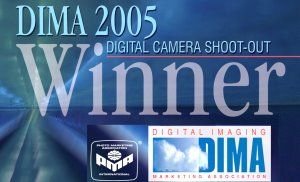 Winner of the Prosumer/Professional $600 to $999 category


Physical Views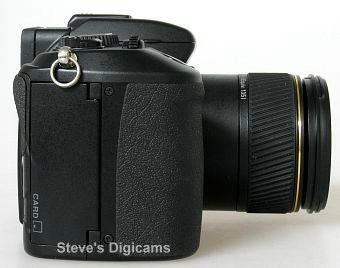 The DiMAGE A200 compared in size to a standard CD.


The 8-megapixel Olympus C-8080 Wide Zoom and the DiMAGE A2.





The 8-megapixel DiMAGE A200 and the Olympus C-8080 Wide Zoom.
Visitors of Steves can visit the stores below for real-time pricing and availability. You can also find hot, soon to expire online offers on a variety of cameras and accessories at our very own Camera Deals page.