Konica Minolta DiMAGE A2 Review
Konica Minolta DiMAGE A2 Review
Features & Controls
Perhaps the most impressive and noticeable feature of the DiMAGE A2 is the big 7x Minolta GT zoom lens. It's comprised of 16 elements in 13 groups, including two AD glass elements and two aspheric surfaces. The 7.2mm - 50.8mm (28mm - 200mm in 35mm format), f/2.8-f/3.5 APO lens is stabilized with an Anti-Shake system.
Konica Minolta's Anti-Shake function gives users a highly effective way to shoot high quality hand-held telephoto shots as well as dim light photography. Users can expect better images in low light conditions without relying on a higher ISO setting or a tripod. The DiMAGE A2 features a proprietary CCD-shift mechanism to stabilize images by offsetting the shaking pattern of the user's hand. This gives unrivaled stability at up to 3 shutter speeds slower than on digital cameras without an Anti-Shake function. This Anti-shake technology can offset two kinds of shaking - high frequency shaking of muscles and low frequency shaking of the body.

The DiMAGE A2 features an 11-point AF area 3D autofocusing system (1.5x faster than DiMAGE A1) using Minolta's new 3-D Predictive Focus Control to track the subject from when the shutter-release button is pressed all the way down until the exposure is made. Subject Tracking AF uses the 3-D Predictive Focus Control system to lock on to and track a subject as it moves through the frame.
It has an autofocus range (from the CCD) of 1.6 feet (0.5m) to infinity in normal mode. It can be set for wide angle macro with a range of 9.8" - 23.6" (30-60 cm) or telephoto macro which has a range of 11.8" - 23.6" (25-60 cm).
The wide-area AF system with Flex Focus Point which changes the extra-wide focus to a cross-hair spot focus point that can be moved to anywhere desired within the image frame. The Auto Focus mode control is on the side and has positions for Single-AF, Continuous-AF and Manual Focus. The Macro focus switch is on the lens barrel.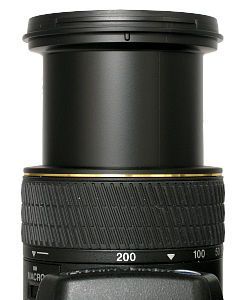 Just like a 35mm SLR, the zoom lens is controlled manually by turning a rubberized ring on the barrel. This gives the user total control over the focal length selected and also saves precious battery power.
Filters and add-on lenses can be attached with the 49mm threads provided on the end of the lens. The included "petal" lens shade attaches via a bayonet type mount.



Focus can adjusted manually via a ring near the base of the lens for those times when the photographer wishes to be in complete control. The A2's DMF (direct manual focusing) feature lets you manually adjust the focus without leaving auto focus mode. The screen can be magnified 2X or 8X to aid in critical focusing.



The Super Fine electronic viewfinder (EVF) is sharp and clear thanks to a high-density, VGA-resolution. The viewfinder operates in one of two modes depending on how it is configured in the menu:
(1) High-Precision mode (30 frames per second), which allows for very precise adjustments to focusing and frame composition by utilizing the high resolving power of the 30 frames per second rate. It is incredibly precise for adjusting manual shots like macros and portraits that require very careful focusing. Focusing is simple and accurate, without the need to enlarge the image.

(2) Smooth mode (60 frames per second), which increases the frame rate to half that of the image resolution. The high frame rate makes the viewfinder extremely easy to use, especially when shooting moving targets such as school sports, athletic competitions, and major sporting events.
The EVF has a diopter adjustment and a large and comfortable rubber eyecup that works well even when wearing eyeglasses. Both the EVF and LCD offer the user a 100% field of view coverage. To save power, the automatic Eye-start feature turns on the EVF only when your eye is up to the viewfinder.

The variable-position viewfinder can be tilted upwards to a maximum of 90°. In low-light situations the EVF amplifies the video signal so you can properly frame the shot. The display goes black & white but the image is captured in full color.

Whatever you see on the color 1.8-inch, 118,000 pixel LCD can also be viewed on the EVF by simply flipping the display control switch. The Auto-EVF setting will automatically switch the signal from the LCD to the EVF when you put it up to your eye.
Any part of the LCD monitor image can be enlarged with the Flex Digital Magnifier function to precisely check the manual focus adjustments or direct manual focus. The magnification level is 3.3x, and while the monitor image is magnified the user can scroll in any direction to check any part of the frame.

And the color LCD can be tilted down to -20° or upwards to 90° as needed.
The builtin pop-up flash offers Fill-flash, Red-eye reduction, Rear flash sync, Wireless / Remote flash modes, it recycles in approximately 5 seconds. The DiMAGE A2 features ADI (Advanced Distance Integration) flash exposure or you can select the Pre-flash TTL mode.

Using the dedicated hot shoe flash connector you can attach the Minolta Maxxum Program Flash 5600 HS, 3600 HS (which offer auto power zoom, wireless/remote off-camera flash, and test flash) or the economical 2500(D) flash. The Macro Twin Flash 2400 provides flexible lighting for nature macro photography while the Macro Ring Flash 1200 offers shadowless lighting, ideal for medical and scientific use.



Compatibility with external flash units
Program / Maxxum
Flash 2500 (D)
Program / Maxxum
Flash 3600HS (D)
Program / Maxxum
Flash 5600HS (D)
Macro Twin
Flash 2400

Macro Ring
Flash 1200
Program Reset
Yes
Yes
Yes
Yes
ADI Flash Metering
Yes
Yes
Yes
N/A
Auto Power Zoom
N/A
Yes
(Set to an angle wider than focal length converted in 35mm format)
Yes
(Set to an angle wider than focal length converted in 35mm format)
N/A
Ratio Flash (Auto)
No
No
No
N/A
High-speed Sync
No
Yes
(up to 1/16000 seconds)
Macro Twin: No
Macro Ring: Yes
(up to 1/8000 seconds)
Wireless High-speed Sync
No
Synchronization with all shutter speeds.
(However, flash operation remains normal when set to high-speed sync.)
N/A
Slow-shutter Sync
Yes
Yes
Yes
Yes
Wireless Controller Flash
N/A
N/A
No
N/A
Wireless / Remote Flash
No
Yes
Yes
No
Modeling Flash
N/A
N/A
Yes
Yes
Multiple Flash
N/A
N/A
Yes
N/A
Manual Flash Control
N/A
N/A
Yes
Yes
AF Illuminator
No
No
No
N/A
Flash Indicator
Yes
Yes
Yes
Yes
The DiMAGE A2 is also equipped with a standard PC flash sync port for connecting any type of external flash equipment including studio strobes.
Visitors of Steves can visit the stores below for real-time pricing and availability. You can also find hot, soon to expire online offers on a variety of cameras and accessories at our very own Camera Deals page.