Kodak V570 Review
Review Posted 2/18/2006

Click to take a 360-degree QTVR tour of the V570


The EASYSHARE V570 is the world's first dual-lens digital still camera, the elegant V570 camera wraps an ultra-wide angle lens (23 mm) and an optical zoom lens (39 - 117 mm) into a small, sleek package less than an inch thin. The innovative ultra-wide angle lens coupled with the 3x optical zoom lens provides you with more options to help capture the perfect shot - group photos, scenic landscapes, dramatic portraits, and close-ups.
In addition to its dual lens design, the 5-megapixel V570 camera boasts a variety of notable features to enhance the photography experience, including in-camera panorama stitching, which automatically combines two or three pictures into a panorama photograph. Using the ultra-wide view in panorama scene mode, people can take in a 180-degree vista with just three shots - an industry exclusive.
The V570 camera records TV-quality video, up to 30 frames per second (fps) using advanced MPEG-4 compression. Built-in image stabilization technology reduces on-screen shaking from unintentional hand and camera movement. The camera also offers an optical zoom feature for video including auto focus. And it's simple to select any frame in a video, then save and print it as a "freeze frame" still picture in just seconds.
The included Photo Frame Dock 2 provides one-touch picture transfer to a connected computer while keeping the cameras' high-capacity lithium-ion battery charged and ready to go, and which can play video and photo slideshows on the camera's high-resolution LCD screen;
Other features of the V570 include a big, brilliant 2.5-inch, high-resolution color LCD screen. The exclusive KODAK Color Science image processing chip for phenomenal image quality with rich color, accurate skin tones, low noise and precise exposure. Automatic red-eye reduction, on-camera cropping, picture blur alert and auto picture rotation. In-camera distortion correction to compensate for ultra-wide angle fish-eye effects, which can be turned on or off. Twenty-two scene modes plus three color modes, helping snap shooters capture the best possible shot with the least possible effort.
The KODAK EASYSHARE V570 camera includes KODAK EASYSHARE software for WINDOWS and MACINTOSH systems, providing effortless digital picture organization, editing, sharing and printing - and even CD and DVD burning. Kodak also makes it easy to accessorize the new V570 camera with a range of products that help show off your pictures. For instance, the popular KODAK EASYSHARE Printer Dock Plus Series 3 (US$179 MSRP) makes it one-touch simple to print real KODAK pictures at home in just 60 seconds - with or without a computer.
Kodak V570 Features:
5.0 megapixel (effective) CCD for prints up to 13 x 19 inches
Super-slim metal alloy body, less than an inch thick
Two SCHNEIDER-KREUZNACH lenses; 23mm ultra-wide and a 3x optical zoom with 39-117mm coverage (35mm equivalent)
KODAK Color Science image processing technology for proper exposure, white balance and color saturation
Indoor/Outdoor 2.5-inch Wide-view color LCD display with 230,000 pixels
640x480 MPEG-4 movie mode, 30fps with audio, up to 80 minutes
Auto, Portrait, Movie and 22 Scene exposure modes
Multi-zone AF and Center Zone AF with focus-assist lamp
In-camera red-eye removal, distortion correction and panorama stitching
TTL Metering: Multi-pattern, Center-weighted or Center Spot
Selectable ISO sensitivity: Auto, 64, 100, 200, 400, 800 (1.8MP only)
Built-in multi mode flash
Customizable startup sound themes and camera sound effects
32MB internal memory + removable SD card storage
Rechargeable Li-ion battery and Photo Frame Dock 2 included
Auto-Connect USB for hassle-free downloads
Imagelink and PictBridge compliant for direct printing
Compatible with optional Easyshare Printer Dock Series 3
The KODAK EASYSHARE V570 zoom digital camera with Photo Frame Dock 2 will be available worldwide beginning later this month for US$399 (MSRP).

Physical Views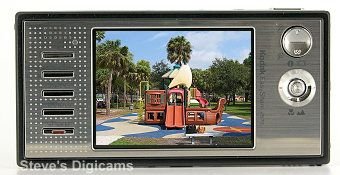 The Easyshare V570 compared in size to a CD.


The Casio EX-S500 and the Easyshare V570.
Kodak V570 Specifications
CCD resolution
(effective pixels) 5.36 MP (2690 × 1995)
Image resolution
(recorded pixels) 5.0 MP (2569 × 1929)
Picture quality
5.0 MP for prints up to 20 × 30 in. (50 x 75 cm)
4.4 MP optimized ratio for 4 × 6 in. (10 × 15 cm) prints
4.0 MP for prints up to 20 × 30 in. (50 × 75 cm)
3.1 MP for prints up to 11 × 14 in. (28 × 36 cm)
1.8 MP for small prints

Still format
JPEG/EXIF v 2.21
Lens
SCHNEIDER-KREUZNACH Lenses; RETINA Dual Lens Technology: ultra wide-angle lens (23 mm equiv.) plus 3X optical zoom lens (up to 117 mm equiv. telephoto) system. Provides 5X optical zoom range 23 mm-fixed (35 mm equiv.) f/2.8 39-117 mm (35 mm equiv.) f/3.9-f/4.4
Advanced digital zoom
4X advanced digital zoom, total zoom range 20X
Aperture
ultrawide: f/2.8
3X zoom lens: f/3.9 at wide, f/4.4 at tele

Shutter speed
8-1/1448 sec.
LCD
2.5 in. (6.35 cm) high resolution (230K pixels) indoor/outdoor color display with wide viewing angle
Scene modes
portrait, panorama stitch, sport, landscape, close-up, night portrait, night landscape, snow, beach, text, fireworks, flower, manner/museum, self-portrait, party, children, backlight, panning shot, candlelight, sunset, custom
Color modes
high color, natural color, low color, sepia, black and white
Burst mode
2.3 fps, maximum 4 images in any quality mode
Click to capture
0.2 sec. (ultrawide lens/preview on)
0.3 sec. (3X zoom lens/preview on)

Shot to shot
1.0 sec.
Video mode
continuous MPEG-4 compressed video with audio capture and playback
Video resolution
VGA (640 × 480 pixels) at 30 fps, QVGA (320 × 240 pixels) at 30 fps
Video length
continuous up to 80 min. based on memory capacity
Video features
3X zoom during video with digital image stabilization and auto focus; video print options including 4, 9, or 16 multi-up pictures; split video on-camera editing
Video format
QUICKTIME
Auto focus
TTL-AF, multi-zone AF, center zone AF
Auto focus control
single AF, continuous AF
Focus range
ultrawide: 2.6 ft (0.8 m)-infinity
standard: 2 ft (0.6 m)-infinity
macro, wide: 2-2.3 ft (0.05-0.7 m)
macro, tele: 1-2.3 ft (0.30-0.7 m)
landscape: 32.8 ft (10 m)-infinity

Sensitivity
ISO equivalent 64-160 (auto) and 64, 100, 200, 400, 800* (manual)
White balance
auto, daylight, tungsten, fluorescent, open shade
Exposure metering
auto: TTL-AE; selectable: multipattern, center- weighted, center-spot
Exposure compensation
±2.0 EV with 0.3 EV steps
Long time exposure
0.5-8 sec.
Histogram display
display on live view and review
Built-in flash
auto, off, fill, digital red-eye reduction
Flash range
ultrawide, ISO 200: 2.6-10.2 ft (0.8 m-3.1 m)
wide, ISO 200: 2-7.2 ft (0.6-2.2 m)
tele, ISO 200: 2-6.6 ft (0.6-2.0 m)

Review options
1X-8X magnify with pan, fast scroll, multi-up, slide show, album, picture info, erase, protect, crop, copy, image storage, Share/print, view by, and Favorites
Editing
on-camera cropping, digital red-eye reduction, blurry image detection
Favorites
on-camera picture storage
Dedicated buttons
power, shutter, still/SCN, movie, Favorites, flash, delete, menu, review, and Share
Sound
selectable sound themes: default, jazz lounge, secret agent
Auto picture rotation
on, off, on transfer
Software
works with KODAK EASYSHARE Software
Storage
32 MB internal memory** available, SD/MMC card expansion slot
Self-timer
10 seconds
Dock compatibility
works with optional KODAK EASYSHARE Photo Printer 500, KODAK EASYSHARE Printer Dock Plus series 3, KODAK EASYSHARE Printer Dock series 3, and KODAK EASYSHARE Camera Dock series 3***
IMAGELINK Print System compatible
yes
PICTBRIDGE enabled
yes
I/O interface
A/V output (NTSC or PAL, user-selectable), exclusive KODAK Camera Dock/Printer Dock interface, digital (USB 2.0) connector
Power
KODAK Rechargeable Lithium-Ion Digital Camera Battery KLIC-7001
Lens protection
built in lens barrier
Tripod mount
1/4 in. standard
Weight
without batteries: 4.5 oz (125 g)

Dimensions
W × H × D: 4 × 2 × .8 in. (101 × 49.8 × 20.4 mm)

Specifications are as represented by the manufacturer.
Visitors of Steves can visit the stores below for real-time pricing and availability. You can also find hot, soon to expire online offers on a variety of cameras and accessories at our very own Camera Deals page.