Kodak LS753 Review
Features & Controls
The LS753 is equipped with a Schneider-Kreuznach Variogon f3.0 - f8.5 2.8X optical zoom lens with a focal range of 36 - 100mm (35 mm equivalent.) To further extend the focal range there is a 3.6x digital zoom. When powered down the lens automatically retracts into the camera and is protected by a built-in lens cap.
The autofocus range is 60 cm (23.6 in.) to infinity in normal mode and in macro mode it covers 5 - 100cm (2 - 39in.) at wide angle and 30 - 100cm (12 - 39in.) at telephoto.



The built-in flash has Auto, Fill and Red-eye reduction modes and a useable range (at ISO 140) of 0.6 - 3.0m (2.0 - 10.0ft.) in wide angle and 0.6 - 1.8m (2.0 - 5.9ft.) in telephoto.



You can frame your pictures with the color LCD or to save battery power you can use the optical eyelevel finder. It has no dioptric adjustment. The LED on the side indicates power, flash and autofocus status.



The 1.8-inch color LCD can be used for preview, review and menu operations. The refresh rate when used as a live viewfinder is real time (30fps). This is a Indoor/Outdoor color LCD that is much easier to see in bright sunlight. On the top right is the 4-way "joystick" selector with the Zoom control mounted around it. The 4-way selector is used to navigate menus and accept selections by pressing it inwards, it also controls the LCD (On or Off), in Review mode pressing "Down" will bring up the index view and pressing inwards will magnify the image up to 4x. Along the right side of the LCD, you can see that the usual mode dial has been replaced with a "Camera Mode" display. You can select the desired mode by rotating the jog dial located on the top (shown below), and then pressing it inwards to set the record mode.
Buttons along the left side of the LCD: The Delete button is used to erase images, Menu calls up or dismisses the onscreen menu system, Review puts the camera in Playback mode, and the Share button is used to quickly print or transfer images.



On top is the Power button, FLASH mode button (Auto, Red-Eye, Fill and Off) and the shutter release button. In front on the shutter release is the jog dial (described above.) You can also see the built-in speaker, located in the center.




The LS753 has a DC IN port for an optional AC adapter, an Audio/Video Out (user- selectable NTSC or PAL) port and a USB 1.1 port works with the Kodak EasyShare Software to make image downloading fast and easy even without the use of a EasyShare Dock.



On the bottom you will find the tripod mount and the dedicated multi- function (Kodak EasyShare Dock 6000 terminal) connector for use with either of the EasyShare Docks.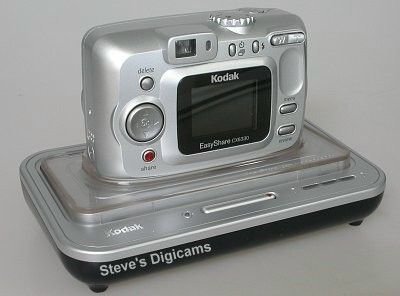 The optional EasyShare 6000 Camera Dock, place the camera in the dock to quickly and easily download your images to the PC, display them on a TV and charge the camera's batteries.






The second-generation Kodak EasyShare Printer Dock (about $149) is the simplest way to get real, waterproof KODAK photos at home with the touch of a button -- in as little as 90 seconds. It performs all the same functions as the EasyShare 6000 Camera Dock, plus it's a high quality 4x6- inch dye sublimation printer. All you need to do is select a picture on the camera's LCD and press the PRINT button, no computer needed. There is also a second Kodak 2100 mAh Ni-MH rechargeable battery pack included, that can used with any EasyShare camera that uses AA-type batteries.
It also incorporates PictBridge technology for connecting to multiple brands of digital cameras, an optional external memory card reader, and a dedicated multi-function connector for Kodak EasyShare (CX, DX, LS) 600/6000 and 700/7000-series digital cameras. All connection options allow direct 4 x 6- inch thermal picture printing (full size and multiple images per sheet) with or without a computer.



The LS753 comes with 32MB of internal memory and is equipped with an expansion slot that accepts any capacity Secure Digital (SD) or MultiMedia card (MMC.) Images and movies can be copied to/from both the internal memory and SD/MMC card.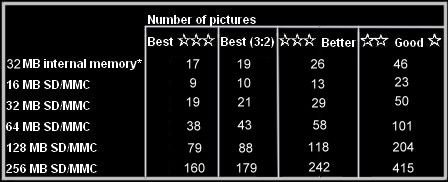 Power is supplied by a proprietary 3.7v 1050mAh lithium rechargeable battery pack and the included Kodak Li-Ion Rapid Battery Charger. It takes less than two hours to charge a fully depleted battery pack. Kodak claims a useful battery life of 200-250 shots with minimal use of the color LCD and flash.
Visitors of Steves can visit the stores below for real-time pricing and availability. You can also find hot, soon to expire online offers on a variety of cameras and accessories at our very own Camera Deals page.