Kodak LS420 Review
KODAK
EasyShare LS420
Review posted 5/3/2002

Click to take a 360-degree QTVR tour of the LS420


The latest entry in the Kodak EasyShare system is the LS420, a highly compact 2.1 Megapixel camera housed in a sleek and stylish, silver colored metallic body. Equipped with a 38mm (35mm equivalent) all-glass lens with a continuous 3x digital zoom. It captures 1752 x 1168 pixel still images in Best mode or 876 x 584 pixel images in Good mode. It can also record 320 x 240 or 160 x 120 motion video with audio at 19fps in standard QuickTime movie format.
The 1.6-inch color LCD monitor can be used for live preview or review as well as for accessing the camera's menu system. A small "joystick" control on the back lets you easily navigate the menu and make selections. To conserve battery power there is also an eyelevel optical viewfinder for framing your shots like a regular film camera. The pocket-size LS420 stores its images and movie clips in the camera's 8MB of internal memory or on optional SecureDigital (SD) or MultiMediaCard (MMC) flash memory cards. Image data can be copied to/from the internal memory and the flash card.





The LS420 comes with this EasyShare Digital Camera Dock, it automatically charges the camera's battery and connects it to the host computer's USB port for easy transfer of pictures and movies. Using the Kodak Picture Software you can print pictures by simply pressing the PRINT button on the camera.




Physical Views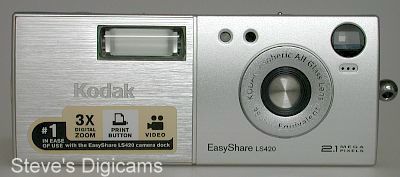 The LS420 compared in size to a CD.
Kodak LS420 Specifications

CCD resolution
2.3 megapixel
image resolution
2.1MP
(1752x1168 pixels)
image quality
2.1MP (best)1752x1168,
0.5 MP (good) 876x584
optical lens
38 mm (35 mm equiv.), f/3.9
digital zoom
3.0X continuous digital zoom in 0.1X increments
focus distance
Focus Free: 0.8m (29 in.) to infinity
exposure control
automatic
shutter speed
automatic (1/2 to 1/1200 seconds)
flash range
0.8 - 2.5m (2.6-8.2 ft.),
quenched, charge time
7 sec. max.
flash mode
automatic, fill, red-eye, night shot, off
ISO equivalent
100 - 200 (automatic)
white balance
automatic
file format
JPEG/EXIF 2.2
user interface
controls
power, shutter, menu, joystick with center select, flash/print
movie mode
audio recording during capture, no audio playback on camera
movie length
unlimited, based on memory size, 5 sec., 15 sec., 30 sec. settings
movie image
resolution
best: 320x240 at 19.1 fps,
good: 160x120 at 19.1 fps
microphone
built in
file format
QuickTime
viewfinder
optical viewfinder
LCD
40.6 mm (1.6 in.) transmissive D-TFD color
software
KODAK Picture Software
storage
8MB internal memory (approximately 49 images in good quality setting or 12 images in highest resolution setting; approximately 35 sec. of video in highest resolution setting)
optional storage
Expansion slot for optional removeable MMC/SD card
interface
KODAK EASYSHARE LS420 Camera Dock
video out
NTSC, PAL (user-selectable)
tripod mount
standard
self timer
10 seconds
power
Kodak EasyShare lithium ion rechargeable battery
camera specs
weight with battery: 160g (5.6 oz.)
dimensions
WxHxD: 109x45.5x28.5 mm
(4.3x1.8x1.1 in.)
dock specs
weight: 75g (2.7 oz.)
dimensions
WxHxD: 139.5x35.2x59.1 mm
(5.5x1.4x2.3 in.)


System Requirements
Windows:

WINDOWS 98, 2000, Millennium Edition, or XP
Personal computer with 200 MHz processor or greater
48MB RAM available (64MB RAM for WINDOWS XP)
270MB hard drive disk space available
CD-ROM drive
Available USB port
Color monitor, 800x600 pixels (16-bit or 24-bit recommended)



Macintosh:

POWERMAC System
Macintosh OS 8.6/9.x/X *128MB RAM for OS X (64MB RAM for OS 8.6/9.x)
64MB RAM for OS X (64MB RAM for OS 8.6/9.x)
100MB hard drive disk space available
CD-ROM drive
Built-in USB port
Color monitor, 800x600 pixels (thousands or millions of colors recommended)



Package Contents

KODAK EASYSHARE LS420 Digital Camera
KODAK EASYSHARE LS420 Digital Camera Dock
KODAK EASYSHARE lithium ion rechargeable battery
Camera carry case
5 volt AC adapter
Video out cable
USB cable
Neck strap
KODAK Picture Software CD
Documentation



* Free Kodak software upgrade fully enables the print-tagging button for Macintosh OS X. Visit www.kodak.com/go/easyshare for more information.

NOTE: These Specifications are as represented by the manufacturer.































Visitors of Steves can visit the stores below for real-time pricing and availability. You can also find hot, soon to expire online offers on a variety of cameras and accessories at our very own Camera Deals page.