Kodak DX4330 Review
Kodak DX4330 Zoom
Part of the EasyShare System
Review posted 9/24/02

Click on the DX4330 Zoom for a QTVR tour



The DX4330 is the first camera to debut Kodak's new 1.8" Indoor/Outdoor LCD display for effortless viewing even in bright sunlight. The powerful, 3.1 Megapixel DX4330 features a premium Kodak Retinar aspheric all-glass 3X optical zoom lens and produces photo-quality prints up to 11" x 14". It offers high-performance features including a user-friendly dial that gives fast access to various scene modes such as close-up, landscape, sport, night or fully automatic.
Other features of this new model include continuous capture of video and sound - limited only by the size of the memory card. Automatic picture rotation feature ensures that pictures always appear right side up on the camera, computer or TV. The DX4330 will not miss "the shot" because it is always ready to snap a picture even when the camera is not in the capture mode. It comes with 16MB of internal memory and consumers can expand their picture-taking capacity with MultiMediaCard or Secure Digital memory cards via the expansion slot.
The Kodak EasyShare DX4330 will be available worldwide in early September at a suggested retail price of $349.95.

DX4330 Zoom Features
3.1 megapixel CCD for images up to 2160x1400 pixels
3X optical zoom 38 mm - 114 mm
3.3X Advanced Digital Zoom
Program AE, Macro, Landscape, Sport, Night and Movie modes
Multi-Zone Auto Focus
Shutter speeds: 1/2 to 1/1700 sec (automatic)
Long time exposure up to 4 seconds, manual control
ISO equivalent of 120-200 (automatic)
Movie capture with audio
New 1.8" Indoor/Outdoor color LCD display
Automatic orientation sensor rotates portrait mode shots
Internal 16MB of memory for image storage
Optional removable SecureDigital or MMC card storage
Powered by 2 AA size lithium, NiMH or 1 CR-3V lithium
Video Out (NTSC or PAL selectable)
Optional EasyShare Camera Dock II with rechargeable NiMH battery pack




The new Kodak EasyShare camera dock II addresses two of the biggest objections to digital cameras: easy connection and battery charging.

Once the camera is placed in the dock, pictures are automatically uploaded to the computer and the dock recharges the camera's battery pack. The system also includes software that allows users to connect to the Internet to e-mail or print their pictures.

Using Kodak Picture Software, the EasyShare system makes digital picture taking and sharing one-button simple. Features of the system include:
Fast Picture Transfer: At the touch of a button, the camera dock automatically transfers the pictures into the computer within seconds, avoiding the need to fuss with connecting cables or load memory cards into reading devices. Consumers no longer face a mystery of how to get their pictures out of the digital camera.

Easy Picture Sharing: The Kodak Picture Software incorporated into the EasyShare system lets you simply e-mail or print your favorite pictures. A few more clicks, and you can also edit and enhance them.

Simple Picture Management: The system lets you organize your pictures automatically in folders the way you want them: by date, name or event. It also lets you automatically delete all pictures on the camera after they are transferred to a computer, readying the camera for more picture taking.

Convenient Battery Recharging: The camera is powered and recharged in the dock in less than two and a half hours, or half the time required by competing chargers.
Physical Views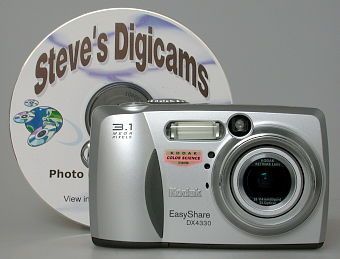 The DX4330 compared in size to a standard CD disc


The DX4330 and its 2-megapixel sibling the CX4230
Kodak DX4330 Zoom Specifications
CCD resolution
3.3 megapixel, 3.1 megapixel effective
image quality/size
3.1MP - best 2160x1400 (print, enlargement)
2.2MP - better 1800x1200 (small print)
0.8MP - good 1080x720 (e-mail)
aperture
f/2.8, f/5.1
optical zoom lens
3X optical (38mm - 114 mm)
digital zoom
3.3X Advanced Digital Zoom
focus distance
0.7m (2 ft.) to infinity
macro mode
.07-.7m (2.8-28 in.)
lens protection
lens cap tethered to body
exposure control
multi-pattern TTL/AE with program modes (auto, macro, landscape, sport, night, movie)
shutter speed
1/2-1/1700 sec.
flash mode
automatic, fill, red-eye, off
flash range
0.6-3.4m (2.0-11 ft.)
ISO equivalent
automatic (120-200)
magnify
2X and 4X in review
white balance
automatic
sharpness
automatic
multi-zone AF
automatic
matrix metering
automatic
LCD
45.6 mm (1.8 in.) Indoor/Outdoor display
scene modes
standard, landscape, night, sports, macro
movie capture
video and audio capture and playback on camera
exposure compensation
+/-2 in 0.5 stop increments
long time exposure
up to 4 seconds
storage
16MB and MMC/SD removable card slot
file format
JPEG/EXIF v2.2
capture mode
automatic - always ready
auto-orientation
on-camera picture rotation
delete
dedicated delete button
viewfinder
real-image viewfinder
software
Kodak EasyShare software
interface
USB, Kodak EasyShare camera dock compatible; audio/video connectors
video out
NTSC, PAL (user-selectable)
DC in
DC-in jack on side of camera for 3V adapter
tripod mount
1/4 in. standard
self-timer
10 seconds
power options
optional camera dock with Ni-MH rechargeable battery pack (in-camera charging); 2AA lithium or Ni-MH batteries or 1 CRV3 lithium battery, 3-volt adapter
weight
without batteries 210 g (7.4 oz.)
dimensions
WxHxD: 110.5x66x39 mm (4.4x2.6x1.9 in.)
warranty
one year

System Requirements
Windows:

Windows 98, 2000, Millennium Edition, or XP OS
233 MHz processor or greater
64MB RAM available (128MB RAM for Windows XP)
200MB hard drive disk space available
CD-ROM drive
Available USB port
Color monitor, 800x600 pixels (16-bit or 24-bit recommended)

Macintosh:

PowerPC based Macintosh computer
Macintosh OS X (OS 8.6/9.x - Share button functions not supported - OS X is recommended for full functionality)
128MB RAM for OS X (64MB RAM for OS 8.6/9.x)
200MB hard disk space available
CD-ROM drive
Built-in USB port
Color monitor, 800x600 pixels (thousands or millions of colors recommended)


Package Contents

Kodak EasyShare DX4330 zoom digital camera
CRV3 lithium battery or equivalent
Video out cable
USB cable
Wrist strap
Lens cap with strap
Kodak EasyShare software CD
Documentation
Custom camera insert for optional Kodak EasyShare camera dock
Visitors of Steves can visit the stores below for real-time pricing and availability. You can also find hot, soon to expire online offers on a variety of cameras and accessories at our very own Camera Deals page.