Kodak CX7530 Review
Features & Controls








The CX7530 is equipped with a high-quality Kodak Rectinar 3X optical zoom lens with a focal range of 34 - 102mm (equivalent in 35mm format). The aperture range is f/2.7 - 5.2 in wide angle and f/4.6 - 8.7 in telephoto.

The autofocus range is from 60 cm (24 in.) to infinity in Normal mode and Macro mode covers from 13 - 70 cm (5.1 - 28 in.) at wide angle; 22 - 70 cm (9 - 28 in.) at telephoto. The auto focus is Multi-zone and low light capable. There is no focus-assist illuminator.






The optical viewfinder is large and bright with framing marks and autofocus target, it does not have dioptric adjustment. The LED on the side indicates power, flash and autofocus status. The color LCD is automatically turned on when you switch the camera into macro mode to avoid parallax problems with the optical finder at close range.



The built-in flash has modes for auto, fill, red-eye and forced off. The flash working range in Wide: 0.6 - 3.6m (2 - 11.8ft.); Tele: 0.6 - 2.1m (2 - 6.9ft.)







The 1.8-inch color LCD can be used for preview, review and menu operations. The refresh rate when used as a live viewfinder is real time (30fps) but it does get a little grainy in low light conditions. This is an indoor/outdoor type display.

The controls: Across the top is the Drive button to select selftimer, single or burst mode. The Flash button cycles through the Auto, Red-Eye, Fill and Off modes. Top right is the Zoom control buttons, which also act as the magnify function in playback. Delete is used to erase images during review. Menu calls up and dismisses the onscreen menus. Review puts the camera into playback mode. The Share button lets you select images for printing, e- mailing, or to tag as Favorites.

Navigating the menus is simple, just use the 4-way controller to move up and down through the selections and accept a setting by pressing it inward. Pressing it inwards in Review mode, allows you to magnify an image up to 4x. Pressing down in Review mode brings up the Multi-up (index) page. The record and play menus are detailed on the next two pages of this review.






On the top you will find the Shutter release button and the handy Mode Dial. The Mode Dial has positions for: Off, Auto, Portrait, Sport, Night Portrait, Landscape, Close-up, Movie, and Favorites.



I/O ports are located on the side in the SD/MMC compartment.The Audio-Video Out has user-selectable formats for NTSC or PAL. The USB port works with the Kodak EasyShare Software to make image downloading fast and easy even without the use of one of the optional EasyShare Docks.



The CX7530 comes with 32MB of internal memory and is equipped with a SD/MMC card slot that accepts any capacity SD or MMC flash card.

Shown here with the spacious and speedy SanDisk Ultra II 512MB SD card.



Power is supplied by two AA-type batteries or one CR-V3 lithium pack. Kodak supplies two Oxy-Alkaline one-use batteries with the camera. This means you can use alkaline or photo lithium one-use AA's, NiMH rechargeable AA cells, one-use CR-V3 or RCR-V3 rechargeable lithium batteries (the latter being my personal choice for power and economy.)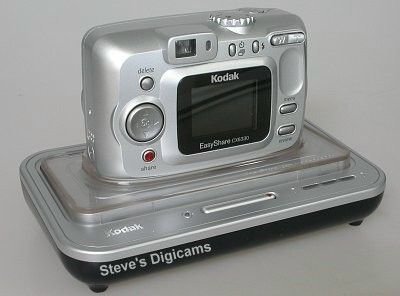 The optional EasyShare 6000 Camera Dock, place the camera in the dock to quickly and easily download your images to the PC, display them on a TV and charge the camera's batteries.










The second-generation Kodak EasyShare Printer Dock (about $149) is the simplest way to get real, waterproof KODAK photos at home with the touch of a button -- in as little as 90 seconds. It performs all the same functions as the EasyShare 6000 Camera Dock, plus it's a high quality 4x6- inch dye sublimation printer. All you need to do is select a picture on the camera's LCD and press the PRINT button, no computer needed. There is also a second Kodak 2100 mAh Ni-MH rechargeable battery pack included, that can used with any EasyShare camera that uses AA-type batteries.

It also incorporates PictBridge technology for connecting to multiple brands of digital cameras, an optional external memory card reader, and a dedicated multi-function connector for Kodak EasyShare (CX, DX, LS) 600/6000 and 700/7000-series digital cameras. All connection options allow direct 4 x 6- inch thermal picture printing (full size and multiple images per sheet) with or without a computer.
Visitors of Steves can visit the stores below for real-time pricing and availability. You can also find hot, soon to expire online offers on a variety of cameras and accessories at our very own Camera Deals page.