Playback Screens & Menus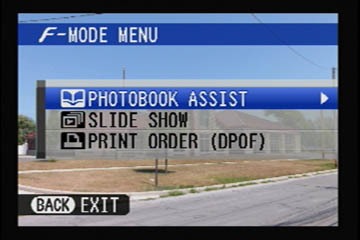 Playback mode allows you to view all of the images that are saved on your SD card. Pressing the DISP. button changes the amount of information that is shown on the LCD screen.
Pressing the zoom lever to the wide end enters the camera into index mode. Here you can easily and quickly search through your images. There is also a favorites feature that allows you to search through your images based on a rating that you give them.
Pressing the zoom control the other way allows you to zoom in on an image. Once you have zoomed in, you can use the 4-way controller to scroll around the image. This is a great way to check focus and for details while you are out shooting.
The F-mode quick menu gives you instant access to the Photobook assist, slide show and print order (DPOF) settings.
Playback Menu:
PhotoBook Assist - Create a photo book from your favorite images
Image Search - Quickly search for photos or videos saved on the memory card
Erase - Delete files
Mark for Upload To - Choose photos for upload to Facebook or YouTube
Slide Show - Start a slideshow of files stored on the memory card
Red Eye Removal - Remove Red Eye from files saved on the memory card
Protect - Protect images from accidental deletion
Crop - Crop an area of a photo and save as a new file
Resize - Reduce the size of a photo
Image Rotate - Rotate images by 90 degrees at a time
Voice Memo - Record a short voice memo (up to 30 seconds) to accompany a specific shot
Print Order (DPOF) - Choose the DPOF settings for direct printing to a printer
Display Aspect - Choose the aspect used for video output via the HDMI cable; 4:3 or 16:9
Cropping allows you to trim or adjust the composition of your images on the camera. This is a fast and easy way that does not involve the use of a computer to fix your shot.
Resize allows you to make a smaller copy of any image that you already have saved on the SD card. This is another feature that allows you to use the camera instead of uploading to a computer first.
Your HD home movies can be played back on the camera's LCD screen or on any TV or HDTV with an optional A/V or HDMI cable, allowing you and others to view them almost anywhere.
Camera Setup Menu:
Date/Time - Set the time and date
Time Difference - Choose and switch between your Home and Destination time zones
Language - Choose the menu language
Silent Mode - On or Off; turns off all sound, and the Flash and AF-assist lamp
Reset - Rest all camera settings to factory defaults
Format - Format the Memory card or Internal memory
Image Display - Image review mode; Off, 1.5 seconds, 3 seconds, or Zoom (Continuous)
Frame Number - Continuous or Renew
Operations Volume - Choose the volume of operation sounds
Shutter Volume - Choose the volume of shutter sound
Shutter Sound - Choose the sound of the shutter
Playback Volume - Choose the playback volume
LCD Brightness - Adjust the brightness of the LCD
EVF/LCD Mode - Choose the Frame Rate
Auto Power Off - 2 minutes or Off
Dual IS Mode - Continuous, Shooting Only, Off
Red Eye Removal - On or Off
Blink Detection - On or Off
Digital Zoom - On or Off
Movie Zoom Type - Digital, Optical
AF Illuminator - On or Off
Save Original Image - On or Off
Auto Rotate Playback - On or off
Background Color - Choose the background color for the menus
Guidance Display - Turn tips On or Off
Video System - NTSC (USA) or PAL (EU)
Custom Reset - Reset the settings of the C1 and C2 positions
Battery Type - Alkaline, Ni-MH, Lithium
Discharge - Drains Ni-MH batteries so you can get a full charge
Date Stamp - Add a date and time stamp to your images
Visitors of Steves can visit the stores below for real-time pricing and availability. You can also find hot, soon to expire online offers on a variety of cameras and accessories at our very own Camera Deals page.