Playback Screens & Menus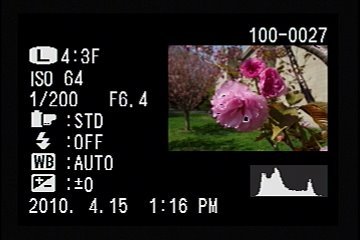 Pressing the PLAY button enters the camera into playback mode. Here you can view and edit photos without the need for a computer. By pressing the DISP. button, your images can be displayed with a minimal information or no info at all. You also have the option to search your images by the date they were taken.


The wide end of the zoom lever is used to access the camera's index modes. Pressing it gives you the option displaying 4, 9, or 100 tiny thumbnails. This option allows you to quickly search through stored files.


Using the telephoto lens control allows you to magnify an image for critical inspection. You can zoom in multiple steps, which is great for checking focus, composition, facial expressions, etc.


Pressing the ± or exposure button on the back of the camera will display the detailed exposure details.


The Playback menu allows you to: Erase a single frame or all frames, Remove Red Eye in your portraits, Rotate an image, Protect images, Crop (trim), Resize an image, Copy images between internal memory and the SD card, Record/Re-record a Voice Memo, Crop a photo or Resize an image.



The Rec. Memo option allows you to attach a short 30 second audio clip to an image.


Resizing your images is a great way to not only save space on your memory card, but is a very quick and easy way to make smaller copies that are easier to email or post to the web. Just a couple clicks and its done vs. Using a computer program afterward.

"Crop" allows you to trim/crop your image inside the camera. This is a very useful tool allowing you to adjust your composition without taking another shot.




The F-Mode menu gives you quick access to start a Slide show and set the Direct Print Order Format (DPOF).
Visitors of Steves can visit the stores below for real-time pricing and availability. You can also find hot, soon to expire online offers on a variety of cameras and accessories at our very own Camera Deals page.