Casio QV-3500 Review

QV-3500EX
Review posted 4/28/01

Click to take a QTVR tour of the QV-3500EX


The QV-3500EX is Casio's flagship for 2001 and employs a fast F2.0 Canon 3x optical zoom lens in conjunction with a 3.34-megapixel CCD. Still images are captured in either 2048x1536 or 1024x768 size in one of three JPEG quality levels or uncompressed TIFF. Motion sequences of up to 30 seconds can be captured as 320x240-pixel AVI format movie clips. Two bundles are available - the QV-3500EX with a 16 MB memory card and the QV-3500EXplus is bundled with the 340MB IBM Microdrive. Both cameras will be at retail stores in April.
Thanks to a large memory buffer images can be recorded at intervals of approximately 2 seconds between each press of the shutter release and, by continually pressing the shutter release, it is possible to take up to 3 images at intervals of approximately 0.5 seconds. Similarly, during playback, images can be scrolled at intervals of approximately 0.5 seconds for easy access.
Exposure options include Multi, Spot or Average metering, Program AE, Shutter speed priority, Aperture Priority AE and Manual as well as Panorama, Night Scene and Landscape modes. The user controls all of this from a very graphical interface menu system. The QV-3500EX has a multitude of playback modes with the ability to turn your captured images into HTML-based albums that can be viewed with any web browser.
The camera features a "Best-Shot" mode with 28 programmed shooting situations to aid novice or experienced users in creating perfect pictures every time. The bundled CD ROM also contains pre-recorded data for 64 Best-shot scenes (including the 28 scenes built in the camera itself) and, by copying data onto a CompactFlash card, enjoy quick-and- easy access to your chosen scene set-ups through the camera itself. On the CompactFlash card supplied, it is possible to store up to 250 sample images, including the data for the original settings.
Casio has partnered with Epson America, Inc. to incorporate PRINT Image Matching Technology in the QV-3500EX and in future digital camera models as well. PRINT Image Matching Technology ensures that digital cameras and printers work together to produce photographs that print truer-to-life than ever before. Epson will also include PRINT Image Matching in all future photo printers as well.
The Casio Photo Loader software enables automatic image transfer to a personal computer. Simply connect the camera to your computer using the supplied USB cable or insert the CompactFlash card directly and Photo Loader automatically starts image upload. The uploaded images are stored in folders named according to the dates on which they are recorded and can be viewed on your computer either individually or as a group, using standard Web browser software. The software CD also includes: PhotoGenetics Trial Version, Web Easy Express, Zing Photo Sharing, Apple QuickTime and Panorama Editor.

Physical Views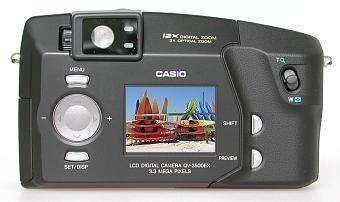 The Casio QV-3500EX and Nikon Coolpix 995 for comparison.
Casio QV-3500EX Specifications
Image sensor
1/1.8" CCD chip with 3,340,000 pixels
Lens
F2-F2.5 Optical 3x zoom F=7 - 21mm
(Equivalent to 33 - 100mm on 35mm camera)
Lens is threaded for a new Casio lens adapter for 58mm conversion lens

Resolution
2,048 x 1,536 pixels
1,024 x 768 pixels

Color depth
24 Bit (16.7 million colours)
Image format
JPEG (Fine, Normal, Economy)
TIFF/RGB uncompressed
AVI motion video
DPOF-support
yes
Recording modes
Single Image
Continuous Shooting (2fps up to 3 frames)
P-Mode (Programmed AE)
A-Mode (Aaperture priority)
S-Mode(Shutter-Priority AE)
Movie Mode
Best Shot (28 programmed modes)
Portrait Mode
Panorama Mode
Night Mode
Scenery Mode
Self-timer
Macro
B&W
Sepia

Removable memory
CompactFlash Type II
16MB CF card included
Microdrive compatible
Image deletion at the camera
single pictures / all pictures
Focus
autofocus and manual focus
Focus range
30 cm to infinity
Close-up/Macro
6 cm to 30 cm
Sensitivity
ISO 100-500
Exposure control
Program AE
Aperture priority (F=2/2.3/2.8/4/5.6/8)
Shutter priority (Bulb, 60 to 1/1000s)
Full Manual
Metering
Multi, Center Weighted or Spot Metering
White balance
Auto, daylight, cloudy, fluorescent light, tungsten light, manual
Shutter
mechanical and electronic (combination)
Shutter speeds
60s to 1/1,000s
Aperture
F2 / F2.3 / F2.8 / F4 / F5.6 / F8
Manual exposure compensation
+/- 2 in steps of 1/3
Viewfinder
LCD monitor and optical viewfinder with dioptre compensation
LCD monitor
1.8" HAST color (122,100 pixels)
Image control
via LCD monitor, PC monitor or via TV
Built in Flash
Auto, fill, "red-eye" reduction, slow-synch, off
Flash range
0.5 m to 4 m
Self-timer
2 s or 10 s (alternatively)
Video recording
AVI format (.avi)
max. 30 seconds per movie at 320 x 240 pixels
Features
AE mode for different recording situations ("Best Shot" mode with 28 presets); various methods of exposure metering (multi-spot metering, spot, average metering); sequential mode up to 2 images per second (max. 3 images); panorama support (360°); b&w mode; sepia tint; date and time stamp; image resolution can be downsampled; compatible with Epson's "Print Image Matching" technology; customizable camera buttons; histrogram mode
Connection to computer
Serial RS-232, USB interface
Other connectors
AC input, PAL/NTSC video output (switchable)
Power supply
4 x AA alkaline, NiMH or 2 x Lithium battery 3 Volt (CR-V3), AC adaptor optional
Dimensions W x H x D
5.3 x 3.2 x 2.2 in.
Weight

approx. 11.2 oz (without batteries)



Packaged Contents

standard
QV-3500EX camera, batteries, 16 MByte CompactFlash removable memory, 340-Mbyte Microdrive (QV-3500EX Plus), serial cable for PC, video connection cable, USB connection cable, lens cap with holder, camera soft case, hand strap, data transfer software Photo Loader for Windows (95/98/NT), panorama software Panorama Editor for Windows (95/98/NT), Apple Quicktime for Windows (95/98/NT) and Macintosh, Browser software Microsoft Internet Explorer for Windows (95/98/NT) and Macintosh
optional
NiCd, NiMH battery (rechargeable)
battery charger
AC adaptor/charger
AC adaptor
8/10/32/48/64 MByte CompactFlash cards
Visitors of Steves can visit the stores below for real-time pricing and availability. You can also find hot, soon to expire online offers on a variety of cameras and accessories at our very own Camera Deals page.