Steve's Conclusion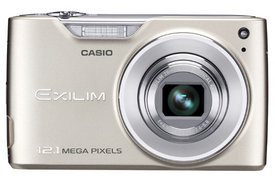 Steve's SnapShot
12-megapixels of resolution

4x Wide Optical zoom

3.0in Super Clear LCD

Shoots in HD quality Video

Updated Landscape Modes

Dynamic Photo Mode

Hand held Night Scene

Rechargable Lithium Ion Battery

SD/SDHC Memory Card Slot

Intelligent Auto Focus

Pros
In a word: Creativity!
Dynamic Photo Mode is lots of fun.

Sharp Pictures, great resolution.

Large LCD did great even on sunny day.

Long battery life will take tons of pictures

Feels well built, we like the metal body.

Cons
Shot to shot performance was poor.

It doesn't seem to even out the flash very well. Some portrait shots taken had burnt out highlights.

The 4-way control is configured properly.

HD video was good but not great.

Timing Test Results
Power up to first image captured = 2.4 seconds
Shutter lag when prefocused = less than 1/10 of a second
Shutter lag with autofocus = approx. 2/10 of a second
Shot to shot delay wo/flash = 3.2 seconds
Shot to shot delay w/flash = 4.1 seconds
Normal CS= 2.3fps

4 FPS burst = 5.3fps (@ 2 megapixels)

10 FPS burst= 11fps (@ 1 megapixel)
Flash burst= 2.5ps (@ 2 megapixel)
Bottom Line
The Z450 is a fun camera, it isn't the fastest one on the market, but its built for creative fun not for speed. The battery goes on forever and the images it takes are very good.

Pick This Up If...
You enjoy playing with your images, if you like to put stuff up on YouTube or your social network page. If you are/have a young person who is an aspiring film maker, this might be a place to start. At a MSRP of $199 its not super expensive for Casio's top of the line consumer camera.

The newest member to Casio's Exilim Zoom Series is the Z450. While the Z450 follows in the footsteps of the
EX-Z300
from last year, it has its differences as well. The Z450 is a 12.1-megapixel camera with a 4x optical zoom, and has direct access to the Makeup Mode as seen in previous models. However, Casio has added a new Landscape mode which features 2 settings for bringing out rich vivid colors in landscape shots, as well as 2 settings for cleaning mist out of your photos.
The real amazing feature on the Z450 is the Dynamic Photo mode. This is found in the Best Shot Settings. I was amazed that within the confines of this compact camera, you can take pictures and super-impose them onto other pictures. And if that's not enough, it can be done with up to 4 seconds (5 frames per second) of moving imagery. The images can then be saved as motion JPEGs and shared with other devices such as cell phones, digital photo frames and computers. Casio also offers a free online service called: Dynamic Studio" that will convert images as well. We did experiment with this feature, and while there is a learning curve to it, we found it worked well and could was a lot of fun.
Some of the other features that the Z450 has you may be familiar with from the Z300. These include the Intelligent AF which detects the optimum focal point of a scene. Also the Handheld Night Scene that will not only help achieve the best shot in a dim environment, but does a good job with evening out the light in a back-light situation. You can see 2 examples of this in our samples page. The Z450 carries on the Auto Shutter function that can be set to detect Blur, Panning or Smiles.There is also sensitivity control for all three modes if an adjustment needs to be made. We also enjoyed playing with the "silent" movie option in the BS modes, you can see a short clip in the samples page.

The Exilim Z450 is a nice compact size, and the metal body makes it feel well-built and sturdy. The control lay-out is identical to the Z300 and is comfortable to use. The 3-inch LCD screen worked very well even outdoors in the sun. I had no problem with glare at all when shooting. The 4-way controller is a bit disconcerting in that it is really a 3 way control. While the default setting for the Left/Right sides of the control in record mode are just to set the AF tracking feature, it can be re-programed via the menu system to perform other tasks, the drawback to this is that they cannot be reprogrammed separately, both directions will control the same function. The Z450 also has a quick-access panel display, which is essentially a shortcut menu, that offers easy access to often used cameras settings; it also can be customized to fit your preferences.

Shooting performance is not the Z450's strong point. Power up to first image captured measured about 2.4 seconds. Shutter lag (the time from when the shutter button is pressed until the camera takes a picture) was less than 1/10 of a second when pre-focused, and 2/10 of a second including the autofocus system. The shot to shot delay is where things falter, it took 3.2 seconds between shots without a flash and a sluggish 4.1 seconds when the flash is used. The problem is, single exposure mode is where the majority of your pictures will be taken, so capturing quick successive shots in this mode, like at a sporting event, is out the question.
The EX-Z450 offers four burst mode settings; Normal Speed CS, 4fps., 10fps. and Flash. In Normal Speed CS I was able to capture 7 frames in 16.3 seconds (.43fps). In 4fps Burst I was able to capture 8 frames in 1.5 seconds (which is way better than its moniker). The same applies to the 10fps Burst mode as I was able to capture 20 shots in just 1.8 seconds. In Flash Burst, we took 3 frames in 1.2 seconds which wasn't to bad. I would like to note two things here: first, the image quality of the 4fps and the Flash mode drops to 2 megapixels and the 10fps goes down to just 1 megapixel. However, a good 2M image can still create usable 4x6-inch prints. Secondly, when the burst is done in each of the latter 3 modes the camera will ask if you want to: "Save Selected", "Save All" or "Cancel Save" the images. These are then grouped in an animation. The Animation can be divide up via a setting in the menu if you wish. All of our tests were completed using Class 6, 4GB SDHC memory card, Auto (Program AE) mode, ISO auto, flash off, preview on, and all other settings at the factory defaults. Times may vary depending on lighting conditions, camera settings, media, etc.
The EX-Z450 produces great 12-megapixel images. When shooting indoors, the flash has a limited range of about 7 feet at wide angle. I found the flash to be a bit strong when doing portrait shots. The Makeup function, smooths out the skin tones and evens out highlights, but I found that it made the skin look "plastic", this can most likely be remedied by turning down the amount of "makeup" used. The Z450 has ISO settings up to 3200. I do not recommend shooting at ISO settings over 400 if you want the best possible quality for your photos as noise starts to become more prevalent in the higher ISO images. Although we do want to note that in our testing we did find that a decent 4x6 could be made of a shot done at the 3200 setting if there is enough light present.
Outdoors, the EX-Z450 does very well, I captured sharp images with little edge softness and little to no chromatic aberrations. I took several photos with moderate to heavy back lighting with the "BS" Back-light mode activated and found that it did very well. There are two examples of this on the samples page.

The Casio Z450 shoots decent HD (1280x720) video. The optical zoom can be pre-set before recording but it cannot be used during recording. The digital zoom, however, can be used during recording but the image quality is effected when in use. All video is recorded in AVI format and saved as a Motion JPEG. It did a good job to of shooting movie clips outdoors, but indoors the quality was very grainy due to limited amounts of light. We also had a lot of fun using the "silent" movie mode in the "BS" settings. This isn't new, but I thought we should mention it with this review as it is apparent that this camera's big point is creativity. We have included a short clip on the samples page of this mode in action. Our HD samples played back just fine on my PC, but on slower computers it might be choppy.
Battery life from the supplied NP-40 3.7V 1300mAh battery pack was great. Casio claims a staggering 550 still images or 3 hours & 40 min. of continuous movie recording can be captured on a single charge. While 550 images seems huge, during testing I was able to get 228 images, several video clips and a lot of playback and use of the menu before having to recharge; and this was with the battery indicator showing just under half of the life left. I was amazed at how well the battery performed.
Bottom Line - Casio's Exilim EX-Z450 is a fun camera. If your into playing and being creative with your video shoots, this is for you. We had a great deal of fun learning how to use the Dynamic Photo option both in still image and animated modes. The images were crisp and clean with little chromatic aberrations. We were even happy with the HD video quality. Unfortunately the shot to shot performance of this camera was disappointing and the lack of proper use of a 4-way control is unfortunate. The Z450 has a MSRP of US$199, which puts it at a nice price-point for a point and shoot camera especially considering that it can layer not only 2 but several images together right in the camera. If you want a nice consumer camera that takes great pictures, has long battery life and allows for a good deal of creativity, this is for you. However, if you're in the market for something that can capture fast action or need to take many shots quickly, you might want to consider some ofher models, like the Exilim EX-FC100.

Visitors of Steves can visit the stores below for real-time pricing and availability. You can also find hot, soon to expire online offers on a variety of cameras and accessories at our very own Camera Deals page.