Casio EX-S2 Review
Record Screens & Menus
(Note: Please excuse the poor quality of these screen captures but the EX-S2 does not have a video out feature so we had to photograph them.)
This is the still image record screen. The top-center icon indicates the record mode (single, movie, selftimer, night scene.) There's space for 102 pictures at the current settings of 1600x1200 Fine and there is a SD card in the expansion slot. Lower left is the status of the battery and on the right is the time and date.







Pressing the MENU button in record mode brings up the following screens:
REC Mode - Single, night scene, movie

Flash - Auto, Off, Always, Red-eye reduction

Self-timer - Off, 10 secs

Indicators - LCD-ON, LCD-OFF

Size - 1600x1200, 1280x960, 640x480

Quality - Fine, Normal, Economy
Digital Zoom - On, Off

EV Shift - Exposure compensation +/-2.0EV in 0.3EV steps

White Balance - Auto, sunny, cloudy , incandescent, fluorescent, manual

L/R Key - Assign a function to 4-way controller when in record mode: REC Mode, EV shift, Flash, White balance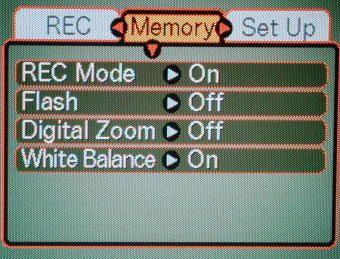 Memory (Retain settings from power off to power on)

REC Mode - On, Off

Flash - On, Off

Digital Zoom - On, Off

White Balance - On, Off
Beep - On, Off (camera sounds)

Startup - On, Off (display selected image at startup for 2 secs)

Date Style - MM/DD/YY, DD/MM/YY, YY/MM/DD

Adjust - Set time or date

Language - Menu language

Format - Format the SD card
Flipping the PLAY - REC switch to the PLAY position brings up the image or movie clip last captured. Pressing the 4-way controller left or right scrolls through the stored images.



Pressing the MENU button in PLAY mode brings up this screen. From here you can Zoom (magnify) the current image up to 4x - see next frame. Protect image(s) from deletion. Resize image to 640x480 or 320x240 for web use or email. Copy images from internal 12MB memory to SD card or vice-versa. The FAVORITES option lets you copy important images from SD card to the FAVORITES folder in internal memory.



This is what the playback screen looks like when you use the Zoom option.



In addition to still images you can also play back your movie clips. The Casio model EX-M2 can also record and playback sound, the EX-S2 cannot.



The EX-S2 has 12MB of internal memory that can be used to store image data. You can use the COPY option to move data to/from the internal memory and to/from a SD flash memory card.
Visitors of Steves can visit the stores below for real-time pricing and availability. You can also find hot, soon to expire online offers on a variety of cameras and accessories at our very own Camera Deals page.