Casio EX-P505 Review
Review posted 03/25/2005

Click to take a QTVR tour of the EX-P505



The EXILIM PRO EX-P505 is a palm-sized yet high-performance digital camera with amazing still image and video capability. The EX-P505 features a 5X optical zoom, a 5.0 megapixel CCD imager, Casio's "EXILIM engine", and a large 2-inch TFT color rotating screen that makes angle shots a snap. It offers the same manual operation found on the EX-P600 and EX-P700, as well as high-quality video shooting capability at 30 frames per second, in VGA thanks to the incorporation of MPEG-4 technology.
The high resolution 5-megapixel imager along with the advanced Exilim engine ensures that remarkably detailed images can be taken with ease. The 5X optical zoom can be used during both snapshot and movie recording. Used in combination with the 8X digital zoom, this gives you total zoom capabilities of 40X and macro mode for distances as close as 1 cm. Fully automatic exposure control, aperture priority or shutter-speed priority, along with full manual exposure mode allows you to get as creative as you desire. The "BEST SHOT" function features 22 different scene modes to help you capture the best possible pictures in the most difficult situations.
MPEG-4 technology enables high quality video shooting in VGA size (640 x 480 pixels) at 30 frames per second with stereo audio, the length is limited only by available memory. "Movie BEST SHOT" allows the user to select from sample scenes for a wide range of shooting styles. "Short Movie" lets users film short movies during a single shutter, while other shooting and editing functions such as "MOTION PRINT" can be used to obtain a still image from a movie.
The EX-P505's high-speed startup enables shooting only 0.8 seconds after the power is turned on. Shutter release time lag of only 0.01 sec. means fewer "missed" shots when things are happening fast. Casio's Super Life Battery supplies enough power for approx. 220 pictures per charge. To help conserve the battery the camera power is automatically switched ON/OFF when the LCD panel is opened and closed. Pictures and movies can be quickly transferred to the host PC thanks to a high-speed USB 2.0 interface. That same USB interface can be used to print directly to any Pictbridge compatible printer without need of a computer.

Exilim EX-P505 Features:
5.1 Megapixel CCD imager for up to 2560x1920 pixel images
Super-compact, durable and lightweight body
5x optical 38-190mm f/3.3-3.6 zoom, 8x digital zoom
Three AF modes: Spot, Multi (7 focus areas) or Free (anywhere in frame)
Automatic Macro focus coverage as close as 0.4"
2.0" rotating color LCD with histogram and EX-Finder displays
Auto, BestShot (22 modes), Shutter-speed priority, Aperture priority, Full Manual and 4 Movie modes
MPEG-4 motion video w/stereo sound, 640x480 @ 30/15fps or 320x240 @ 15fps
Exposure metering: Multi-pattern, Center or Spot modes
Exposure compensation: +/-2EV in 1/3-step increments
Built-in ND filter reduces light by 2.0EV
White Balance: Auto, 7 presets, manual WB
Shutter speeds of 60 seconds to 1/2000 second
Selectable ISO speeds from 50 to 400
Record and attach up to 30 second audio notes to images
Automatic popup flash with Flash Assist brightness correction
Rechargeable Li-ion battery and rapid charger
USB Direct-print with any PictBridge compatible printer
ExifPrint (Exif 2.2) and PRINT Image Matching III compatibility
High-speed USB 2.0 connectivity for PC and Mac
7.5MB internal memory + SD/MMC card slot

The EXILIM PRO EX-P505 is available now with a MSRP of $499.99 USD.

DIWA Silver Medal Award

17 June, 2005: DIWA (Digital Imaging Websites Association), a world-wide organisation of collaborating digital imaging websites, today announces a DIWA Silver Award to the Casio EXILIM EX-P505 digital compact camera.
The reviewers were impressed to see how Casio's engineers have managed to adapt the credit card size symbolizing the EXILIM concept, yet maintaining the professional SLR look as well as including a multitude of features normally found in much larger cameras. Most surprisingly is its powerful and high quality 5x optical zoom lens with focal lengths comparable to 38-190 mm in a 35 mm film camera, including macro as close as 1 cm, 7-points auto focus as well as an option for manual focus. The EX-P505 also delivers fast startup, auto focus and playback function, virtually instant shutter release response, 5 Megapixel resolution for 30x40 cm (12x16") photo quality prints, a large movable 2-inch (5.1 cm) LCD screen, fully automatic and manual controls and tailor made Best Shot programs optimized for 22 different scene types. The EX-P505 also introduces stereo sound to movie recording, with VGA resolution and 30 fps in the high quality MPEG-4 format.
Kai Thon, DIWA's test manager comments: "No other camera combines compactness and high quality features like the Casio EXILIM EX-P505. Aimed at an audience in search of a handy, user friendly camera with extended optical zoom capabilities, excellent movie functions and a multitude of creative options through manual override, the EX-P505 is a top shelf selection. Still, its price is pleasantly modest."
The DIWA group of camera experts found the image quality to be well adapted for its targeted consumer, with true colors, low image noise, impressive macro and a wide range of individual preferences for the ambitious photographer. Movie enthusiasts can enjoy ingenious features like Past Movie, Short Movie, Movie Edit and Movie Print functions, compatible with the easy-to-use PictBridge standard via a USB 2.0 High-Speed interface.
Other high scoring details are the 7-point auto focus system with auto or manual selection, the efficient pop-up flash with Flash Assist function, the powerful Super Life rechargeable battery pack, the foldable swivel LCD screen, the unique EX quick menu and Icon Help, the comfortable, secure grip with good camera balance, the EXILIM Engine high-speed image processor and last, but not least, a surprisingly budget-friendly price.



Physical Views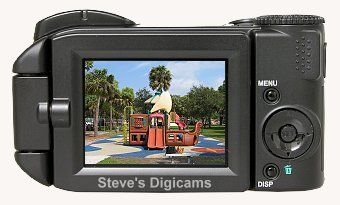 The EX-P505 compared in size to an average CD disc.
The Casio EX-P505 and EX-Z55 Zoom for size comparison.
C-5500 SportZoom Specifications
Imaging Pixels
1/2.5-inch CCD (5.25 million pixels total; effective 5 million pixels)
Recording Formats
Still, JPEG (Exif Ver 2.2) / DCF-compliant / DPOF-compatible; video: AVI system MPEG-4 compliant; audio: WAV
Recording Medium:
Internal flash memory (image recording area 7.5MB), SD memory card / MMC compatible.
Image recording pixels
Still: 2560 x 1920, 2560 x 1712, 2048 x 1536, 1600 x 1200, 1280 x 960, 640 x 480;

Video: 640 x 480 (HQ), 640 x 480 (NORMAL), 320 x 240 (LP)

Data recording volume details:

Still Photos
Image size (pixels)
Photo quality/
recording time
File size
Built-in memory (8.9MB)
SD Memory Card
256MB *
2560x1920
Fine/Normal/
Economy
Approx 2.1MB/
1.7MB/1.3MB
Approx.
3/3/5
Approx.
116/131/178
640 x 480
Fine/Normal/
Economy
Approx. 190KB/
140KB/90KB
Approx.
36/47/75
Approx.
1188/1559/2495
Movies
640x480 (HQ)
Shooting time:
unlimited**
Approx. 4.2M Bit/sec.
(30 frames/sec.)
Approx.
14 sec.
Approx.
8 min. 10 sec.
640x480 (Normal)
Shooting time:
unlimited**
Approx. 2.2M Bit/sec.
(30 frames/sec.)
Approx.
28 sec.
Approx.
15 min. 34sec.
320 x 240 (LP)
Shooting time:
unlimited**
Approx. 790k Bit/sec.
(15 frames/sec.)
Approx.
1 min 17 sec.
Approx.
42 min. 46sec.

Lens:
5X optical, 8X digital
f=6.3 (W) ~ 31.5 (T) mm (38.0 ~190.0mm in 35mm equiv.)
10 lenses in 8 groups, including aspherical lens; F3.3~F3.6

Focal point
adjustment:
Contrast-detection auto-focus; spot, multi and free auto focus;
macro mode; pan focus (video only); unlimited distance mode; manual focus
Focus Length:
Still photo, standard: approx. 15.75" ~ infinity, closeup: .39" ~ 19.69" (W); video, standard: approx. 3.94" ~ infinity, closeup: .39" ~ 19.69" (W). Varies by optical zoom.
Exposure Control:
Light measurement system; multi-pattern light measurement by image element, center-weighted light measurement, spot measurement;
Control systems: Program, aperture priority, shutter speed priority, manual exposure.
Exposure compensation:
-2 EV~+2 EV (1/3 EV units)
Shutter:
CCD electronic/ mechanical shutter, aperture priority 1/8 ~ 1/2000 sec.; shutter speed priority and manual exposure 60 ~ 1/2000 sec.
Aperture:
Aperture: In six stages, F3.3 ~ 7.4(W) Note: varies according to optical zoom.
White Balance:
Auto/fixed (7 modes) / manual
Sensitivity setting:
(still photos) Auto / ISO 50/ISO 100/ISO 200/ISO 400
Shoot and Recording Functions:
Still photos: still image with audio (approx. 30 seconds), macro,
self-timer, BEST SHOT, Movie (with audio); video: Movie BEST SHOT, Short Movie, Past Movie, MOTION PRINT, Movie Editing.
Self-timer:
10 sec./ 2 sec. triple self-timer
Internal Flash:
Auto pop-up flash; flash modes: auto flash/flash off/flash on/red-eye reduction; operating range: approx. 0.4 to 3meters (W) Note: varies with optical zoom.
Viewfinder / LCD:
2-inch TFT color rotating angle liquid crystal display; 84,960 pixel
(354 x 240)
Clock Function
Date and time; recorded simultaneously with the image data, Auto calendar; up to year 2049
World Time:
162 cities in 32 time zones worldwide, city name, date and time, summer time (daylight savings time)
Input/Output Terminals:
DC IN, USB/AV terminal (NTSC/PAL standard compliance, stereo audio)
Batteries
Dedicated lithium-ion rechargeable battery
Battery Life
Approx. 220 images (CIPA standards); continuous shooting: approx. 550 images (approx. 1 hour 50 minutes), wide-telephoto switch approx. every 12 seconds; display ON, flash OFF; continuous playback: approx 3 hours 20 minutes (still photos); continuous video shooting: approx 2 hours.
Dimensions:
3.88" W x 2.19" H x 2.89" D (except protruding parts)
Weight:
Approx. 7.58 oz (without battery or accessories)
Supplied Accesories
Lithium-ion rechargeable battery, quick recharger, USB cable
(high-speed USB 2.0 compatible), AV cable, strap, lens cap, cap holder, lens hood, CD-ROM

Specifications are subject to change without notice.











Visitors of Steves can visit the stores below for real-time pricing and availability. You can also find hot, soon to expire online offers on a variety of cameras and accessories at our very own Camera Deals page.