Casio EX-M20

Click on the EX-M20 for a QTVR tour


Casio's EXILIM EX-M20 digital camera packs a high resolution 2 million effective pixels imager, lens and a 1.6-inch color LCD monitor into just a .44-inch thin body. The EX-M20 comes with all of the same standard features as the
EX-S20U
plus a built-in microphone and speaker for recording and playback of voice recordings, audio snapshots and MP3 song files.
The EX-M20's stylish case is made of lightweight magnesium alloy and weighs a mere 2.78 oz (without battery). The camera is ready to shoot almost instantly after being turned on and a 0.01 sec. release time lag records the image as soon as you press the shutter button. An automatic lens barrier protects the lens from impact and dust by opening and closing whenever the camera is turned on and off.
The 1.6-inch TFT LCD monitor screen of the EX-M20 features a digital interface for a clearer display of images and makes image viewing easier and more enjoyable. The monitor screen can be used to arrange images, and a collection of display features help to make image viewing simpler and more fun than ever before.
The Best Shot Mode provides optimum camera setups in an instant. Simply select the sample scene that is similar to the image you want to record and the camera's exposure compensation, white balance, and other settings are configured accordingly. There are a total of 15 sample scenes built in, including "Coupling Shot" and "Pre Shot."
The EX-M20 stores images in a Web browser-viewable format that allows you to browse images in an album format. The album feature uses HTML format, which means you can incorporate an album directly into a web site and even print directly from the album.

Placing the EX-M20 onto its cradle and pressing the Photo button starts a slideshow of images currently in memory. You can even set up the camera to display the images you want whenever it is placed on the cradle. Connect the cradle to your computer, place the EX-M20 onto the cradle, and press the cradle's USB button, and Photo Loader automatically transfers all JPEG and AVI files in image memory to the computer.
World Time lets you select one of 162 cities in 32 time zones around the world as your home time. When traveling to another time zone, simply select the applicable city, and time and date settings are adjusted automatically. A total of three independent alarms help to make sure you are on time, all the time. You can even have a specific image appear when an alarm time is reached.
In addition to its 10MB of built-in Flash Memory, the EX-M20 also supports use of thin, compact SD memory cards and MMC cards (optional and sold separately). An easy operation copies images between a memory card and built-in memory.


Exilim EX-M20 Features:
2-Megapixel effective CCD imager
Credit card-size stainless steel body, only 11mm thick
Image sizes: 1600x1200, 1600x1072 (3:2), 1280x960, 640x480
AVI Movie 320x240 up to 30 seconds (w/audio)
Fixed focus 37mm F3.5 lens with 4x digital zoom
Less than one second startup time
0.01 second shutter lag time
Fast shot to shot time - even with flash
Audio recording and playback & MP3 audio song player
3:2 aspect ratio mode for no-crop 4x6" prints
15 Best Shot scene modes
10 Megabytes of internal memory
1 to 1/8000 sec. shutter speeds
Built-in flash with Red Eye Reduction
1.6" TFT color LCD monitor
4X playback zoom magnification
USB 1.1 data transfer to PC or Mac computers
Lithium rechargeable battery and charging cradle included
Secure Digital/MMC card slot for memory expansion
DPOF, PRINT Image Matching II and Exif Print compatible

In addition to the USB 1.1 docking cradle and battery, each EX-M20 camera comes standard with an audio remote controller and ear buds, hand strap, AC adaptor and CD-ROM software. The retail price on the EX-M20 is $329.99.

Physical Views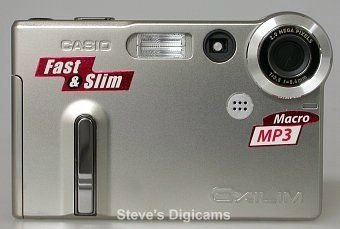 The 2-megapixel Casio EX-M20 and the 3-megapixel EX-S3.
The EX-M20 and a standard CD for size comparison.
Casio EX-M20 Specifications
| | |
| --- | --- |
| Recording Element: | 1/2.7-inch square pixel primary color CCD (2.11 million total pixels; 2 million effective pixels) |
| Image File Record Format: | JPEG (Exif. Ver. 2.2), DCF standard, DPOF compliant |
| Recording Medium: | Built-in flash memory (10MB), SD memory card/Multi Media card |
Recorded Image Sizes:
Image Size(Pixels)

Resolution

Approximate File Size

Approximate Memory Capacity (Images)

Built-in 10MB

64MB SD

1600 x 1200

Fine

1050KB

8

53

Normal

710KB

12

79

Economy

370KB

24

154

1600 X 1072

Fine

910KB

9

60

Normal

610KB

14

90

Economy

300KB

28

176

1280 X 960

Fine

680KB

13

82

Normal

460KB

20

126

Economy

250KB

35

221

640 X 480

Fine

190KB

46

294

Normal

140KB

61

386

Economy

90KB

98

618
Music Player:
EX-M20U Only: MP3 (MPEG-1 Audio Layer-3/MPEG-2 Audio Layer-3)
Voice Recording:
EX-M20U Only: WAV (approximately 4KB/second); approximately 40 minutes (built-in memory)
Image Deletion:
Single image; all images in memory (with memory protection)
Lens:
F3.5, f = 5.6mm (equivalent to 37mm in 35mm format)
Focusing:
Fixed focus with macro mode
Approximate Focus
Range:
Normal: 31.5" to infinite; Macro: 11.8"
Zoom:
Digital 4X
Exposure Metering:
Metering: Multi-pattern by imaging element
Exposure Control:
Program AE;
Exposure Compensation: -2EV to +2EV (in 1/3EV steps)
Shutter:
CCD electronic shutter/mechanical shutter; 1 to 1/8000 shutter speed (including Night mode)
Aperture:
F3.5 (fixed)
White Balance:
Auto; Fixed (4 modes); Manual
ISO Sensitivity:
Auto, 64, 125, 250, 500
Recording Modes:
Snapshot, macro, Best Shot; audio snapshot (EX-M20U only)
Self-timer:
10 seconds or 2 seconds; Triple Self-timer
Built-in Flash:
Flash Modes: Auto, Flash On, Flash Off, Red Eye Reduction;
Approximate Range: 2.64 ft. to 4.92 ft.
Viewfinder:
Monitor screen and optical viewfinder
LCD Monitor:
1.6-inch digital interface TFT color LCD (84,960 pixels; 354 x 240)
Playback Functions:
4X zoom; rotate; flip; calendar; Photo Stand (slideshow); startup image; Image Roulette
Internal Clock:
Date and time recorded with image data; auto calendar up to 2049
World Time:
162 cities (32 time zones); city names; date and time; daylight savings time
Other:
Trimming; resize; histogram; album feature; Favorites folder; copy; customize key; alarm with image (EX-M20U only: alarm with image/audio)
I/O Terminals:
USB cradle contact terminals
Power Requirements:
NP-20 Li-ion battery
Approximate Battery
Operation:
Continuous Image Recording: 2 hours (720) shots
Continuous Image Playback: 3 hours

Continuous MP3 Playback: 7.5 hours (EX-M20U only)
Continuous Audio Recording: 2 hours 50 minutes (EX-M20U only)

Dimensions/Weight:
EX-S20U: 3.27" (W) x 2.08" (H) x .44" (T) (excluding projections) / Approximately 2.78 oz (excluding batteries and accessories)

EX-M20U: 3.27" (W) x 2.08" (H) x .44"(T) (excluding projections) / Approximately 2.82 oz (excluding batteries and accessories)

Bundled Accessories:
Lithium-ion battery; USB Cradle; USB Cable; AC Adaptor; Strap; CD-ROM; LCD Remote Controller / Stereo Earphones (EX-M20U only)
NOTE: These Specifications are as represented by the manufacturer.
Visitors of Steves can visit the stores below for real-time pricing and availability. You can also find hot, soon to expire online offers on a variety of cameras and accessories at our very own Camera Deals page.