Steve's Conclusion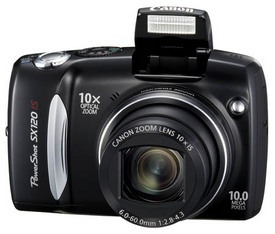 Steve's SnapShot
10-megapixels of resolution

10x optical zoom lens covers 36-360mm

3.0-inch LCD with 230K pixels
Canon's Optical Image Stabilization

Digic 4 processor

Movies at 640x480 or 320x240 with audio, with a frame rate of 30fps
Continuous and Continuous AF burst modes

AA power source
SD/SDHC compatible

Pros
Powerful zoom with 36-360mm equivalent focal range
Canon's Optical Image Stabilization

Huge 3-inch LCD

Powerful pop-up built-in flash unit
Sturdy construction
Excellent Face Detection

Cons
Pop-up flash not automatic

No HD video format
ISO 800 and higher settings show a great deal of noise
No RAW still image capture mode
Chromatic aberrations common in outdoor shots

Timing Test Results
Power up to first image captured = 2.6 seconds
Shutter lag when prefocused = less than 1/10 of a second
Shutter lag with autofocus = 5/10 to 6/10 of a second
Shot to shot delay wo/flash = just under 2 seconds
Shot to shot delay w/flash = just short of 4 seconds
Continuous burst = 1.56fps

Continuous AF burst = 1.1fps

Bottom Line
The PowerShot SX120 IS is an appealing 10-megapixel, compact super-zoom. With excellent performance and good image quality, its one of the most affordable cameras on the market with a 10x stabilized optical zoom.

Pick This Up If...
You want an affordable, compact super-zoom with unlimited control, that can also be used by anyone with one of the many auto or scene modes.

Canon's PowerShot SX120 IS is an updated version of the
SX110 IS
that we reviewed last year. This compact super-zoom camera features a 10-Megapixel imaging sensor, 10x optical zoom lens with Optical Image Stabilization, 3.0-inch LCD, VGA (640x480) video capture, Digic 4 image processor and Canon's advanced Face Detection. This camera can be used as a standard point-n-shoot via easy, auto and several scene modes, or you can have more control with its manual, aperture priority and shutter priority modes.
This hefty, yet compact camera feels very sturdy and reliable. It is also very comfortable to hold and operate. The size and grip combined with the placement of the zoom control mounted around the shutter release allow for easy one-handed operation. As with the flash on the SX110 IS, the camera's flash does not automatically pop up on its own, you have to manually raise it. Framing, viewing and navigating the menu system is done on the huge 3.0-inch, 230,000 pixel LCD screen featuring 100% frame coverage. Combine that with the 5 levels of brightness and you will have absolutely no problems framing and viewing your images in any lighting condition.

Performance from the SX120 IS is very good. On start-up, the camera is able to capture its first image in just 2.6 seconds. Shutter lag is less than 1/10 of a second when the camera is pre-focused and between 5/10 and 6/10 of a second when allowing the auto-focus to work. In single shot mode, the shot-to-shot delay was just under 2 seconds as I was able to capture 5 images in 9.7 seconds without the flash. With the flash the shot-to-shot delay was nearly 4 seconds. This is a little slow, but is due to the camera using AA type batteries. The camera also offers two burst modes, both of which work with the flash, which is not that common on a digicam. In continuous mode, the camera was able to capture 10 images in 6.4 seconds or 1.56 fps when shooting without the flash. With it the camera is able to capture 10 images in 11.3 seconds or 0.89 fps. To compliment the continuous mode, Canon also includes a continuous AF burst mode, which allows the camera focus between each shot. This slowed the camera a little but makes sure that all your images are crisp. Without the flash the camera's frame rate is 1.1fps and the frame rate with the flash is 0.74 fps. All of your tests were completed using a Lexar Pro 133x, 2GB SD memory card, Program shooting mode, ISO auto, Flash off and a set of Energizer Rechargeable, 2500mAh NiMH batteries. Times may vary depending on lighting conditions, camera setting, media, etc.

Our outdoor sample images show that the camera produces extremely crisp and clear images with excellent colors and exposure. Dragging down the image quality a bit is the cameras lack of ability to handle chromatic aberrations, which will be annoying distractions in your printed images. However, this is a very common issue with super-zoom models. They can be seen in all of the outdoor images in high contrast areas, and in the museum shot, they can be seen without viewing the image at 100%.

The key feature of this camera is the 10x optical zoom lens that is used to frame your shots. With a 35mm equivalent of 36-360mm, this camera is built to get you as close as possible to your subjects. It can make landscape and some portrait photography a little harder as you will need to be a little further away from your subjects due to the lens favoring the telephoto end. But, when it comes to shooting distant objects, you will have absolutely no problems. Assisting you in keeping the camera steady, especially on the telephoto end, is Canon's IS technology, which keeps your images sharp by compensating for your shaky hands using Len-shift technology (aka optical stabilization).
The image quality from our indoor samples again shows good colors and exposures and a crisp, sharp image. Our M&M Man shots show that the lower ISO levels produce pleasing images. At ISO 400 noise starts to really become noticeable throughout the image, where as the lower ISO settings only show little bits of noise in some of the darker areas. ISO 800 and 1600 show unacceptable amounts of noise that will definitely show up in your prints.

Assisting you during indoor shooting is the manual pop-up flash. This is a surprisingly powerful flash unit that works well with the large telephoto lens. It had absolutely no problem lighting our M&M Man shot from 7ft. away at ISO 80. A couple minor problems with the flash are the slow recharge time, which is contributed more to the camera running on AA style batteries than anything else, and when shooting in macro mode the lens can get in the way of the flash when shooting as close as the camera can handle.You can see an example of this by looking at one of our candy dish shots on the sample page.
Shooting portraits with the SX120 IS is incredibly easy, no matter what shooting mode you are using as the Face Detection works when using them all. The mode that you are using will determine how much the camera adjusts, as manual mode will only adjust the focus and other settings that are set to auto, while the automatic shooting modes will adjust all of the settings for you. Face detection works quickly and follows the faces very well. On the back of the camera there is even a "face select" button that allows the camera to take priority on one face over all of the others in the frame. The face in our sample shot is not as clear as we would like to see from an image of a detected face when shooting in Portrait mode.

Movie mode allows for the capture of videos with sound at resolutions of 640x480 (640x480 LP) and 320x240 at 30fps. It is a little disappointing to see a new camera introduced without the ability to shoot video in HD quality, as it is getting closer to becoming a standard on consumer digicams. The exposure has a little trouble dealing with the entire range of light and dark, but it does a descent job of exposing our subject. At 30 fps it runs smoothly during playback and with good light you won't see any artifacting. The built-in mic is very sensitive and picks up all of the sound that is near the camera. Background noises that you might not notice when shooting can really stand out when you play your movies back, such as the wind and weed whacker in our sample. To help avoid these noises, be careful when positioning yourself to shoot. Try to stay away from furnaces and air conditioners or out the wind if possible.

Powering the SX120 IS are two standard AA type batteries. While Canon supplies two Alkaline cells, we high recommend the use of high-capacity rechargeable NiMH batteries. They provide longer battery life, are reusable, and will save you money in the long run. Canon claims you can capture up to 130 shots with Alkalines or up to 370 shots with NiMH cells. Using a set of Energizer 2500mAh cells, I was able to capture 219 photos including several movies while completing our tests on a single charge. At the end, the camera had started to flash the low-battery icon on the screen. One of the biggest benefits of using the AA type batteries is the ability to to pick up a new set anywhere if you would happen to run out.

Bottom Line - Canon's PowerShot SX120 IS is an affordable compact super-zoom that performs very well and features descent image quality. Noise and chromatic aberrations are something to watch out for with this camera. Featuring a 10-Megapixel imaging sensor, 10x optical zoom lens with IS, a shooting mode to suit anyone in the family or office and a powerful flash, it will have no problems handling any shooting situation that you throw at it. With a MSRP of US $249.99, it is worth considering if you are in the market for an affordable super-zoom as there are not many in this price range. You can also check out the Kodak EasyShare Z950 for $279.99.
Visitors of Steves can visit the stores below for real-time pricing and availability. You can also find hot, soon to expire online offers on a variety of cameras and accessories at our very own Camera Deals page.