Steve's Conclusion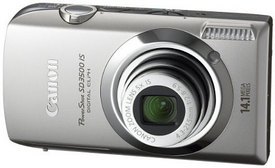 Steve's SnapShot
14-Megapixel Imaging Sensor
3.5-Inch LCD Screen

4x Optical zoom lens: 24-120mm (35mm equivalent)

Smart Auto mode

Face Detection

Li-Ion Battery power source

SD/SDHC memory card compatible

HD Video Capture
Pros
Great quality HD video

5x zoom gets in closer to the action

24mm wide angle extreme great for indoor photos and outdoor landscapes

Large screen with good outdoor visibility

Responsive touch screen

Easy to use controls

"Cool" Bump feature

Cons
Flash is in lousy position position

With wide angle lens, needs a panoramic scene mode

Macro mode was not the best, lens kept getting in the way of the flash

Average shooting performance
Timing Test Results
Power up to first image captured = 2 seconds
Shutter lag when prefocused = almost instantaneous
Shutter lag with autofocus = approx. 2/10 of a second
Shot to shot delay wo/flash = 2.6 seconds
Shot to shot delay w/flash = 4.7 seconds
Sequential burst = .85fps
Sequential burst w/flash = 0.47fps
Bottom Line
When I started with this camera, I was not a fan of the touch screen feature. However, Canon has won me over with this one, thanks to a very responsive system. The images taken from the SD3500 were of excellent quality and the camera feels well built and sturdy.
Pick This Up If...
You are looking for a high quality compact digital camera with excellent image quality that is easy enough for anyone to pick up and start shooting with, and is loaded with great features.

Canon's new PowerShot SD3500 IS Digital ELPH is a compact digital camera featuring a 14-Megapixel imaging sensor, DIGIC 4 image processor, 3.5-inch PureColor LCD touch screen with an auto scene selection mode, program mode and HD video capture. This camera is easy enough for anyone in the home or office to pick up and start shooting with, even if they have no previous experience with a digital camera. Not to mention the SD3500 is packed with high-end features.
Canon's Auto mode will automatically choose the correct "scene" mode for your current shooting situation. The PowerShot SD3500 chooses its scene mode based on 13 predefined shooting situations to make sure it has the right settings for your subject.
The SD3500 has a good feel to it and I was able to shoot with it comfortably with two hands. Having a touch screen makes it difficult to do any quick-draw one handed shots. I found gripping the camera with two fingers on each hand worked best; also known as the "pinch" technique. One drawback is the placement of the flash. Several times my left hand would block the flash when shooting indoors and in low light. I was and am usually skeptical of touch screens, but Canon has won me over. The touch screen responded well to my inputs, even before going through the calibration, and the more I used it the more I liked it. I found the touch screen to be very interactive when I learned about the "swipe" shortcuts. These are four shortcuts in playback mode that can be set-up to do several different actions. I used the Delete swipe several times and it worked well. What you do when wanting to delete an image is drag your finger from the top of the touch screen and when you get to the center, drag to the left. This will then bring up the Delete command. Sweeping from top to the right will perform another function as will sweeping from the bottom up and then to the right or left. In addition, the clarity of the TruColor LCD was very good.

Performance from the SD3500 is great for a ultra-compact camera. From the time you press the power button, the camera takes about 2 seconds before it can capture its first image. The camera's shutter lag was
instantaneous
when the camera is pre-focused but took about 2/10 of a second when allowing the autofocus to work. When shooting without the flash, the camera's shot-to-shot delay took 2.6 seconds, and jumps to 4.7 seconds when using the flash. Using the camera's continuous shooting mode, we were able to get about 0.85fps without the flash and .47-fps with the flash. All of our tests were completed using a Class 6 SCHC card, rechargeable Ni-MH battery, Program mode, ISO Auto, Flash off and all other settings at the factory defaults unless noted otherwise. All times may vary depending on lighting, camera settings, media, etc.
Outdoors, the SD3500 was able to capture some great photos. I was really happy with the shot of the cannon, with a rich blue sky and colors of the flag were quite vivid. The theater shot looked really good and if there was any aberrations we usually look to the wires; we saw a few, but only noticed them at 100% magnification. Looking at the theater shot, I did notice that as you go away from the focal point, the bricks seem to blur and lose detail. The fore-mentioned is mostly discernible due to looking at the image on my computer screen at 100%. In a smaller print, the detail change would be so minuscule that no one would think to notice it anyway. Overall I thought that the SD3500 did well during the sunny winter day we were out testing it.

Our indoor images show similar results to our outdoor samples. I was quite happy with the detail that the camera was able to pick up, especially in the portrait shots. Looking at them in 100%, the camera had no problem picking up the smallest details in skin tones, hair and such. When looking at our standard M&M test shots, I was impressed with what the camera did at all the different ISO settings. As would be suspected the images get that "grainy" look to them at the higher ISO settings starting at around ISO 800, but the good news is that it only goes to ISO 1600; and you will see that even the ISO 1600 image could make a great 4x6-inch print. Canon seems to have abandon the 3200 setting which I will not be losing sleep over, as that setting, industry wide, seems to produce mostly unusable pictures in the consumer point and shoot category. I must note here that when using the Low-Light scene mode, I did take a picture where the camera used ISO 3200, but I guess that is at the camera's discretion as I did not choose it.

The SD3500 has a built in flash and for me this is the one major complaint I have. First and foremost is the placement. It is up very tight to the corner, right about where one would put their fingers when holding the camera. More often than not my finger blocked or partially blocked the flash when taking a picture. It became very frustrating. I finally had to switch to a less comfortable two finger "pinch" grip to keep my fingers from being part of the scene. After all that, I was not very happy with the flash performance. While it would light up my subject when aiming at the kids, it was always very dark behind them which gave the picture an unbalanced feel. In the M&M tests, the flash worked good when the camera was set at ISO Auto, but when we set the ISO to 80, it was very dark. With a price tag at around 330 bucks, this flash could be better. However, we have to note that with tiny cameras come tiny flash units. The SD3500 didn't perform any less than a similar cameras in this category.

Canon has some special Scene modes to mention. They have the standard stuff that is pretty common place to find on cameras these days. Where Canon chose to veer away is with some artistic effects. Color Accent and Color Swap have a similar principle, but were a lot of fun to play with. In Color Accent, you can choose a color (by tapping that spot on the touch screen) in your scene, set the degree of variance for that color, and the camera will only capture that color from the scene, everything else will turn out black & white. In the Color Swap mode, you can do just that. Do you wish the sweater your daughter is wearing matched the red flowers? this mode can make it happen. Fisheye and Miniature Effects are picture distortion effects. I didn't see much use for fisheye, but the miniature impressed me. I wasn't sure how well it would work, but as you can see in the samples page it is quite effective. Creative Light Effect was my least favorite. CLE is supposed to take the glow from lights or from fireworks and convert them to shapes such as hearts or stars. The problem I had was that to get a sample, shooting without the flash blurred everything, and shooting with the flash light up the scene too much. Low light is the last one I wanted to mention. We are seeing this pop up a lot in other cameras and I like this scene mode to manage indoor shooting scenes. I think it does a great job on the SD3500.

I was pleased with the video functions, the SD3500 is equipped with HD video and an HDMI port to connect the camera to that Hi-Def. television. You can even set the video to shoot in wide screen format. The video we got was pretty solid. As is pretty standard on the point and shoot cameras, the optical zoom does not work during filming. If you must zoom, there is digital zoom, but image quality will suffer if you use it. For anyone new to these reviews, let me briefly explain why. Digital zoom is sort of a misnomer, in reality you are not zooming, but enlarging what the camera sees. This results in a more pixelated image. The recording sizes for movies are HD 1280x720, 640x480 and a smaller size 320x240 option.

Powering the SD3500 is a 3.7V Li-Ion battery pack. Canon's website claims that you should get about 220 shots on a fully charged battery. In our use during testing we didn't make the 220 mark, but as a review is built I am constantly turning the camera on and off and letting it just sit idle as I look at pictures, and review functions. With all that said, someone using the camera as intended should be satisfied with the battery's ability. And with the external charger, purchasing a second battery will keep you shooting for hours.

Bottom Line - I am happy to recommend the SD3500. It is on the high end as far as price goes, but I believe that it will be money well spent. You will love the interactive touch screen and more importantly you will be happy with the image quality. On the other side, with its wide angle 24-mm lens, a panoramic scene mode instead of the Fisheye mode would have been a wiser choice in my opinion. With a street price of $329.99US or less, the SD3500 IS offers a great value in the touchscreen, point-n-shoot market.

Visitors of Steves can visit the stores below for real-time pricing and availability. You can also find hot, soon to expire online offers on a variety of cameras and accessories at our very own Camera Deals page.