Canon Powershot SD1100 IS Review
Canon Powershot SD1100 IS Review
Review posted 4/2/2008

Click to take a QTVR tour of the SD1100 IS



The Canon PowerShot SD1100 IS Digital ELPH is offered in five fashionable colors, allowing users to express their creativity and uniqueness. This feature-rich, pocket-sized, 8.0 megapixel, optically image stabilized digital camera is firmly rooted in the traditions of photo excellence and imaging innovation that Canon is known for.
Adding to the camera's versatility is a sharp and fast 3x optical zoom lens (38-114mm equivalent opening up to f/2.8 at wide-angle settings and f/4.9 at telephoto settings). The SD1100 IS also features Canon's advanced Optical Image Stabilization (OIS) system that significantly reduces the image-blurring effects of camera shake by shifting the lens to compensate for the movement. Canon's OIS technology is proven effective for extended telephoto shots as well as low-light shooting conditions and helps users get the best possible picture quality every time.
This new PowerShot camera also features the latest and most advanced generation of Canon's Genuine Face Detection technology, thus ensuring that up to nine forward-looking faces in the frame are in focus and properly exposed, with or without flash. In addition to focus and exposure control, the SD1100 IS's Face Detection feature captures truer, more accurately lit skin tones (and hence more beautifully rendered pictures) thanks to Canon's improved face detection white balance.
The "brain" in every new Canon digital camera is Canon's proprietary DIGIC III imaging processor. This exclusive chip is responsible for the cameras' higher performance levels including faster start up, faster autofocus and quicker shutter response times that leave long lag competitors far behind. What's more, DIGIC III improves both the image quality and the cameras' power consumption, extending the battery life under typical shooting conditions.
The SD1100 IS offers users a choice of 18 shooting modes including a fully automatic mode that makes this camera a true point-and-shoot; a semi-automatic "Camera M" mode which allows access to features such as Exposure Compensation and White Balance adjustments that Full Auto mode does not, as well as a plethora of scene selection modes - including Sunset mode - that optimize image results under a variety of shooting conditions.
Canon's precise 9-point Autofocus system along with the new AF-Point Zoom feature work together with Face Detection Technology to allow users to double check the facial expressions of their subjects, when shooting under more challenging conditions. After activating the feature in the camera's menu, the AF-Point Zoom can be engaged simply by pressing the shutter button halfway.
While the face detection algorithm automatically prioritizes up to nine human faces in a scene, it can also be instructed via the Face Select and Track function to lock on to a single face in the crowd, ensuring that the chosen countenance is finely focused, no matter where it appears in the frame. Additionally, a new Motion Detection function linked to the camera's High ISO Auto mode improves image clarity by raising ISO speeds (and shutter speeds) for fast-moving subjects or lowering ISO speeds to reduce noise when the subject is stationary. These automatic advances provide even more ways for the PowerShot SD1100 IS Digital ELPH camera to optimize picture quality with seamless ease.
Streamlining the image review process, Canon's Intelligent Orientation Sensor determines whether a scene is being shot as a vertical or horizontal image and automatically adjusts it for quick and easy review on the camera's bright, 230,000-pixel 2.5-inch Pure Color LCD II screen. The Image Inspection Tool feature zooms in on faces automatically during playback to make it even easier to check facial expressions. The new camera also features Canon's newly developed Automatic Red Eye Correction that engages in the shooting mode, minimizing the need for correction before printing or sharing images. As an added convenience, the PowerShot SD1100 IS is compatible with MMC, MMC+ and HC MMC+ memory cards as well as standard SD and SDHC memory cards.

Powershot SD1100 IS Features:
8.0 Megapixel CCD sensor for up to 3264 x 2448 pixel images
3x optical 38-114mm (35mm equivalent) zoom
Optical Image Stabilization (IS) technology
Large 2.5" color LCD with 230,000 pixels
Widescreen 16:9 aspect ratio for HDTV display
Ultra-compact and durable stainless steel body (3.42 x 2.16 x 0.87 in.)
Advanced TTL AiAF 9-point autofocus system with focus-assist lamp
Canon's Face Detection AF/AE/FE technology with AF-Point Zoom feature
Auto, Scene and Camera M (Program) exposure modes
Continuous 1.3fps shooting until memory is full
Movie mode w/sound 30 640x480/320x240 up to 4GB
Evaluative metering on focus point or Spot
Exposure compensation: +/-2EV in 1/3-step increments
White Balance: Auto, 5 presets or Custom
Various My Colors digital Photo Effects (10 presets or custom)
Shutter speeds of 15 seconds to 1/1500 second
Auto noise reduction with 1.3 sec or longer shutter speeds
Selectable ISO settings from 80 to 1600
Voice memo (up to 60 secs) can be attached to images
Intelligent Orientation Sensor
Built-in microphone and speaker
Lithium rechargeable battery and charger included
Direct print and PictBridge Compliant
High-speed USB 2.0 connectivity for PC and Mac
SD/SDHC and MMC/MMC+/HC MMC+ card storage, 32MB SD card supplied

The Powershot SD1100 IS Digital ELPH is available now, and comes in five colors. The camera kit includes a battery pack and charger, a 32MB SD Memory card, a USB interface cable, an AV cable, a wrist strap, and Canon's software suite. Each kit carries an estimated retail price of US$249.99
Physical Views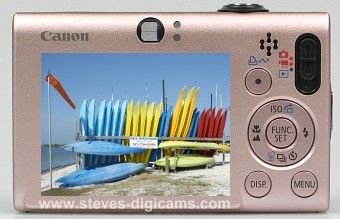 The SD1100 IS compared to a standard CD disc.
PowerShot SD1100 IS Specifications
Type of Camera

Compact digital still camera with built-in flash, 3x Optical/4x Digital/12x Combined Zoom with Optical Image Stabilizer System

Image Capture Device
Type

8.0 Megapixel, 1/2.5 inch type Charge Coupled Device (CCD)

Total Pixels

Approx. 8.3 Megapixels

Effective Pixels

Approx. 8.0 Megapixels

Lens
Focal Length

6.2-18.6mm f/2.8-4.9 (35mm film equivalent: 38-114mm)

Digital Zoom

4x

Focusing Range

Normal: 12 in./30cm-infinity
Macro: 1.2 in.-1.6 ft./3-50cm (W), 1.2 in.-1.6 ft./3-50cm (T)
Digital Macro: 1.2-3.9 in./3-10cm (W)

Autofocus System

TTL Autofocus

Viewfinder & Monitor
Viewfinder

Real image optical zoom viewfinder

LCD Monitor

2.5-inch low-temperature polycrystalline silicon TFT color LCD with wide viewing angle (PureColor LCD II)

LCD Pixels

Approx. 230,000 pixels

LCD Coverage

100%

Aperture and Shutter
Maximum Aperture

f/2.8 (W) - f/4.9 (T)

Shutter Speed

15-1/1500 sec.; Long Shutter operates with noise reduction when manually set at 1.3-15 sec.

Exposure Control
ISO Sensitivity

Auto, High ISO Auto, ISO 80/100/200/400/800/1600 equivalent (Standard output sensitivity. Recommended exposure index)

Light Metering Method

Evaluative*, Center-weighted average, Spot**
* Control to incorporate facial brightness in Face Detection AF
** Metering frame is fixed to the center

Exposure Control Method

Program AE; AE Lock

Exposure Compensation

+/-2 stops in 1/3-stop increments

White Balance
White Balance Control

Auto, Preset (Daylight, Cloudy, Tungsten, Fluorescent, Fluorescent H), Custom

Flash
Built-in Flash

Auto, Red-eye Reduction, Auto Red-eye Correction, Flash On, Flash Off; FE lock, Slow Synchro

Flash Range

12 in.-11 ft./30cm-3.5m (W), 12 in.-6.6 ft./30cm-2.0m (T) (when sensitivity is set to ISO Auto)

Recycling Time

10 sec. or less (battery voltage=3.7V)

Flash Exposure Compensation

+/-2 stops in 1/3-stop increments

Shooting Specifications
Shooting Modes

Auto, Camera M, Portrait, Special Scene (Foliage, Snow, Beach, Sunset, Fireworks, Aquarium, Underwater, Indoor, Kids & Pets) Night Snapshot, Color Accent, Color Swap, Digital Macro, Stitch Assist, Movie

Photo Effects

My Colors
Vivid, Vivid Blue, Vivid Green, Vivid Red, Neutral, Sepia, Black & White, Positive Film, Lighter Skin Tone, Darker Skin Tone, Custom

Self-Timer

Activates shutter after an approx. 2-sec./10-sec. delay, Custom

Wireless Control

Not available

Continuous Shooting

Approx. 1.3 fps (Large/Fine)

Image Storage
Storage Media

SD/SDHC Memory Card, MultiMediaCard, MMC Plus Card, HC MMC Plus Card

File Format

Design rule for camera file system, DPOF Version 1.1

Image Compression

Normal, Fine, SuperFine

JPEG Compression Mode

Still Image: Exif 2.2 (JPEG)
Movie: AVI (Image: Motion JPEG; Audio: WAVE (Monaural))

Number of Recording Pixels

Still Image: 3,264 x 2,448 (Large), 2,592 x 1,944 (Medium 1), 2,048 x 1,536 (Medium 2), 1,600 x 1,200 (Medium 3/Date Stamp), 640 x 480 (Small), 3,264 x 1,832 (Widescreen)
Movie: 640 x 480 (30 fps/30 fps LP), 320 x 240 (30 fps) available up to 4GB or 60 minutes, 640 x 480 (up to 2 hours at 0.5 fps/1 fps), 160 x 120 (up to 3 min. at 15 fps)

Number of Recordable Images

Large (L)

Medium 1 (M1)

Medium 2 (M2)

SF

F

N

SF

F

N

SF

F

N

File Size (KB)
3,436
2,060
980
2,503
1,395
695
1,602
893
445

32MB

8

14

29

11

20

41

18

32

64

SDC-128M

35

59

123

49

87

173

76

136

269

SDC-512MSH

139

231

479

190

339

671

295

529

1,041




Medium 3 (M3)

Small (S)

Widescreen (W)

SF

F

N

SF

F

N

SF

F

N

File Size (KB)
1,002
558
278
249
150
84
2,601
1,540
736

32MB

29

52

99

111

171

270

11

18

39

SDC-128M

121

217

411

460

711

1,118

47

79

166

SDC-512MSH

471

839

1,590

1,777

2,747

4,317

183

307

642

Time of Recordable Movies

Standard, Color Accent, Color Swap
Compact
Time Lapse
640 x 480
320 x 240
160 x 120
640 x 480
30 fps
30 fps LP
30 fps
15 fps
1 sec. interval
2 sec. interval

Movie size (KB/sec.)

1,963

1,003

703

131

64

32

32MB

14 sec.

27 sec.

38 sec.

3 min. 09 sec.

7 min. 30 sec.

15 min. 00 sec.

SDC-128M

1 min. 01 sec.

1 min. 56 sec.

2 min. 42 sec.

13 min. 02 sec.

31 min. 45 sec.

1 hr. 3 min. 30 sec.

SDC-512MSH

3 min. 57 sec.

7 min. 30 sec.

10 min. 29 sec.

50 min. 21 sec.

3 hr. 3 min. 30 sec.

1 hr. 33 min. 00 sec.

Note: N=Normal F=Fine SF=SuperFine
Storage Capacity varies depending on camera settings. This data is estimated from Canon's standard shooting conditions. Figures for Movie Mode represent total capacity of the particular media.
Playback Specifications
Playback Modes File

Still Image: Single, Magnification (approx. 2x-10x), Jump, Auto Rotate, Rotate, Resume, My Colors, My Category, Transition Effects, Histogram, Overexposure Warning, Index (9 thumbnails), Sound Memos, Slide Show, Red-eye Correction, RAW, Trimming, Resize, Image Inspection Tool
Movie: Normal Playback, Special Playback, Editing, Auto Rotate, Resume

Erasing Specifications
Erase Modes

Still Image: single image, select range, select by date, select by category, select by folder, all images
Movie: part of movie, all of movie

Interfaces
Computer Interface

USB 2.0 Hi-Speed (mini-B jack)

Video Out

NTSC/PAL

Audio Out

Monaural

Other

Memory card slot; direct connection to Canon SELPHY Compact Photo Printers, PIXMA Photo Printers and PictBridge-compatible printers via camera's USB 2.0 Hi-Speed cable

Power Supply
Power Source

1. Rechargeable Lithium-ion Battery NB-4L
2. AC Adapter Kit ACK-DC10 (optional)

Shooting Capacity

Still Image: approx. 240 shots (NB-4L)*

Playback Time

Approx. 360 min. (NB-4L)

* LCD screen on. The above figures comply with CIPA testing standards and apply when fully-charged batteries are used.


Physical Specifications
Operating Temperature

32-104°F/0-40°C

Operating Humidity

10-90%

Dimensions (W x H x D)

3.42 x 2.16 x 0.87 in./86.8 x 54.8 x 22.0mm

Weight

Approx. 4.41 oz./125g (camera body only)

(Specifications as represented by the manufacturer)






















Visitors of Steves can visit the stores below for real-time pricing and availability. You can also find hot, soon to expire online offers on a variety of cameras and accessories at our very own Camera Deals page.