Canon Powershot S330 Review
Canon Powershot S330 Review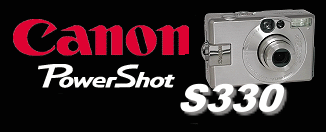 Review posted 3/28/02

Click to take a QTVR tour of the S330



Canon's new PowerShot S330 "Digital ELPH" is the 2002 upgrade to the PowerShot S300 camera. It retains and improves upon the stylish and elegant design that made the S300 one of the most popular digital cameras of 2001. Packed inside of the highly compact and durable stainless steel case is a 3x optical 35-105mm f/2.7-4.7 zoom lens and a 2.0 megapixel CCD sensor. The menu interface and camera controls have been improved to make it easier to use. It features direct print capability with Canon's new CP-100 and CP-10 Card Photo Printers as well as the S820D Photo printer for making direct, borderless prints up to 8.5 x 11-inches without need of a computer.
The S330 captures high-resolution still images up to 1600 x 1200 pixels for printing or you can select 1024 x 768 or 640 x 480 size for screen or web use. For creative control it has a Photo Effects mode; a shutter speed range of 15 seconds to 1/1500 second; spot metering; selectable ISO settings from 50 to 400; built-in red-eye reduction light-guide flash; and zoom playback up to 10x for convenient image review.
A new Intelligent Orientation sensor has been added to both models to detect whether an image has been recorded horizontally or vertically. During image playback, the sensor detects the proper orientation of each image, and previews them accordingly without the need to rotate the camera for image viewing. It is also adjusts AF, AE and white balance accordingly. Similarly, when using the ZoomBrowser EX and ImageBrowser software included with the cameras, vertical and horizontal picture orientation is automatically detected and appropriately displayed.

When powered down, the lens is safely tucked away inside of the highly durable stainless steel body that measures just 3.7 x 2.5 x 1.2 inches. This is truly a "pocket size" camera that weighs a scant 8.5 ounces. As with all the Canon compacts, the S330 has a light-assisted autofocus that even works in the dark. An advanced TTL AiAF three-point autofocus system permits the camera to automatically select the primary subject even when off-center.
The PowerShot S330 can also record movies with sound in VGA (640 x 480 pixels), QVGA (320 x 240 pixels) and Q2VGA (160 x 120 pixels) at 20 frames per second. Up to 4 seconds of continuous recording is possible in VGA, 10 seconds in QVGA, and up to 30 seconds in the Q2VGA format. In addition, the PowerShot S330 features a built-in speaker for audio playback, as well as a Voice Memo feature that allows users to add up to 60 seconds of sound annotation to any captured image on the camera's CF card.
The S330 comes with a comprehensive suite of programs enabling image management, editing, compositing and printing. It's compatible with both Mac and PC computers, including Windows XP and Mac OS X. Included is Apple QuickTime 5.0, Canon RemoteCapture 2.4, and PhotoStitch 3.1 for both Macintosh and Windows, as well as Canon ZoomBrowser EX 3.3, PhotoRecord 1.4 and WIA and TWAIN drivers for Windows, plus ImageBrowser 2.3 and a Photoshop-compatible plug-in for the Mac. Features integrated in both ZoomBrowser EX 3.3 and ImageBrowser 2.3 include TimeTunnel and SlideShowMaker. When using ZoomBrowser EX 3.3 or ImageBrowser 2.3, users can take advantage of new and improved features for auto layout printing, self-running full-screen slide shows, and automated preparation of images for use as e-mail attachments.

PowerShot S330 Features
2.0 Megapixel CCD imager for up to 1600x1200 pixel images
3x optical 35-105mm f/2.7-4.7 zoom, 2.5x digital zoom
1.5" color LCD with up to 10x playback zoom
Highly compact and durable stainless steel body (3.7 x 2.5 x 1.2 in.)
Advanced TTL AiAF three-point autofocus system
Program AE automatic and Manual exposure modes
Movie mode w/sound, 20fps 640x480 / 320x240 / 160x120
2.5fps Continuous exposure mode
Evaluative metering on focus point or Spot
Stitch Assist mode for perfect panoramas
Exposure compensation: +/-2EV in 1/3-step increments
White Balance: Auto, 5 presets or Custom
Photo Effects: Low Sharpening, Vivid Color, Neutral, Sepia and B&W
Low-light focus assist illuminator
Shutter speeds of 15 seconds to 1/1500 second
Selectable ISO settings from 50 to 400
Voice memo (up to 60 secs) can be attached to images
Intelligent Orientation sensor
Builtin microphone and speaker
Lithium rechargable battery and charger included
Direct print to CP-100, CP-10 and S820D printers
USB connectivity for PC and Mac
Optional WP-DC500 Waterproof Case
The Canon PowerShot S330 Digital ELPH is available at retailers nationwide in March,2002, and has a suggested retail price of $399.






The optional WP-DC500 Waterproof Case for the S330 is rated for underwater use to a depth of 30 meters. It's also perfect for use when snow skiing or using the camera out in the rain or other inclement weather.



Download the PowerShot S330 brochure
Physical Views
The S330 compared to a normal CD disc.
PowerShot S330 Specifications
Camera effective pixels :
Approx. 2 million
Image sensor :
1/2.7 in. CCD (Total number of pixels: approx. 2.1 million)
Lens :

5.4 (W) - 16.2 (T) mm
(35 mm film equivalent: 35-105 mm)
F 2.7 (W) - 4.7 (T)

Digital Zoom :
Maximum 2.5x (Maximum 7.5x with optical zoom)
Optical Viewfinder :
Primary imaging real-image optical zoom viewfinder
LCD monitor :
1.5-inch low-temperature polycrystalline silicon TFT color LCD, approx. 120,000 pixels
Autofocus :
TTL 3 point AiAF/ TTL 1 point center AF
Focus lock possible
Focusing Range :
(from tip of the lens barrel)

Normal :
76 cm (2.5 ft.) - infinity
Macro :
16 - 76 cm (6.3 in. - 2.5 ft.) (W)
26 - 76 cm (10.2 in. - 2.5 ft.) (T)

Shutter :
Mechanical + electronic
Shutter Speed :
15 - 1/1500 sec.

| | |
| --- | --- |
| * | 1- 1/ 6 sec. possible at flash-off or slow-synchro in manual mode. |
| * | 15 - 1 sec. possible in long shutter mode. |
| * | Noise reduction processing on speeds between 15 - 1.3 sec. |

Light Metering Method :
Evaluative metering (linked to focusing point) or
Spot metering
Exposure Control :
Program AE
Exposure Compensation :
+-2 EV (in 1/3-stop increments)
Sensitivity :
ISO 50/ 100/ 200/ 400 / Auto (50-150)
White Balance :
TTL auto/ preset (daylight, cloudy, tungsten, fluorescent, fluorescent H) or custom white balance
Flash :
Red-eye reduction auto/ auto/ on/ off / slow-synchro
Flash Range :

Normal :
76 cm - 3.5 m (2.5 - 11.5 ft.) (W),
76 cm - 2.0 m (2.5 - 6.6 ft.) (T)
Macro :
26 - 76 cm (10.2 in. - 2.5 ft.) (W/T)

Shooting Modes :
Auto/ manual/ stitch assist/ movie
Continuous Shooting :
Approx. 2.5 images/sec. (Large/ Fine mode, LCD monitor off)
Self-Timer :
Shoots after approx. 10 sec. or approx. 2 sec.
PC Connected Shooting :
Available (USB connection only. Exclusive software program RemoteCapture is included in the camera kit.)
Recording Media :
CompactFlashTM card (Type I)
File Format :
Design rule for Camera File system, DPOF compliant
Image Recording Format :

| | |
| --- | --- |
| Still Images : | JPEG (Exif 2.2)* |
| Movies : | AVI (Image data : Motion JPEG, Audio data : WAVE [monaural]) |

Compression :
Superfine/ fine/ normal
Number of Recording Pixels :

Still Images :

Large : 1600 x 1200 pixels
Medium : 1024 x 768 pixels
Small : 640 x 480 pixels

Movies :

640 x 480 pixels (~ 4 sec.)**
320 x 240 pixels (~ 10 sec.)**
160 x 120 pixels (~ 30 sec.)**
Approx 20 frames/ sec.
** The data in parentheses refer to the maximum movie length per shooting

Replay Modes :
Single image view/ index view (9 thumbnails)/ zoomed view (LCD monitor zooms images up to 10 x ) / slide show / printing with Card Photo Printer CP-100, CP-10 or Bubble Jet Printer (Direct Print Function)
My Camera Settings :
Start-up image, Start-up sound, Shutter sound, Operation sound and Selftimer sound. Customizing is possible by downloading data from your computer using the supplied software.
Interface :

Universal Serial Bus (USB)
Audio/ Video Output (NTSC or PAL selectable, monaural audio)

Power Source :

Rechargeable Lithium-ion battery
NB-1LH (3.7V 840mAH)
CB-2LS Charger included (100-240VAC)

Opt. Compact Power Adapter CA-PS500
Opt. Car Battery Charger CBC-NB1

Operating Temperatures :
0 - 40 °C (32 - 104 °F)
Operating Humidity :
10 - 90 %
Dimensions
(w x h x d) :
94.8 x 62.5 x 31.5 mm
3.7 x 2.5 x 1.2 in.
(excluding protrusions)
Weight :
Approx. 245 g (8.6 oz.)
(camera body only)
Package Contents (U.S./N. America)
Digital Camera
Wrist Strap WS-110
Battery Charger CB-2LS
Battery Pack NB-1LH
Case for Battery Pack
CompactFlashTM Card FC-8M
Case for CompactFlashTM Card
AV Cable AVC-DC100
USB Interface Cable IFC-300PCU
Digital Camera Solution Disk
ArcSoft Camera Suite Disk
Camera User Guide
Software Starter Guide
System Map


































Visitors of Steves can visit the stores below for real-time pricing and availability. You can also find hot, soon to expire online offers on a variety of cameras and accessories at our very own Camera Deals page.