Canon Powershot S330 Review
Canon Powershot S330 Review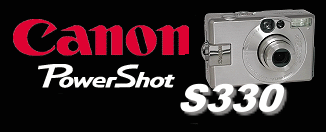 Steve's Conclusion
The Canon PowerShot S330 and the Digital IXUS 330 are the same, just different names for different markets. Canon took last year's popular PowerShot S300 and made it even better by giving users a host of record-time options. It still has a 3x optical zoom, a 2-megapixel imager and the same rugged, small "pocketable" size. The body is 95% stainless steel, the only non-metal parts on the outside are the CompactFlash door, the battery door and the small rubber flap over the I/O ports. When powered down the lens retracts into the body and is protected by a built in lens cover. Unlike a lot of other cameras with retracting lenses that take 5 or 6 seconds to power on, the S330 is ready to go in under 3 seconds. This is an excellent camera for the "on the go" tourist or the extreme sportist and will handle pretty much anything you can throw at it.

The S330 features a high-resolution 1.5" color LCD with a non-reflective coating that makes it quite visible in bright light as well as resistant to nose smears. The back light for the LCD is supplied by very energy efficient white LEDs, this is a good thing as a small camera also means a small power supply. The S330 is now powered by a larger 840mAH (the S300 used a 680mAH) rechargeable lithium battery that's good for about an hour of continuous use. The problem with a proprietary battery is that you can't use an off-the-shelf battery if it dies on you out in the field. So the smart owner will buy a second battery and keep it charged and ready. Canon supplies a small AC charger for the battery that takes a little over two hours to fully charge a depleted pack.

Images are stored on CompactFlash Type I cards, Canon includes an 8MB card which is nowhere big enough. I'd suggest at least a 128MB size card for even the semi-serious user. CF cards are really cheap nowadays, the average price is around $.50/MB or less. The USB port lets you move your pictures from the camera to your computer, drivers included for Windows 98 SE, ME, 2000 and Mac OS 8.5+. The overall operation of the S330 is very robust. As already mentioned, it only takes about three seconds from pushing the power button until it is ready to snap the first picture. It takes less than a second to go from Record to Play mode. The camera has a fairly fast autofocus system that is further enhanced in the dim to dark by a focus assist lamp - something that Nikon, Fuji and others should start using too (hint, hint!) If the LCD is on you will also see the three focus zones and which ones have been used for the AF lock. The S330's Macro mode has excellent coverage from six inches to about two and a half feet and it controls the flash perfectly even at the closest range. The total shutter lag (time from pressing shutter to actually capturing) varies from less than a second to about a second and a half, this is a little faster than average. In Large/Fine mode the shot to shot time is about a second and a half, this is faster than most digicams. The continuous drive mode lets you capture up to 7 Large/Fine images per burst at around 2.5fps.

Overall the image quality is excellent and there are a number of recording options that you can apply when desired. The Photo Effects (Soft focus, Vivid color, Neutral, Sepia, B&W) give you the ability to massage the look of your images in-camera. If you like shooting night pictures then you'll appreciate the "slow shutter" option that gives you access to 1 to 15 second shutter speeds. To insure the best possible image, Noise Reduction is automatically applied when the shutter speed is between 1.3 and 15 seconds. The S300 did not allow the user change the ISO sensitivity, the S330 has settings for 50, 100, 200, 400 or Auto. In addition to the automatic white balance setting there are presets for sunny, cloudy, incandescent, fluorescent, fluorescent H (daylight temperature) and a custom setting for use with a white or grey card. Being a small camera it also has a small built in flash and its coverage is somewhat limited. In wide angle it's good to about ten feet but in telephoto that drops off to around six feet. The lens exhibits moderate barrel distortion in full wide angle and a little pincushioning at full telephoto but no more than most 3x zoom lenses and better than some. The optical viewfinder covers about 92% of the captured image and has no dioptric adjustment.

What a difference a year makes -- last year the S300 was $699 and this year the improved S330 is just $499. For anyone that wants or needs a very portable and extremely durable camera it's very hard to beat one of Canon's Digital ELPHs !

Want a second opinion?
Visitors of Steves can visit the stores below for real-time pricing and availability. You can also find hot, soon to expire online offers on a variety of cameras and accessories at our very own Camera Deals page.