Canon Powershot S330 Review
Canon Powershot S330 Review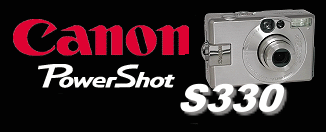 Bundled Software
The complete list of bundled software with the U.S./N. American PowerShot S330 camera is as follows :
Canon Digital Camera Solutions Disk Ver 9.0

For Windows 98/Me/2000:

ZoomBrowser EX 3.3
PhotoRecord 1.4
PhotoStitch 3.1
RemoteCapture 2.4
USB TWAIN Driver 3.6
WIA Driver 3.6
RS-232 TWAIN Driver 3.6
Apple QuickTime 5

For Macintosh:

Zoombrowser EX 3.3/ImageBrowser 2.3
Time Tunnel
SlideShowMaker
PhotoStitch 3.1
RemoteCapture 1.3
Plug-In Module 3.6
Apple QuickTime 5

ArcSoft Camera Suite CD

For Windows 95/98/Me/2000 or Mac OS 8.5+
It's easier than ever to get your images from the camera. You install the software first and then plug the camera into the USB port and turn it on in Replay mode. Windows detects the camera and then installs the proper drivers that were already copied to the harddrive.



Now everytime that you plug the camera in to your computer a windows pops up and asks what application you want to use, pick the Canon ZoomBrowser and then the window shown above pops up and displays thumbnails of all the images in the camera. Select any or all and then click on "Download" button.


The selected images are now copied very quickly to the folder that you define in the options. On my Pentium III/1000MHz machine it only takes about 2 seconds per image to copy even the Large/Superfine camera images.



Once the images have been copied you can now view and manipulate them in the main window of the ZoomBrowser application.



You can also check and change the camera's time and date, set the owner's name (handy if the camera is everstolen to prove who it really belongs too), format the CF card and see the status of the battery.



If you have a computer without a USB port you can download camera images via the RS-232 serial (slow) port but you will have to buy the cable, only the USB cable is included.
Visitors of Steves can visit the stores below for real-time pricing and availability. You can also find hot, soon to expire online offers on a variety of cameras and accessories at our very own Camera Deals page.