Canon Powershot S330 Review
Canon Powershot S330 Review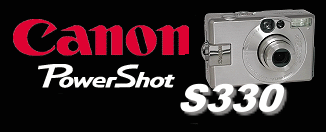 Playback Screens & Menus
When you select Playback mode the last picture taken is displayed. You can move backward or forward through the images using the LEFT and RIGHT buttons. The amount of overlay information displayed is controlled by pressing the DISP button. This frame shows the default information, across the bottom is 4/9 which means image 4 of 9 total. Superfine/Large image and the time and date it was captured.



Pressing the DISP button again brings up further icons to indicate the capture mode (auto, manual, movie), flash mode, exposure compensation, white balance, ISO speed and metering. In the upper right corner is the exposure histogram.
If you press the DISP button again all of the overlay information is removed. This is good for when you are showing the pictures on the TV and don't want the info displayed.



You can quickly search through stored images using the Index playback function which is actuated by pressing the Wide zoom control button. Nine thumbnail size images will be displayed and you can select one using the LEFT or RIGHT buttons and then pressing the Telephoto zoom button. Pressing the Wide button again while put you in jump mode where you can backward or forward a page at a time.



The image can be magnified up to 10x in ten steps by pressing the telephoto zoom button. Once the image is enlarged you can move around inside of it using the 4-way selector buttons.



Movie clips can be played in the camera with audio thanks to the builtin speaker. Here is the full info screen shown before playing a movie clip.



You get "VCR-like" buttons to control the playback of movie clips.



Pressing the MENU button brings up this page of options. Protect or unprotect image(s), rotate image for display on TV (Not necessary if you shot the picture with the Auto Rotate option enabled), Sound Memo will let you attach up to a 60 sec voice "note" with an image, Erase all will delete ALL the images, Slide Show is for automated playback on a TV, Print Order lets you set the DPOF printing information.



The Setup sub-menu lets you to turn the Beep sounds on/off, adjust the speaker volume, enable the Auto Power Down option (off, on), set the time and date in the internal clock, format the CF card, set the menu language, and specify the video out format (NTSC or PAL).



The MyCamera sub-menu lets you change and customize the startup and shutdown screens and the camera's sound effects.
Visitors of Steves can visit the stores below for real-time pricing and availability. You can also find hot, soon to expire online offers on a variety of cameras and accessories at our very own Camera Deals page.