Canon Powershot G2 Review
Canon Powershot G2 Review
Playback Screens & Menus

Switching the G2 into Play mode will bring the last picture captured up in fullscreen mode with overlay data for folder/picture number, current picture / total number of pictures, image quality and size, date and time of exposure.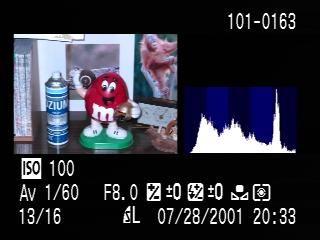 You can get all the picture information including a histogram by pressing the DISPLAY button. As you can see it is very complete and includes folder and image number, ISO sensitivity, exposure mode, shutter speed, aperture, exposure compensation, white balance, focus mode, image size and quality, date and time.



The playback image can be magnified 3x or 6x by toggling the zoom control to the telephoto position. You can stop at either enlargement step and scroll around inside the image.



Toggling the zoom control to the wideangle position enables the thumbnail index mode. Here you can quickly search through the stored images and find one to playback in full screen mode.



Pressing the JUMP button lets you move quickly forward or backward through the thumbnails a page at a time.



The Play mode menu with options for Protecting images from accidental erasure, Rotate to re-orient portrait mode images for proper display on a TV screen, Erase All images. Single images can be erased by pressing the "Star" button while they're being viewed. The Slide Show option lets you select an interval time between images and and start and stop a presentation. The Print Order option lets you embed DPOF (Digital Print Order Format) information on the card so any selected pictures can be easily printed by DPOF-compliant printers or services.



This is the SETUP menu and it is available from any menu even when in Play mode.
Beep - On or Off
LCD Brightness - On or Off
Shutter Volume - 5 levels
Auto Power Down - On or Off
Date/Time - set date and or time
Format - format the CF card
Language - set the menu language
Video - output format NTSC or PAL
Steve's Conclusion
Canon made the statement, "Virtually every other feature of the Canon PowerShot G2 has been improved relative to the G1." And they're right. The PowerShot G1 is an excellent camera but it needed some improvements and changes and Canon has incorporated most all of them into the new G2 model.

The G2 features a 4-megapixel imager with RGB color filter, about 100% faster image processing times, manual focusing with an enlarged view on the LCD and a distance scale. Three-point autofocus system with user-selectable focusing point. Evaluative metering and Spot-AF on the selected focus point. The regular 1.5fps continuous mode is joined by a new High-Speed 2.5fps Continuous mode good for up to 5 Large/Fine frames. Movie mode can now be 320 x 240 or 160 x 120 resolution. White balance options now include a Fluorescent H setting for daylight bulbs.

In manual or shutter speed priority mode you can select speeds from 1/1000 to 15 seconds. Noise reduction is automatically applied whenever the shutter speed is 1.3 sec or longer. The Program AE exposure mode now has Program Shift so other combinations of shutter speed and aperture can be selected. Playback modes now include a histogram plus over-exposure indication.

Included with the G2 is a larger capacity 32MB CF card. The battery life has been improved ~50% while using the same Canon BP-511 lithium rechargeable pack. A very welcome improvement is the addition of a sizeable fingergrip on the front that makes the camera much more stable in your hand, especially when using a Canon Speedlite. Software improvements include the new Remote Capture 2.0 that now has the option for "live" viewfinder display as well as Video Out or LCD output as well. And Canon now includes Adobe Photoshop 5.0 LE in the software bundle.

And some things have remained the same -- the 4-megapixel G2 will sell for $999 ($649 as of 12/1/02), the same price as the 3-megapixel G1 sold for a year ago. The 7-21mm, F2-2.5, 3x all-glass Canon zoom lens is back along with the ability to use the LA-DC58 lens adapter to mount the Canon wideangle, telephoto and closeup lenses or 58mm filters. The G2 uses the same high-capacity Canon BP-511 lithium rechargeable battery pack as the G1, Pro 90IS and D30 cameras. The G2 employs the same Vari-Angle 1.8" color LCD display that gives the camera an extreme amount of flexibility in shooting angles, everything from "over the head" to "between the legs" is possible. The flash hot shoe allows for full TTL operation with the 220EX, 420EX, 550EX Speedlites as well as the Macro Ring Lite MR-14EX. The CompactFlash Type II card slot accepts any Type I or II solid state flash memory card as well as the IBM Microdrives. The G2 comes with the Canon WL-DC100 infrared remote controller which can be used to trip the shutter from up to 16ft away from the camera.

Those that have a need for the Remote Capture capability will be happy to know that the latest version 2.0 of Canon's Remote Capture program now allows for live previews from the camera as well as being able to output on the camera's LCD or a video device via the Video Out port. The Powershot G2 can be connected directly to Canon's portable little CP-10 dye sub printer via its USB port.

If you're in the market for an advanced and high-resolution digital camera that can be operated as easily by a novice as an experienced photographer, then check out the Canon G2. This is not a small or light camera. Ask anybody with photographic experience and they will tell you that a camera needs to have a certain amount of mass and size to accomplish its tasks. Lightweight cameras may be easy to carry but they're very succeptible to camera movement and that often relatesto blurry pictures. The G2 is more of a prosumer camera, it can be easily interfaced with more powerful and capable external flash units. The G2 and the 420EX flash are a very powerful combination, one that will let you do digitally nearly anything you can do with a film camera - except wait for the film to be developed...






Visitors of Steves can visit the stores below for real-time pricing and availability. You can also find hot, soon to expire online offers on a variety of cameras and accessories at our very own Camera Deals page.