Canon Powershot A590 IS Review
Canon Powershot A590 IS Review
Features & Controls
The A590 IS features a 4X (35-140mm in the 35mm format) f/2.6-5.5 all-glass aspherical zoom lens. When the camera is powered down the lens is retracted inside of the body and a built in cover closes to completely protect the glass of the lens.
With Canon's Optical Image Stabilization technology (OIS), users have the flexibility of actually shooting at shutter speeds 2-3 stops lower than would otherwise be possible. This camera features multi-mode Image Stabilization - users can choose between Continuous IS (always active), Panning IS (active when vertical camera shake is detected) and a "Shoot Only" IS mode (active when the shutter is pressed all the way.)
An advanced TTL AiAF 9-point autofocus system permits the camera to automatically select the primary subject even when off-center. The focusing range is:
Normal AF - 1.5 ft. (45cm) to infinity
Macro - 2.0 in. (5cm) to 1.5 ft. (45cm) in wide angle and 1.0 ft. (30cm) to 1.5 ft. (45cm) in telephoto.
In low light conditions the focus-assist lamp helps to illuminate the subject for accurate focusing.



To attach auxiliary Canon lenses just press the button and remove the dress ring, attach the optional LA-DC52G Conversion Lens Adapter, and then you may attach either the Canon WC-DC52C 0.7x Wide converter lens, TC-DC52A 1.75x Tele-converter lens, or the 250D 52mm Close-up Lens. This same lens adapter is used to allow many 52mm filters and lenses.

The built in flash offers Auto, Forced On, Forced Off, and Red-Eye Reduction. Flash range is 12. in. (30cm) - 11 ft. (3.5m) in wide angle, 12 in. (30cm) - 7.2 ft. (2.2m) in telephoto (using ISO Auto).
This is a Light-guide zoom flash that changes its angle according to the lens' focal length. The AF-assist lamp also serves as a red-eye reduction lamp.



You can frame your pictures with the color LCD or to save precious battery power you can use the optical viewfinder. This is a "coupled" viewfinder with approximately 80% to 85% coverage and has no dioptic adjustment. Next to the viewfinder are two LEDs which indicate the flash and focus status.



On the top you'll find the On/Off button, the shutter release with the zoom lens control lever mounted around it, and the Mode Dial. In playback mode the zoom lever functions as the index and magnified image control. The Mode Dial with positions for: Auto, Program, Shutter priority (Tv), Aperture priority (Av), Manual, Portrait, Landscape, Night Snapshot, Kids & Pets, Indoor, Special Scene (Night Scene, Foliage, Snow, Beach, Fireworks, Aquarium), and Movie.
See the next page for more information about the various Record modes.



The Powershot A590 IS features a large 2.5-inch LCD with 115,000 pixels of resolution. It is used for framing shots, reviewing stored images as well as menu operations.



Controls on the back: At the top right is the Play / Record switch and the built-in speaker. The +/- button lets you change exposure compensation in P mode and change the settings when in Tv, Av, or Manual mode. In PlayBack mode this button serves in the image delete process. The Print/Share button speeds and simplifies printing to Direct Print and PictBridge compliant printers, as well as transferring images to your PC. The 4-way controller seen here is used to navigate menus and select images during playback, the FUNC./SET button accepts menu selections. In record mode you press "Up" to change flash modes, "Down" to choose the focus mode. The FUNCtion/SET button also calls up the Function shortcut menu. This gives access to many settings such as: ISO, drive mode, white balance, My Colors, image quality, and image size. The DISPlay button turns the color LCD on/off and controls the amount of data displayed on it. The MENU button calls up and dismisses the menu screens.






The I/O ports: AV Out handles monaural audio and video to connect to a TV set with the supplied cable.

The DIGITAL port connects USB 2.0 (high-speed) to the computer for download and camera control with the RemoteCapture software. It also allows for Direct printing to any PictBridge compatible printer, Canon Card Photo Printer or Bubblejet Direct photo printers.
DC INput jack for an optional AC power supply.



The Powershot A590 IS is equipped with a card slot that supports use of SD/SDHC, MMC/MMC+, and HC MMC+ memory cards. Canon supplies a 32MB MMC+ card with the camera. Shown here with a Lexar 1GB SD card - see the tables below for the approximate storage capacity.
Approx. Storage Capacities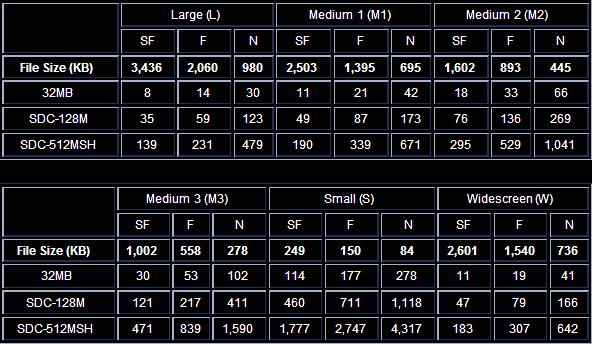 The camera may be powered by two standard AA-type batteries, alkaline, NiMH (nickel metal hydride), or lithium cells. Canon claims with AA Alkaline batteries you can capture approx. 220 shots (LCD On), and 540 minutes of continuous playback time. With NiMH cells Canon claims approx. 500 shots (LCD on), and 660 minutes of continuous playback time. Check out our NiMH rechargeable battery page for more info on NiMH battery types.
Canon also offers a battery and charger kit CBK4-300 (about $58) which includes both a charger unit and four rechargeable AA-size NiMH batteries. The A590 IS can also be powered by the AC Adapter Kit ACK800 (about $49) for unlimited runtime from your wall outlet.
Visitors of Steves can visit the stores below for real-time pricing and availability. You can also find hot, soon to expire online offers on a variety of cameras and accessories at our very own Camera Deals page.