Canon Powershot A495 Review
Canon Powershot A495 Review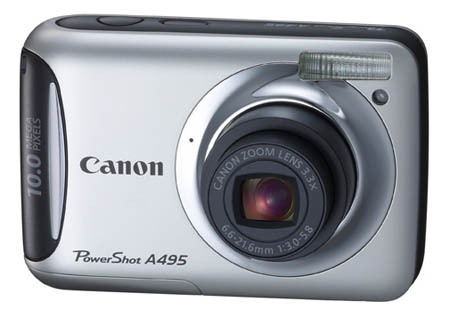 Review posted 2/22/2010



Quick Take
Pros
Excellent image quality; powerful Built-in flash; video capture; Smart Auto shooting mode; Incredibly easy to use
Cons
Low-Resolution 2.5-Inch LCD;
640x480 max video resolution (No HD);
Slow shooting performance
Bottom Line
The Canon PowerShot A495 is an easy-to-use, entry level digicam. Featuring a 10-Megapixel imaging sensor, 3.3x optical zoom and Face Detection software, this camera is can be used by anyone, no mater how much experience they have with a digital camera. Read more in our Full Conclusion.
Canon's Powershot A495 is a compact, entry-level model that has been designed to be as easy to use as possible. This simple camera comes packed with features like a 10-Megapixel imaging sensor, Digic III processor, Smart Auto shooting mode and Canon's Face Detect Self-Timer; just in case you thought simple meant less. All of your framing and viewing of your images is done on the camera's 2.5-inch LCD screen.
The Powershot A495 is very similar to the A490 which is also new to Canon's lineup. With just a few more features and shooting modes, the A495 gives you a little more creative freedom than the A490. One of these features is Face Detection Self-Timer, which allows the user to set up the camera for a group portrait shot, then join the group before the camera will capture an image. The camera detects the number of faces in the frame, then waits for an additional face to be detected before starting the timer. This allows the photographer to take his/her time getting into the picture.
Canon Powershot A495 Features:
10-Megapixel, 1/2.3-inch CCD imaging sensor
Digic III image processor

3.3x optical zoom lens: 35mm equivalent of 37-122mm
f/3.0 (W) - f/5.8 (T)
Face Detection Slef-Timer

TTL Autofocus
2.5-inch, 115,000 dot LCD
Face Detection AF/AE/FE/WB
Intelligent Contrast Correction
Red-eye Correction
Low-Light shooting
Smart Flash Exposure

15 - 1/2000 sec. Total shutter speed range
ISO - Auto, 80, 100, 200, 400, 800, 1600
Smart Auto with 18 predefined shooting modes
Shooting Modes: Auto, P, Special Scene (Portrait, Night Snapshot, Kids & Pets, Indoor, Face Self-Timer, Low Light, Super Vivid, Poster Effect, Beach, Foliage, Snow, Fireworks, Long Shutter), Movie
Self-Timer
Movie Recording at 640x480 and 320x240
SD/SDHC compatible
Powered by 2 AA-Type batteries
PictBridge
Exif Print
In the Box:
PowerShot A495 Body
AA-size Alkaline Battery (x2)
Wrist Strap WS-800
Digital Camera Solution CD-ROM
USB Interface Cable IFC-400PCU
AV Cable AVC-DC300
The Canon Powershot A495 will be available in February, 2010 with a MSRP of US $129.99. (also available in Red and Blue)
Visitors of Steves can visit the stores below for real-time pricing and availability. You can also find hot, soon to expire online offers on a variety of cameras and accessories at our very own Camera Deals page.