Canon Powershot A20 Review
Canon Powershot A20 Review
Playback Mode Screens & Menus
When you flip the Mode Dial to the Play position the last picture captured is displayed full screen with the information shown above.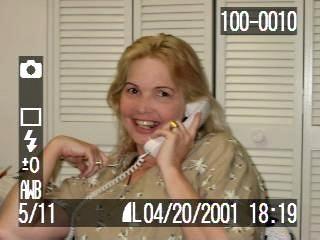 Pressing the DISP button toggles the extended exposure information that includes the recording mode (auto or manual), the drive mode (single or continuous), the flash mode, exposure compensation if any and the white balance setting.

Pressing the telephoto zoom button while an image is displayed full screen will magnify it 2.5X to allow for critical examination of details on the small LCD. You can scroll around the image while it is magnified.

Pressing the wideangle zoom button brings uo the thumbnail index mode with nine small images per page. You can quickly go through stored images and find the one you want to display full screen.

If you have a lot of images on a large CF card you can use the Quick Jump feature to go forward or backward more quickly.

Play mode also lets you use the Direct Print feature if you have a Canon CP-10 Card Printer connected to the camera. Click on the link for more details.

Pressing the MENU button brings up the Play mode options as shown above. You can erase a single frame or all frames, protect or unprotect images, rotate portrait mode images or set Print Order information to the desired images.

Steve's Conclusion
Canon's new PowerShot A20 is an excellent choice for those desiring an easy to use and compact size two-megapixel camera. If you want the smallest possible digicam then check out the PowerShot S100 or the new PowerShot S300. Some users find these ultra-compact cameras a little too small so the new A20 and the A10 fill the gap between the "S" series and the much larger PowerShot G1. But don't let the size fool you, the A20 has a full 3x optical zoom lens and a 1.5-inch color LCD that is highly readable.

I was happy to see that Canon decided to produce a camera that would use standard AA type batteries. Previous PowerShot cameras have used one type of proprietary battery pack or another so it's nice to be able to use the less expensive "off the shelf" batteries. There are a multitude of available brands of NiMH rechargeable batteries to choose from as well as chargers and in a pinch you can even use a set of alkalines.

The PowerShot A20 is basically an automatic type of camera. The Manual record mode does not allow for selecting a shutter speed or aperture but it does let you set an exposure compensation value or a different white balance setting. User exposure options are image size: 640 x 480 for use on a web page or e-mail attachment, 1024 x 768 for 4 x 6 inch prints or 1600 x 1200 size for up to 8 x 10 inch prints. There are three quality levels for each image size; SuperFine, Fine or Normal. You can also select a flash mode; Auto fires whenever more light is needed, Red-eye reduction is ideal for "people" pictures, slow-syncro can be used for night pictures where you want to illuminate a foreground subject but not lose the detail in the background and the always-on or fill mode is useful for eliminating harsh shadow in bright outdoor situations.

The overall image quality of the A20 is on par with the other 2-megapixel cameras and is what I would call very good. Color saturation and white balance was also very good. Indoor people pictures shot with the flash seemed to be a little extra saturated but that's the way most folks prefer them. The prints generated by the CP-10 printer when directly connected to the A20 were sharp and very detailed and so were the prints that we made using an Epson Stylus Photo 780. There was very little need to correct the vast majority of the pictures that I shot. The only time that I saw a need to use any exposure compensation was at the beach where the mid-day sun was causing about a full stop of over-exposure.

Timing and performance was impressive with most numbers being a three. It takes about three seconds to power up and be ready to take the first shot. In the Large SuperFine mode it takes about three seconds to process and store an image. And going from Record to Play or vice-versa also takes about three seconds. The all-important shutter lag (delay from pressing shutter until picture is actually captured) is about 0.6 to 0.7 seconds which is a little faster than average thanks the A20's robust autofocus system. Battery life when using high-capacity 1500mAH NiMH was very good even when using the color LCD frequently to check the pictures. I didn't even try alkalines and wouldn't even recommend using them unless you're caught away from home and your rechargeables go dead.

The zoom lens is sharp and relatively fast with a maximum aperture of F2.8 in wideangle. There is moderate barrel distortion at full wideangle but almost no pincushioning at full telephoto. The zoom mechanism is smooth and quiet. The Canon AFiF autofocus system is accurate and fast even when shooting macros at eight inches or in the total darkness thanks to a focus assist lamp.

The bottom line is that this is an excellent camera for those that just want to take good pictures without fussing with any controls. Turn it on, frame the shot, press the button -- you're done. And if you've got a CP-10 printer in less than a minute you can generate a beautiful photo print!
Visitors of Steves can visit the stores below for real-time pricing and availability. You can also find hot, soon to expire online offers on a variety of cameras and accessories at our very own Camera Deals page.