Canon EOS M6 Mark II Hands-on First Look
Canon EOS M6 Mark II Hands-on First Look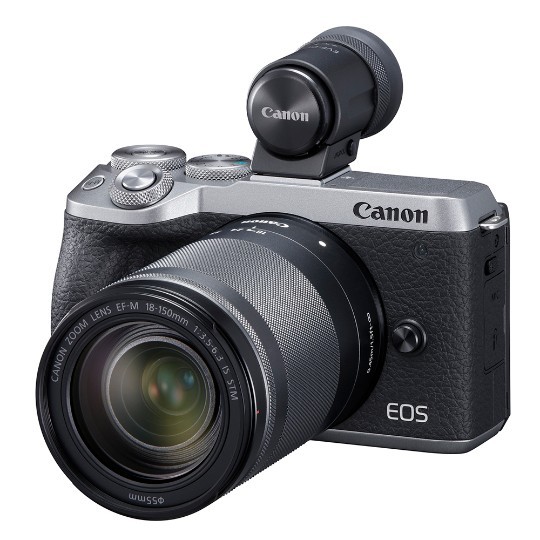 While Canon spent the past year championing its full-frame R series mirrorless camera and RF-mount lenses, the company is still very much in the APS-C sensor game. Today they announced two new model iterations of very similar cameras. The EOS M6 Mark II is a second-generation upgrade over the original M6, boasting more resolution still capture and video recording, an improved image processor, faster burst shooting, and an included EVF when you purchase the kit lenses. It's also the sister model to the EOS 90D, which succeeds the 80D.
Steve's Digicams recently joined Canon and several other journalists to test the EOS M6 Mark II and its DSLR sister camera, the EOS 90D, for a day at Michelin Raceway Road Atlanta. There was drifting and fast fancy cars. Full disclosure: they paid for our flights, meals, and accommodations, but have no say in what we write here.
With 4K/30p & 120fps HD slow-motion video recording, 32.5 megapixels of resolution, Canon's Dual Pixel CMOS AF system with 88% horizontal & 100% vertical sensor coverage, Face Detection / EyeAF / Subject Tracking, the EOS M6 Mark II is a compact, sporty mirrorless camera aimed at advanced amateurs. At $850 for the body (or $1350 for the 18-150mm F/3.5-6.3 kit lens & EVF), it's not much more than something like an EOS Rebel T7i or EOS M6 (the mark one). It's also priced to compete with the new Sony a6400 (and the last-gen Fujifilm X-T2), but does this M6II have the same value as the Sony?
Canon EOS M6 Mark II Key Features
32.5MP APS-C CMOS image sensor
DIGIC 8 image processor
ISO 100-25,600
Compatible with EF-M lenses (natively)

Compatible with EF lenses (with an optional adapter)

External EVF (included with two kits, but not the body-only)
3.0" Flip-screen LCD (flips up 180 degrees)
14fps burst shooting with AF fixed & AE tracking
30fps RAW burst mode with pre-shooting
1/4000 sec mechanical shutter

1/4000 sec electronic 1st curtain shutter
1/16000 sec electronic shutter

4K Movie Recording at 30p & 25p
HD Movie Recording at 30p, 60p, 100p, & 120p
Dual Pixel CMOS AF

88% horizontal coverage
100% vertical coverage
Face + Tracking AF with EyeAF Servo for stills & movies
A new Single-point Spot AF
Touch-and-drag AF (with EVF)

Fv Mode (from EOS R & EOS RP)
Pop-up flash
Wi-Fi & Bluetooth

Send images to an iOS or Android device after OR during shooting
You can now pair more than one device to each camera body
Price, Availability, & Gear Used
You can pick up a Canon EOS M6 Mark II next month (September 2019) in two colors -- black or black/silver -- in three forms:
$849.99 for body only
$1099.00 for the EF-M 15-45mm f3.5-6.3 IS STM + EVF-DC2 kit
$1349.00 for the EF-M 18-150mm f3.5-6.3 IS STM + EVF-DC2 kit
During our limited time with the EOS M6 Mark II, my intention was to test the camera with lenses you might actually own. Outside of a half-dozen shots with a $6,100 300mm F/2.8 L series telephoto lens that was cut short by a track fire, we mainly used the EF-M 18-150mm f3.5-6.3 IS STM kit lens as well as the $1,300 Canon EF 70-200mm f/4 L IS II USM telephoto zoom (note: to save money, you can pick up the older non-IS version for around $600).
I loved the zoom range and flexibility of the 18-150mm kit -- it's definitely something you could take on a family trip and it's quite compact -- but it's not the sharpest or fastest lens I've ever used. I also experienced a lens failure where the 18-150mm's IS system started shaking rapidly, making shooting impossible. The EOS M6 Mark II also displayed multiple card reader errors; no data was lost or corrupted, but I had to restart my loaner repeatedly throughout the day. One other member of the trip experienced at least one error as well; most others were not affected.
Please note: we used full-production camera bodies and the current version of Adobe Lightroom already supports CR3 RAW files (much to my surprise). Click on any sample image below to see a full-sized version.
(Click on any sample image to see a full-sized file!)
Build Quality & Ergonomics
The Canon EOS M6 Mark II comes wrapped in a textured rubber/plastic material on its most-touched surfaces. The grip is not as deep as a DSLR, but it's deep enough to make hand-holding easy and comfortable. Up top you'll find a mode dial, two function dials, an on/of switch, an M-Fn button, and a shutter release. The metal twisty bits have a nice tactile feel to them.
Around back, you'll find the flippy-screen as well as other buttons for menu, playback, and record functionalities. If you're familiar with almost any camera from the last decade, you'll quickly understand the M6II's layout. The Menu system itself is similar to almost every other Canon camera, and it's among the best available today. Even better, since this is a camera aimed at less experienced users, various shooting modes offer tips and suggestions for a) what each mode does and b) how to use said mode to create certain shots. For example, engage Tv to adjust the shutter speed to freeze or extend motion. This is the mode we used most frequently when shooting drift cars.
You'll also note the new Fv mode, from the EOS R and EOS RP cameras, which combines the functions and flexibility of full Manual, Av (Aperture Priority) and Tv (Shutter Priority) modes. On one hand, you can use Fv mode as Program (or full auto), or full Manual, depending on your needs. You simply set whatever setting(s) you wish to lock, and let the camera do the rest.
AutoFocus
While the M6 Mark II isn't quite as competent as the EOS 90D at shooting sports -- it's ever-so-slightly slower to focus on quick-moving things -- it's a very competent camera for shooting still images and recording videos. Why? Canon's Dual Pixel CMOS AF boasts 5481 manually selectable positions along with Face+Tracking AF, EyeAF, Spot AF, Zone AF, 1-point AF. This vertically covers 88% of the sensor with 100% horizontal coverage. However, despite these amazing numbers, when you're in full-auto & tracking, a maximum 143 points engage automatically. Whatever the number, it's pretty impressive and accurate stuff.
Sometimes it's hard to tell if an AF system is working when you're shooting in lower shutter speeds to convey motion because one's lack of sharpness is user, not camera, error. Still, factoring out the challenges inherent to automotive photography, the M6 Mark II performed admirably, quickly finding and tracking moving subjects. My only moments of concern came when trying to use 200mm or 300mm lenses held vertically; in some shots, the camera wanted to focus on the unmoving foreground rather than the approaching vehicles. That said, I didn't have enough time to experiment with other modes (single-point or group) that would have likely alleviated the issue. (A fire on the track cut this part of my day short.)
Overall though, the M6 Mark II offers reliable consistent AF in challenging, active environments.
Metering
The EOS M6 Mark II features 384-zone (24 x 16) on-sensor metering, which performed very much like the EOS 90D, but was more prone to blowing out highlights when shooting in high-contrast situations. In our case, we were photographing sparkling cars in front of darker trees and under blazing blue skies with white clouds. Without paying careful attention to one's framing exposure -- which is a challenge we you and the subject are spinning in circles -- the M6II's metering system tended to lock in on the mid & darker tones and blowout the highlights. Again, it's not entirely the camera's fault; in more controlled settings, I expect the results to be more reliable. Regardless, we'll test this further.
Overall though, the M6 Mark II metering system is accurate; just don't forget your basics of exposure.
Image Quality
In a marketplace where most APS-C cameras are in the low-to-mid 20MP range, the 32.5MP M6II (and EOS 90D) boast an extra 10 megapixels of resolution while improving speed and performance over its predecessor. The result is 40+ MB 14-bit RAW files and 6-12MB Large Fine JPEG files. How are they to look at and edit in post?
Quite good, actually. Like any system, the better the glass, the better your imagery. In those terms, the kit lens is okay, but not great. Still, despite trying out a form of photography where we are far from proficient, the M6II produces crisp, colorful imagery with even skin tones and accurate colors. Pushing them after the fact, I was able to raise shadows a few stops without ruining shots, the colors saturated nicely, and the noise/grain was minimal at lower ISOs. If you've ever shot with a Canon APS-C DSLR before, you'll be in familiar territory, visually, but with an extra 10 megapixels should you need them. In the case of photographing semi-distant moving cars, I found it helpful to have the extra pixels for cropping.
ISO
I spent 98% of my time with the EOS M6 Mark II shooting in bright daylight, so we'll make sure to test its ISO 100-25,600 performance in the updated full review. That said, here are a couple of shots captured at ISO 25,600 and ISO 12,8400:
EOS M6 Mark II ISO 12,800
EOS M6 Mark II ISO 25,600
Despite the added pixels, the noise and grain structure looks very similar to the previous-gen 24.2MP APS-C CMOS sensor that was in a dozen or so Canon cameras over the last few years. (Along those lines, I expect we'll see 32.5MP in a TON of future Canon releases.) In short, you probably wouldn't want to produce shots at high ISOs, or print images above ISO 12,800, but for certain types of shots, Canon's digital grain is very filmic, reminiscent of old 16mm and 35mm film stocks.
Video Quality
I spent most of my M6 Mark II time shooting still images, but here are a few takeaways from the video side of things. Despite having Canon's amazing (perhaps industry-leading) Dual Pixel CMOS AF system for video shooting, which is great for running and gunning and vlogging, Canon has once again limited the video features on one of their cameras. Where almost every other brand offers 4K and HD recording at 24p, Canon starts off at 30p for both resolutions (much like the EOS RP). That's right, in 2019 and in their newest models, you need to go all the way up to an EOS R for 24p video production. The camera does offer 120fps slow-motion video recording, but there's no AF or sound, the slow-motion is baked into the file, and the feature is tucked deep into the menu system. And while both the EOS 90D and M6II offer microphone jacks, the M6 Mark II lacks a headphone jack, which is helpful when monitoring sound.
In short, while we need to do more testing, expect EOS M6 Mark II video quality to be good to strong, but not outstanding, especially when compared to APS-C Sony and Fujifilm offerings or full-frame Sony and Nikon systems.
Wireless Functionality
As one expects from a 2019 mirrorless camera, the Canon EOS M6 Mark II boasts both Wi-Fi and Bluetooth capabilities. Much like previous generations, this means you can connect your camera to a smartphone or tablet and transfer images for sharing on social media. However, new to 2019, you can now pair more than one device with the camera (helpful if you have both a smartphone and a tablet) and set the camera to automatically send images to your smart device while you're shooting for instant backup.
EOS M6 Mark II Features You Won't Find on the EOS 90D
Smaller, compact form-factor
Faster burst shooting
Optional External EVF (helps gauge exposure and review images in bright lighting)
Touch-and-drag AF when using the EVF
Wider Dual-Pixel CMOS AF sensor area
Fv Mode
ISO Auto upper limit variable control can be engaged with an E-TTL flash (prevents blown-out highlights)
Overall, the EOS M6 Mark II is a smaller, faster, more affordable version of the EOS 90D, which doesn't make much sense at first. But then you realize the EOS 90D offers more weather resistance, a faster mechanical shutter, and features like a headphone jack that make its experience more professional. In truth, I don't know if there's much industry love for the EF-M mount lenses (compared to Canon's EF-mount glass and Sony's E mount, at least). That said, you can buy an adapter for under $100 to use EF and EF-S lenses on the M6II. The M6 Mark II also lacks a vari-angle display, instead opting for a 180-degree flip-up screen that bumps into the EVF if you're using it. Also, in my experience, the M6 isn't quiet as capable when shooting sports.
Still, if you don't covet a DSLR, the EOS M6 Mark II now leads the APS-C market in resolution with a value-focused sub $900 price tag.
EOS M6 Mark II First Impressions
After one long amazing day jumping back and forth between the EOS M6 Mark II mirrorless camera and the EOS 90D DSLR, I was torn by the experience. Where I expected to love the 90D, and favored its reliability during action shooting, the M6 Mark II still impressed. With its compact form-factor, speed, touch-and-drag AF and EyeAF, EVF, image quality and longer zoom kit lens, it seems like a lot of camera for the money.
That said, I don't love EF-M glass and Canon's M series of cameras seem isolated even though you can get an adapter. I also wish it was more weather resistant and included features like a vari-angle display and headphone jack. And I wish Canon hadn't dumbed down the video specifications, which you won't find in Sony and Fujifilm offerings. Compared to the Sony a6400, the Sony has more video specs, but Canon may have the edge in the stills department (and both cameras feature oddly designed LCD screens).
If you're looking for a compact, sporty camera with plenty of pixels, the EOS M6 Mark II is worth checking out, especially if you're already a Canon shooter. That said, if you want to make videos as often as you shoot still images, Sony might be a better place to look because it's more capable and because Sony APS-C cameras use the same lens mount as their higher-end full-frame mirrorless bodies, which is a big plus for anyone building their kit over time.
Visitors of Steves can visit the stores below for real-time pricing and availability. You can also find hot, soon to expire online offers on a variety of cameras and accessories at our very own Camera Deals page.