Canon EOS Digital Rebel XTi SLR Review
Canon EOS Digital Rebel XTi SLR Review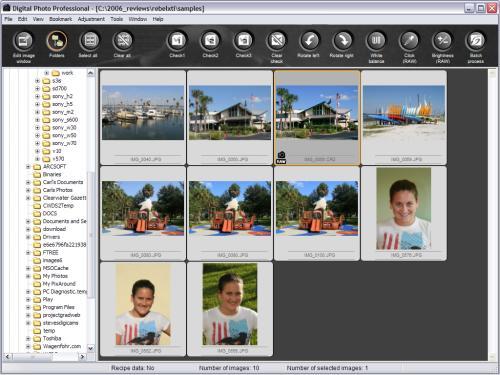 Canon RAW Software
Canon is shipping Digital Photo Professional version 2.2 with the Rebel XTi. Compatible with both Mac OS X and Windows XP operating systems formats, the Digital Photo Pro software assists users with everything from image transfer and viewing, image enhancement and editing, RGB image editing functions, image noise reduction, viewing, processing and editing of RAW images, Direct Print functions and Canon's new Dust Delete Data functions.



Canon's Digital Photo Professional (DPP) program offers users high-speed processing of RAW images. Rivaling and even surpassing features of expensive, stand-alone and plug-in RAW image processing programs, DPP streamlines professional photographers' workflow, providing time and labor saving options such as instantaneous RAW image adjustment display and support for .CR2 and RAW .TIF as well as Exif TIFF and JPEG formats.

DPP is compatible with multiple color space settings including sRGB, Adobe RGB and Wide Gamut RGB as well as Color Management Settings using ICC profiles.

Among the array of processing options provided by DPP are color channels, tone curves, exposure compensation, white balance, dynamic range, brightness, contrast, color saturation, ICC Profile embedding and assignment of monitor profiles. Another new feature sure to be embraced by DPP users is the program's ability to allow continuous editing while batches of previously adjusted RAW files are rendered and saved in the background.



Among the numerous features DPP provides is the capability to save multiple adjustments to an image as a "recipe" that can be reloaded and used again or applied to other images. In comparison mode, original and edited images can be compared side by side or within a single split image.



DPP 2.2's Stamp tool has a new feature, Apply Dust Delete Data, that works in concert with the XTi's Dust Delete Data function. It can work with RAW or JPEG images to which dust delete data has been appended. A dust-deleted RAW image must be saved as a TIF or JPG.



File save options are: Exif-TIFF 8bit, TIFF 16bit or Exif-JPEG with selectable image quality (scale of 1 to 10) and sharpness.
Visitors of Steves can visit the stores below for real-time pricing and availability. You can also find hot, soon to expire online offers on a variety of cameras and accessories at our very own Camera Deals page.