Canon EOS D60 SLR Review
First Look posted 02/22/02
Full review posted 03/27/02
Introduction & Physical Views

Click on the D60 to take a QuickTime VR tour



The EOS D60 is the much anticipated upgrade of Canon's popular EOS D30 SLR that was first introduced in 2000. The D30 set new standards for price and performance and as the old saying goes, "If it ain't broke, don't fix it," so Canon didn't, they just improved it. The EOS D30 was our choice for the "best digital Amateur SLR of 2001" as it has been virtually unchallenged for over a year and a half. This year the Canon EOS D60, Nikon D100 and the Fuji S2 Pro will battle it out for the top spot of 2002.

EOS D60 Features
Lightest digital Single Lens Reflex body available. Polycarbonate exterior with a stainless steel inner chassis. Canon EOS (EF) lens mount with 1.6x focal magnifier
Eyelevel TTL viewfinder with diopter adjustment, depth-of-field preview and detailed information status display. The AF focus points are illuminated when active. The focusing screen is fixed
6.3 megapixel (effective), single-plate CMOS sensor, 3072 x 2048 square pixels
3072 x 2048, 2048 x 1360 and 1536 x 1024 24-bit JPEG and 3072 x 2048 36-bit RAW file formats. RAW files include an embedded 2048 x 1360 JPEG that is quickly extracted with the supplied software
12-bit A/D conversion, new image processing system no longer requires a special Noise Reduction mode, it's now automatic and very fast
Full range of exposure modes: Shutter Priority, Aperture Priority, Depth-of-Field AE, Programmed AE with modes for Landscape, Macro, Night Scene, Portrait, and Sports, and full Manual
35-zone TTL metering, Evaluative (linked to all focusing points), Center weighted average, or 9.5% central-area spot metering
White Balance: Auto, five presets, and Custom (reads in from captured image)
Continuous Drive mode captures up to 8 Large/Fine or 17 Large/Normal images at up to 3 fps (1/250 second or faster shutter)
Shutter speeds: 30 to 1/4,000 seconds, plus Bulb
Exposure compensation: -/+2 EV in 1/2 EV or 1/3 EV increments in all exposure modes
Auto exposure bracketing: -/+2 EV in 1/2 EV or 1/3 EV increments in all autoexposure modes
TTL AF with 3 focusing points, manual or auto selectable. One shot AF, AI Servo AF with focus prediction, AI Focus AF, and manual focus. Working range is EV 0.5 to 18 at ISO 100. Low-light focus assist illuminator built-in or can use AF assist on Canon EX Speedlights.
Improved (brighter) 1.8 inch, color TFT LCD, 114,000 pixel resolution
ISO sensitivity range: 100, 200, 400, 800, and 1,000
Built-in E-TTL popup flash with red-eye reduction. Guide Number is 12/39 at ISO 100, m/ft w/18mm lens coverage. Hot shoe for Canon EX Speedlites and a standard PC flash sync connector
Flash exposure compensation of +/- 2 stops in 1/2-stop increments. Flash exposure lock function (FEL). First and second curtain slow-sync.
CompactFlash Type II memory card slot, Microdrive compatible
I/O ports: USB (TWAIN driver for PC and Photoshop plugin for Macintosh), Video Out with selectable NTSC or PAL timing, PC type flash sync, N3 remote control socket
Power supplied by included BP-511 high capacity lithium rechargeable battery pack. Good for approx 520 shots. Dual battery rapid charger included
Optional BG-ED3 Battery Grip holds two BP-511 battery packs and adds vertical grip, shutter release and controls

Mirror box assembly and CMOS imager


The EOS D60 sports a new and proprietary 6.3 megapixel (effective), single-plate CMOS sensor with 3072 x 2048 square pixels, 12-bit analog-to-digital conversion and an on- chip RGB primary color filter array. The sensor is the same size as the EOS D30's at 15.1 x 22.7mm, resulting in a focal length conversion factor of 1.6x. It records images in any one of six JPEG settings or uncompressed RAW. The RAW files contain an embedded 2048 x 1360 JPEG image that can be extracted with the supplied driver software, making them ideal for photographers who need to view or transmit images quickly but need to retain maximum image quality for future editing.
The D60's auto focusing system is three times more sensitive in low light than the EOS D30's (EV 0.5 vs. EV 2.0). At the same time, the built-in AF assist beam is more effective than it was before. These changes result in significantly improved focus performance. Additionally, in response to D30 user feedback, active focusing points are now illuminated in red directly on the focusing screen, making it easier to confirm focusing point selection and AF completion. Other improvements include an illuminated LCD data panel on top of the camera, making it simpler to view and change camera settings in low light; a brighter LCD monitor for easier viewing of menus and recorded images in bright light; new custom functions to tailor the camera's operation for individual preferences; and a new in-camera setting that allows photographers to store up to 3 sets of Shooting Parameters including contrast, saturation, sharpness and color tone.


Because it is based on the EOS D30, the EOS D60 inherits many of that camera's advanced features including a built-in E-TTL flash, 11 shooting modes, 3 AF modes, 3 metering patterns, and shutter speeds ranging from 1/4000 to 30 seconds plus Bulb. The D60's burst mode can capture up to 8 consecutive images at 3 frames per second at all image quality settings including RAW mode. The D60 is equipped with USB 1.1 and NTSC/PAL video out ports as well as an N3-series remote control socket, a dedicated hot shoe for EX-series Speedlites and a PC terminal for external flash units.
Image data is stored on CompactFlash cards, either Type I or II, enabling users to take advantage of the IBM Microdrive and other high-capacity storage media. The lithium-ion Battery Pack BP-511, which is included with the camera, provides enough power to take approximately 520-600 images at normal temperatures.


CMOS sensors are well known for their low power usage and robust signal processing capabilities. Canon employs an "Image Engine" DSP chip that provides a high speed, high definition image processing with a significantly improved signal to noise ratio. With conventional digital cameras, the longer the exposure time, the greater the noise. Improvements in the D60's signal processing system allow photographers to make exposures as long as 30 seconds without the assistance of a Noise Reduction feature.
Exposure options are abundant with full AUTO mode or Program AE, shutter speed priority, aperture priority, full Manual or one of the EOS Image Zone modes (Sports, Portrait, Landscape, Macro, Night.) Shutter speeds from 1/4000 to 30 seconds plus Bulb. Auto exposure bracketing (AEB) captures three exposures, taken with a single shutter release, at stops over and under the targeted exposure. TTL metering is accomplished with a silicon photocell in one of three modes: 35-zone evaluative (matrix), 9.5% partial (spot) or center-weighted averaging. ISO sensitivity is adjustable between 100-1000. White balance can be automatic, one of five presets or manually customized.
The EOS D60 is bundled with an upgraded software package featuring powerful drivers based on those supplied with the professional EOS-1D camera, but newly upgraded for compatibility with Windows XP. Canon is also cooperating with Apple Computer to ensure that the D60 will soon be supported by the Image Capture function of OS X. Additional Canon utilities such as ZoomBrowser EX, PhotoRecord, ImageBrowser, USB Mounter, RAW Image Converter, PhotoStitch and RemoteCapture are also supplied, together with complimentary copies of Apple QuickTime 5.0 and Adobe Photoshop 5.0 LE.



On the back is an improved (brighter) 1.8-inch TFT color LCD with 114,000 pixels of resolution that is used for image review and menu operations. The D60 features a brighter LCD monitor (than the D30) for easier viewing of menus and recorded images in bright light. Most all of the controls on the rear are for the digital section of the D60, the camera and exposure controls are located on the top.



On top is the Mode Dial, hot shoe flash with TTL contacts for Canon speedlights, metering and flash exposure compensation button, drive mode button, AF and white balance button, main command dial, the shutter release and a large monochrome data display (explained in detail on page 2).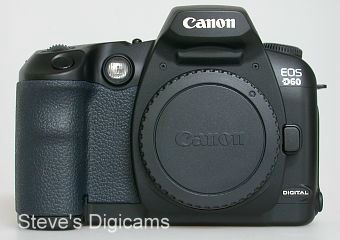 A flat bottom with a metal tripod socket and the access doors
for the main battery and the memory backup battery.



The key to the D60's light weight is shown here by its construction. The outer body is highly durable polycarbonate material, underneath is a heavy gauge steel skeleton to provide rigidity and protection for the delicate internals.



Canon EOS D60 Specifications
Camera Section

Type
Eye-level single lens reflex (SLR) digital camera, 36-bit full color RGB capture (12bits per channel), one-shot type
Lens mount
Canon EF mount (full electronic control type)
Lenses used
Canon EF lenses (focal length conversion factor is approx 1.6X compared to full-frame 35mm film format)
Viewfinder
Full-frame reflex type, coverage approximately 95% horizontal and vertical, 0.88X magnification and 20mm eyepoint
Focusing modes
One-shot AF, AI Servo AF with focus prediction, AI Focus AF, and manual focus
Focusing points
Wide-area AF with 3 selectable focusing points
AF working range
EV (0.5-18) (ISO 100, standard chart)
Metering modes
TTL maximum aperture metering with a 35-zone silicon photocell.

35-zone Evaluative metering linked to all focusing points
Centerweighted average metering
9.5% central-area particle metering

Metering range
EV 2-20 (at normal temperatures, EF 50mm f/1.4 USM, ISO100)
Shutter speed
1/4000 sec. to 30 sec.(1/2 or 1/3 stop increments) plus Bulb
X-sync at 1/200 sec.
Continuous photography
Up to approximately 3 frames per second for up to approximately 8 frames, when camera is set for Large/Fine recording.
Built-in flash
E-TTL Retractable-type. Guide Number is 12(in m)/39(in ft.) at ISO 100, 18mm lens coverage
Flash contact
Accessory shoe for EX-series Speedlites (E-TTL autoflash); PC socket also built-in on left side of camera body
Flash metering
Supports E-TTL, FEL and FP flash (high-speed synchro) with built-in flash and EX-series Speedlites
Digital Section

Imaging elements
High-sensitivity 6.29-million effective pixel CMOS sensor.
(Total pixels-6.52mp: 3152 X 2068)
(Effective pixels 3072 X 2048)
Sensor size
15.1 X 22.7 mm (aspect ratio 2:3)
Sensitivity
Equivalent to ISO 100-1000
(adjustable in 1 EV increments)
White balance
7 type, including auto and custom
Recording media
CompactFlash card, Type I or II, single slot
Microdrive compatible
File format
Design Rule for Camera Format (DCF)
Recording methods
JPEG and Canon RAW (12 bit)
Resolution/
Compression
settings

Large/Fine ~2.5MB(3072 x 2048)
Large/Normal ~1.3MB(3072x2048)
Middle/Fine ~1.4MB(2048 x 1360)
Middle/Normal ~0.7MB(2048 x 1360
Small/Fine ~0.9MB(1536 x 1024)
Small/Normal ~0.5MB(1536 x 1024)
RAW Lossless compression ~7.4MB(3072 x 2048)

Burst rate
Approximately 3 frames per second for up to approximately 8 frames in all image sizes
Bulit-in LCD color monitor
1.8-inch low-temperature TFT type, approx. 114,000 pixels; displays captured images, menus, etc.
Interface
Digital: USB; Video Out: NTSC/PAL (switchable)

Camera: N3 remote control socket, PC terminal for studio flash, dedicated accessory shoe for EX-series Speedlites
Driver software
Comes with USB TWAIN driver for PC and Adobe Photoshop plug-in for Mac OS
System
requirements
Windows:
Type of computer: IBM PC/AT compatible mach w/ USB port
CPU: Pentium 150 MHz or above for OS: Windows 98 SE, Windows Me, Windows 2000
300MHz Pentium or above w/OS: Windows XP
RAM: 64MB or more (128MB rec'd) for Windows 98SE/Windows ME/Windows 2000
128MB (256 or more Rec'd.) Windows XP

Macintosh:
Type of computer: Macintosh w/ USB standard ( 1st gen. iMacs require firmware update -9.2 CPU: Power PC
OS: MacOS 8.6 to 9.2, Mac OS 9.0 or later recommended
RAM: 64MB or more applications memory, 128MB or more recommended
Power source

BP-511 litium-ion battery
AC operation via DC Coupler DR-400 and Compact Power Adapter CA-PS400
Up to two BP-511 battery batteries via optional Battery Grip BG-ED3

Kit configuration



EOS D60 camera main unit, neck strap, Battery Pack BP-511, Compact Power Adapter CA-PS400, AC power cord for CA-PS400, DC Coupler DR-400, Video Cable VC-100, Interface Cable IFC-200PCU, Canon Solutions software disk, Adobe Photoshop 5.0 LE, Camera user's guide, Software instruction book and Camera quick operation guide.


Dimensions
149.5(W) X 106.5(H) X 75.0(D) mm
5.9(W) X 4.2(W) X 3.0(D) inches
Weight
780g/27.5oz. w/o battery or CF card
Visitors of Steves can visit the stores below for real-time pricing and availability. You can also find hot, soon to expire online offers on a variety of cameras and accessories at our very own Camera Deals page.