Canon EOS 5D SLR Review

Features & Controls (cont.)
The Mode Dial has positions for: Full Auto, Program AE, Shutter-priority (Tv), Aperture-priority (Av), Manual exposure, Bulb and Camera user setting.



Controls on top of the grip: Shutter release, Main Dial, Metering Mode/Flash Exposure Compensation, Drive Mode/ISO speed, AF Mode/White Balance and the LCD illumination (light bulb) button.

The large monochrome data LCD displays all major camera settings such as shutter speed and aperture values, exposure mode, ISO speed, focus mode, metering mode, drive mode, custom function, flash exposure compensation, exposure bracketing, exposure compensation, selftimer and battery status. The data LCD is illuminated by a highly visible blue backlight.



Along the back edge is the AE lock/FE lock/Index/Reduce button and the AF point selection/Enlarge button.



Images are stored on CompactFlash Type I or II flash cards or IBM/Hitachi Microdrives. The 5D supports FAT(16) and FAT32 file systems so any capacity device may be used.
The 5D was designed for professional users and professional speed flash media. It would be a shame to put anything less than the fastest CF or SD cards in this camera. The Sandisk Extreme and Ultra II cards are a perfect match for this dSLR.
Approximate Storage on 512MB Card
Maximum Burst Capture
The actual image size, number of possible shots and maximum burst will vary depending on the subject, shooting mode, ISO speed, Picture Style etc.



The I/O ports are on the left side:
External flash PC sync connector
Remote port for the Remote Switch RS-80N3, Timer Remote Controller TC-80N3 or the Wireless Controller LC-4.
USB 2.0 high-speed for transfering data to the host computer. It is PictBridge compatible for direct-printing.
Video Out (NTSC or PAL format)



The 5D is powered by the BP-511A 7.2v 1390mAh lithium rechargeable pack. At normal temperature (68°F/20°C) it's good for ~800 pictures, at lower temperatures (32°F/0°C) the number of pictures drops to approx. 400. Battery life is incredible thanks to its low-power CMOS imager and power-saving DIGIC II processor.
The supplied CG-580 (U.S. and Japan) compact charger requires approx. 100 minutes to charge a fully depleted BP-511A battery pack. The red LED indicates the charge level. Other compatible batteries are: BP-511, BP-514 or BP-512.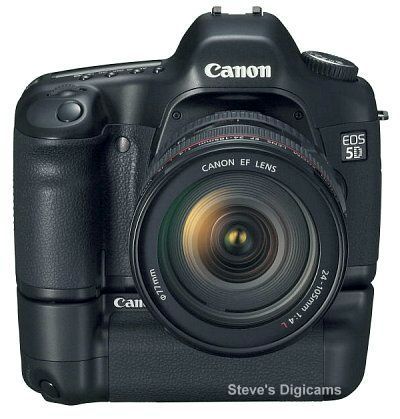 The optional BG-E4 battery grip holds two BP-511A/511 type batteries and extends the battery life to approx. 1600 frames. It can also accept six AA-size batteries when using the supplied BGM-E2 battery magazine. The BG-E4 also adds a portrait grip with a vertical shutter release complete with an AE-Lock button, Focusing selector button and Main Dial. When two BP-511A batteries are installed, they share the power load equally.
Visitors of Steves can visit the stores below for real-time pricing and availability. You can also find hot, soon to expire online offers on a variety of cameras and accessories at our very own Camera Deals page.