Canon EOS 5D Mark II SLR Review
Canon EOS 5D Mark II SLR Review
Features & Controls
Canon has equipped the EOS 5D Mark II with their very own 21.1-megapixel CMOS image sensor, which has enough resolution for a poster sized prints, not to mention large prints of tightly cropped areas. The sensor's 36 x 24mm size means that each pixel is of generous size, resulting in exceptionally low shadow noise. Because CMOS sensors consumer much less energy then CCD types, you can expect extended battery life. Signal conversion is handled by individual amplifiers at each photo site, which helps shorten the amount of time it takes to get a signal to the image processor. By doing this, Canon's CMOS image sensors offer reduced image noise and power consumption, but increases the potential for faster burst capture rates.

DIGIC 4 is Canon's latest advanced imaging technology that processes massive data from the large CMOS image sensor at "Ultra-fast" speeds. These Ultra-fast processing speeds result in highly responsive camera operation and near-instant start-up times. DIGIC technology uses advanced image processing algorithms to ensure precise, natural colours, accurate white balance, and advanced noise reduction. The DIGIC chips work with a high-speed DDR-SDRAM image buffer - reading, processing, compressing and writing image data fast enough to keep the buffer clear during long continuous shooting bursts. And because DIGIC integrates all key processing functions, power consumption is kept to a minimum.
The EOS 5D Mark II achieves a speedy 3.9fps consecutive shooting speed during burst capture, with a maximum of approx. 310 Large/Fine JPEGs or up to 14 RAW images. This is based on using a UDMA (Ultra DMA) memory card. When using non-UDMA cards, these numbers drop to approx. 78 Large/Fine JPEGs or 13 RAW images, which is still very impressive.



The EOS 5D Mark II digital SLR offers a a newly developed, high-speed and highly durable shutter unit that was designed to meet the demanding requirements of a full frame sensor in a relatively compact body. This rugged new mechanism is rated up to 150,000 shots, attaining speeds from 1/8000 sec. to 30 sec. and Bulb. The unit's flash synchronization (X-sync) function uses an optically detected, contact-less switch instead of a mechanical one, which contributes to high durability and reliability when a Speedlite is used and yields an X-sync shutter speed of 1/200 sec. It also employs a quick-return half mirror (Transmission: reflection ratio of 40:60, no mirror cut-off with EF 600mm f/4 or shorter lens).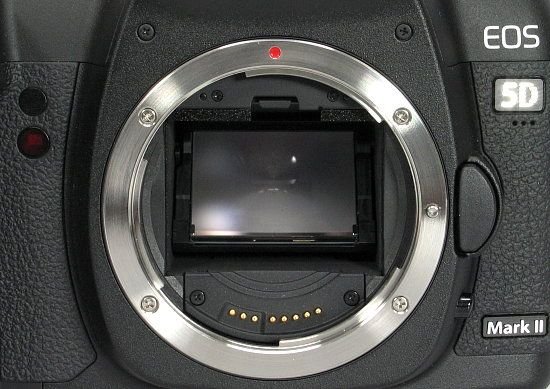 The EOS 5D Mark II is compatible with over 60 Canon lenses thanks to its Canon-EF lens mount. The full-size sensor maximizes the performance of Canon EF lenses - even wide-angle lenses have the same look and feel they have with conventional SLR cameras, preserving their optical signatures. Imaging quality in the EOS 5D Mark II is enhanced with the addition of the DIGIC 4 image processor, which provides detailed and natural color reproduction and Ultra-fast image processing speeds.



Canon's current EF offerings.
The EOS 5D Mark II's E-TTL II flash metering system is compatible with all EX-series Speedlites, and even offers in-camera configuration when using the new 580EX II speedlite (shown above).
E-TTL II features:
High-speed sync (FP Flash) with all shutter speeds from 30 sec. to 1/8000 sec.
FE (Flash Exposure) Lock on the desired part of the subject - this is the flash equivalent of AE lock.
Flash exposure compensation of ±2 stops in 1/3 of 1/2 stop increments.
FEB (Flash Exposure Bracketing) is the flash version of AEB, flash bracketing can be up to ±2 stops in 1/3-stop increments.
E-TTL II wireless autoflash with multiple Speedlites provides all the above features. (Only with wireless-compatible Canon Speedlites.)






The eye-level viewfinder on the EOS 5D Mark II offers approx. 98% coverage vertically and horizontally (0.71x magnification with 50mm at infinity). It has a 21mm eyepoint and -3.0 - +1.0 diopter correction.
The 5DMKII is compatible with 3 focusing screens, the supplied "Standard Precision Matte" Eg-A screen and two other interchangeable screens (sold separately) for highly customized viewing. The Eg-S Super Precision Matte for easier manual focus and the Eg-D Precision Matte with grid have different metering characteristics for variable shooting conditions.

The 9-point AF system with 6 Assist AF points provides speedy and precise focus detection plus enlarged subject coverage. With an extra 6 AF assist points added to the spot metering circle, the EOS 5DMKII enables highly detailed focusing around the center of an image in AI Servo AF mode. Of the 9 primary AF points, the high-precision cross-type center AF point is compatible with f/2.8 and f/5.6 lenses, while 8 sensors are sensitive to f/5.6. Upper and lower central points, 2 of the 6 Assist AF points, are also f/2.8 and f/5.6 compatible. All focusing points are configured for quick focus in any shooting situation.
The information presented in the viewfinder includes:
AF information: AF points, focus confirmation light. Exposure information: Shutter speed, aperture value, ISO speed (always displayed), AE lock, exposure level/compensation, spot metering circle, exposure warning, AEB.
Flash information: Flash ready, high-speed sync, FE lock, flash exposure compensation.
Image information: White balance correction, CF card information, monochrome shooting, maximum burst (2 digit display), Highlight tone priority (D+).
On the back of the EOS 5DMKII you will find a wealth of controls, along with a large 3.0-inch "Clear Photo" TFT color LCD. This high-quality display offers 920,000 pixels of resolution, 100% frame coverage (in Live view mode), 170° viewing angle, and a Dual Anti-reflection coating. It also features Auto (3 levels) or Manual brightness adjustment (7 levels).



A closeup view of the color LCD and associated buttons. Starting at the top left, the Live View button enables the use of the LCD for framing images and allows for video recoding; this button also doubles as the DPOF/Transfer button in playback.
Next along the left hand side of the LCD we have the:
MENU calls up the onscreen menu system.
Picture Style button allows quick access to the 6 preset styles and 3 custom
The INFO button displays camera settings on the LCD in shooting mode, and toggles the information displayed in playback mode between basic, shooting information with histogram, and no shooting information at all.
The playback button puts the camera into playback mode.
The Trashcan button deletes images and video files.

Over to the right we have the AF-ON button, which activates the AF system to acquire focus only. The AE/FE Lock and AF Point Selection buttons also double as the Index and Magnify controls in playback. Next is the Multi-controller "joystick" with 8 direction keys and a center button; it's used to select AF point, white balance correction, scrolling a magnified image in playback, etc. Below is the Quick Control dial for navigating the menu and making adjustments to various camera settings in conjunction with the controls located on the top of the camera (see the next page). Lastly, we have the Power/Quick Control Dial switch.





Please help support our site and visit the stores below for real-time pricing and availability.

In The United States? Check out these stores:




In Europe? Check out these stores:










Visitors of Steves can visit the stores below for real-time pricing and availability. You can also find hot, soon to expire online offers on a variety of cameras and accessories at our very own Camera Deals page.