Canon EOS 50D SLR Review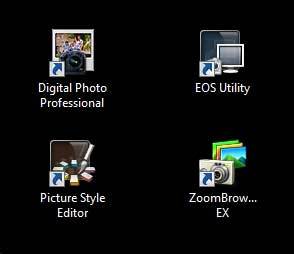 Canon Software Solution Disk
The Canon Digital Camera Solution Software supplied with our XS came on a CD and is version 19.0. The disk contains various software tools for Windows and Apple OS X for downloading, viewing, storing and printing images. After installation my Windows desktop contained 4 new icons.

The software for Windows includes:
Digital Photo Professional (DPP) 3.5
EOS Utility 2.5
ZoomBrowser EX 6.2
Picture Style Editor 1.4
PhotoStitch 3.1
Original Data Security Tools 1.5
WFT Utility 3.2

The software for Macintosh OS X includes:
Digital Photo Professional (DPP) 3.5
EOS Utility 2.5
ImageBrowser 6.2
Picture Style Editor 1.4
PhotoStitch 3.2
WFT Utility 3.2
The screen caps show below are from the Windows versions of the applications.



Digital Photo Professional (Version 3.5) is an image processing program that enables high-speed RAW image processing, high-speed previewing for real-time image adjustment and support for sRGB, Adobe RGB, Apple RGB, Colormatch RGB and Wide Gamut RGB color spaces. Because it's CMS (Color Management System) compatible, Digital Photo Professional allows for easy image layout and printing in Adobe RGB and in conjunction with Easy-PhotoPrint and PictBridge printers. It also features the Dust Delete Data Detection tool for cleaner images.

EOS Utility (Version 2.5) for Macintosh or Windows handles the connection between the camera and computer, whenever they're connected via USB. It allows remote controlled shooting from the computer, handles downloading of images from the camera to the computer, and allows seamless linking to either Canon's ZoomBrowser/ImageBrowser or Digital Photo Professional software once images have been copied to the hard drive. Furthermore, it's used to upload settings back into a USB-connected camera.



ZoomBrowser EX (Version 6.2) for Windows and ImageBrowser (Version 6.2) for Mac OS X are the easy, user-friendly options for viewing and editing of JPEG and even RAW image files. Both allow viewing of numerous types of images including finished TIFF and BMP files. Both also have a variety of search options for finding images, allow re-naming of single images or batches of files, and offer a variety of options for printing without using a separate image-editing program. RAW files are processed using the Digital Photo Professional software.

Picture Style Editor is software that allows you to create custom Picture Style files. To create a Picture Style file, you will open up a RAW image then adjust the image characteristics based on one of the existing Picture Style settings (Standard, Portrait, Landscape, Neutral or Faithful), except for the Monochrome setting. Your new Picture Style setting can then be stored in the 50D using the EOS Utility, or used in the DPP or RAW Image Task applications.



As seen with many of the digital cameras tested recently, I did not have to install software at all to access my photos on the 50D. XP Pro and Vista (SP1) correctly identified the camera and offered to import the images into Window Photo Gallery. However, Vista did not support RAW image files - I could preview them but not import or edit them - you'll want to work with the Canon software or another third party application to access your RAW images.

Visitors of Steves can visit the stores below for real-time pricing and availability. You can also find hot, soon to expire online offers on a variety of cameras and accessories at our very own Camera Deals page.