Canon EOS 1D Mark III SLR Review
Canon EOS 1D Mark III SLR Review
Features & Controls
Canon EF Lens Mount
EOS-1D Mark III is compatible with all Canon lenses in the EF lineup, ranging from ultra-wide angle to super telephoto lenses. Canon lenses employ advanced optical expertise and micron-precision engineering to deliver unprecedented performance in all facets of the photographic process.

Special optical technologies, such as aspherical optics and fluorite elements, are featured in the universally acclaimed L Series lenses. Canon's Image Stabilizer technology (in select lenses) minimizes the effect of camera shake. Through Canon lenses, photographers can experience the quality and stunning performance of the Mark III.



CMOS Sensor & Dual DIGIC III Processors
The EOS-1D Mark III features a 10 megapixel CMOS sensor with an expanded sensitivity range of ISO 50-6400. 14-bit A/D conversion allows fine gradation and a significant drop in digital noise. With its generous 28.1 x 18.7mm image size, the sensor captures every nuance of your scene from highlight to shadow.
Dual "DIGIC III" Image Processors work with the CMOS sensors to produce excellent image quality. A new Highlight Tone Priority option adds control of bright highlights by expanding the range to the maximum allowable highlight level. This custom function lets photographers get even better detail in bright highlights, even in high contrast lighting conditions. And, there's no impact on the camera's shooting speed or burst rate when Highlight Tone Priority is engaged.
E-TTL II Flash Control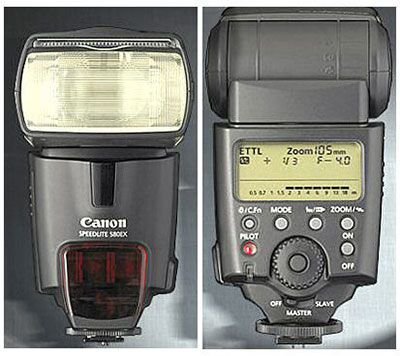 The EOS-1D Mark III Pro Digital SLR camera incorporates the E-TTL II Flash control system first introduced on the EOS-1D Mark II model. Though it remains compatible with all EX-series Speedlites as well as the E-TTL wireless auto flash system, the smarter E- TTL II flash metering algorithm evaluates the subject as a "plane " rather than a simply a point and ensures that images containing various colors and levels of reflection are captured accurately and optimally.
E-TTL II is Canon's latest proprietary automatic flash exposure control system. By employing multiple metering zones to measure both ambient light and pre-flash, then comparing the two and taking metering distances into account, this sophisticated system automatically adjusts the flash level to achieve natural reproduction with ideal exposure of both the background and subject.
In various shooting situations, even when the background is highly reflective, E-TTL II can use distance information from the lens to eliminate underexposure and achieve optimal automatic flash exposure control. Numerous high-performance E-TTL II compatible Canon Speedlites are available to meet your illumination needs. The new flagship 580EX features a short recycle time and high maximum guide number of 58 and supports color temperature data communication. Macro flashes include the ring-shaped MR-14EX and the MT-24EX with two detachable flash heads. Both models can control slave flash units in wireless E-TTL II mode. The clip-on ST-E2 Speedlite Transmitter with direct contacts, E-TTL II compatibility and built-in AF-Assist Beam is also available.
The standard PC sync connector allows you to connect the camera to studio lighting or other external flash units regardless of polarity.



Wireless Data Transfer
The EOS Mark III camera supports the optional Wireless File Transmitters WFT-E2 and WFT-E2A. These accessories allows photographers to transmit images from their cameras directly to a computer over a wireless local area network (LAN).
The WFT-E2 transmitter attaches to the bottom of the EOS-1D Mark III. There are two transfer modes: one that automatically sends each photo after every shot, and another that lets users select and send multiple photos after a shooting session.
The wireless transmitters are compatible with the IEEE 802.11b and IEEE 802.11g standards. A wireless LAN access point on your network is required. The transfer distance using the normal antenna is 60m which can be extended to 150m using the ERA-E1 antenna. Data transfer is secured with authentication (WPA-PSK) and TKIP encryption method.
Camera Kit and Bundled Software
The EOS-1D Mark III comes as a kit and includes the EOS-1D Mark III camera body, NP-E3 NiMH battery pack, NC-E2 dual rapid battery charger, AC power supply, DC power coupler, AC power cord, Video interface cable, IEEE 1394 interface cable, USB interface cable, shoulder strap and software bundle.
Bundled Software
Canon provides advanced computer imaging software with the EOS-1D Mark III.

Digital Photo Professional is a RAW image processing program that will process images taken by any EOS digital camera (except the EOS D30 and EOS D60). Streamlined for efficiency, it displays images as thumbnails in a choice of three sizes, as thumbnails in a layout with accompanying shooting data and histogram, or in a window that fills the screen or is split to show the image before and after processing. Image editing is possible on the main screen or editing screens (with up to 36 open at one time) and includes convenient features like simultaneous white balance adjustment of multiple images. The RAW image processing tool palette allows exposure compensation, white balance adjustment, dynamic-range adjustment, color adjustment and fine-tuning of tone curve characteristics. The RGB image processing tool palette allows adjustment of tone curve, brightness, contrast, hues and saturation.

EOS Viewer Utility is for displaying JPEG and RAW images captured with the EOS-1D Mark III. It's twice as fast as Canon's File Viewing Utility at image preview speed but retains the basic functions of the previous version. Its improved user interface also enables viewing and comparison of up to 6 preview images at a time. A remote image capturing function, EOS Capture, is included to replace the previous RemoteCapture and offers a much improved user interface.

See page 6 of this review for a longer look at the Canon software bundled with the EOS-1D Mark III camera.
Visitors of Steves can visit the stores below for real-time pricing and availability. You can also find hot, soon to expire online offers on a variety of cameras and accessories at our very own Camera Deals page.