Sony DSLR-A350 Review
Review posted 6/24/2008

Click to take a QTVR tour of the A350



Sony has brought Live View shooting to their digital SLR camera line with the release of a 14.2-megapixel (alpha) DSLR-A350 camera and 10.2-megapixel (alpha) DSLR-A300 model. Both cameras feature a wealth of new "cool" technologies, which will help make these dSLRs faster and easier to use for first-time users.
They both offer Sony's new "Quick AF Live View" technology so you can frame photos on the camera's LCD without sacrificing auto-focusing speed common to other live-view systems. Sony's innovative Penta-mirror Tilt mechanism directs light to a dedicated live view image sensor, enabling fast and responsive TTL phase-detection auto-focusing, even during live view. Eliminating the focus delay of other systems, the new models are equally responsive whether using live view or the optical viewfinder.
With its two sensor design, Quick AF Live View can even continuously focus-track the subject and provide live view during burst shooting, helping you capture that special moment. Taking further advantage of Quick AF Live View is the models' variable angle 2.7-inch Clear Photo LCD screen. This makes it easy to frame scenes from high or low positions, which are almost impossible when using an eye-level viewfinder.
The new models produce images with fine detail, rich tonality and vibrant color due to their APS-C CCD image sensors and BIONZ® processing engine. To aid shooting in low light, Super SteadyShot® image stabilization enables shutter speeds 2.5 to 3.5 steps slower than otherwise possible, with every compatible Minolta Maxxum® and Sony (alpha) lens attached to the camera. High sensitivity operation at ISO 1600 and 3200 and very low noise are made possible by the user-selectable high-ISO noise reduction features. Sony's D-Range Optimizer delivers suitable tonality and exposures with rich shadow and highlight detail, even under high contrast situations.
The DSLR-A300 model can shoot about three continuous frames per second, while the DSLR-A350 model can shoot up to two-and-a-half continuous frames per second (using the optical viewfinder). Both are powered by the Bionz processing engine and supplied InfoLITHIUMTM battery for fast start-up times, quick response and long battery life - up to 730 shots per full charge when using the optical viewfinder and up to 410 shots per full charge in Live View mode.
These new models feature lighter, slimmer bodies for easy handling; an improved user interface; automatic pop-up flash; a comfortable camera grip with an easily accessible mode dial; an anti-dust system to keep the CCD image sensor clean for spot-free pictures; and JPEG and RAW file format support. Both have a slot for CompactFlash Type I/II media cards (including Microdrives).

DSLR-A350 Features
14.2-megapixel APS CCD sensor with 14M/7.7M/3.5M image size choices

Sony Alpha/Minolta-A bayonet lens mount

Recording choice of JPEG, RAW, or RAW+JPEG

Shoot at normal 3:2 or 16:9 (HDTV) aspect ratios

Super SteadyShot anti-shake system with viewfinder indicator

D-Range Optimizer for greater highlight and shadow detail

Anti-dust system automatically shakes dust off the imager

Large variable angle 2.7-inch TFT color Clear Photo LCD Plus screen

Live View function allows you to use the LCD to frame your pictures

Penta-Dach-mirror viewfinder with 95% coverage and Eye Start AF

9-point AF with Wide, Spot and Local Area Selection

Eye-start Auto Focus, starts the focus process when you put your eye up to the viewfinder

Shooting modes: Full-auto, Programmed AE with program shift, Aperture priority, Shutter priority, Manual and Scenes

TTL metering: 40-segment honeycomb-pattern, Center-weighted or Spot

White Balance: Auto, 8 presets and Manual color temperature

Unlimited Continuous 2.5fps shooting Large/Fine JPEG images, up to 4 RAW or 3 RAW+JPEG

Shutter speeds: 30 to 1/4,000 seconds, 1/160 sec. flash sync

ISO Range: 100, 200, 400, 800, 1600, 3200 equivalent

Built-in TTL popup flash with red-eye reduction (auto popup when using full Auto)

Hot shoe for Sony/Minolta Program Flash units

CompactFlash I/II card slot, Microdrive and MSDuo/MSDuo Pro compatible (with optional adapter)

Video Out with selectable NTSC or PAL timing

High capacity (1600 mAh) lithium-ion battery pack and charger included

Exif Print, PRINT Image Matching III, PictBridge compatible
The DSLR-A350 comes as a camera body only kit for about US$799, with the DT 18-70mm f3.5-5.6 3.9x for about US$899 or with both the DT 18-70mm f3.5-5.6 3.9x and DT 55-200mm f4-f5.6 3.6x lenses for US$999. This model is available now, and ships with: SAL-1870 DT 18-70mm f3.5 Zoom lens (kit only), NP- FM500H rechargeable battery, BC-VM10 battery charger, Video and USB cables, Shoulder strap with eyepiece cap and Remote Commander clip, Body cap, Software/USB Driver CD-ROM.
Please help support our site and visit the stores below for real-time pricing and availability.
Physical Views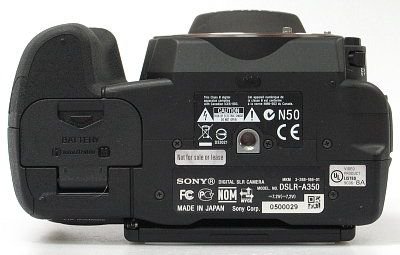 Sony DSLR-A350 Specifications
Imager
14.2 (effective) APS CCD Sensor; 23.5 x 15.7 mm; RGB primary color filter
Lens Mount
Sony

a

Alpha/Minolta A-type bayonet
1.5x focal length multiplier
File format
RAW, JPEG (DCF2.0 compliant, DPOF (ver. 1.1), Exif 2.2)
Number of recorded pixels
14M Large
7.7M Medium
3.5M Small
Image quality
Standard, Fine, RAW, RAW+JPEG (Fine)
Autofocus system
Through-the-lens (TTL) phase-detection system, CCD line sensors (9 points, 8 lines with center cross-hair sensor)
Autofocus area
9-Point Wide Focus Area
Focus area is selectable between Wide, Spot, and Local
Focus modes
Single-shot AF, Continuous AF (with predictive focus control), Automatic AF
Focusing sensitivity
0 - 18 EV (at ISO 100 equivalent)
AF illuminator
Range: Approx 3.3 - 16 ft. (1 - 5 m)
White-balance control
Auto plus 8 Modes (Daylight, Shade, Cloudy, Tungsten, Fluorescent, Flash, Color temperature/Color filter, Custom), each with +/-3 adjustable step.
Exposure metering
TTL metering using 40-segment honeycomb-pattern SPC (40-segment Honeycomb-pattern/Center-weighted/Spot metering)
Metering range: 2 - 20 EV (4 - 20 with spot metering)
* at ISO100 with f/1.4 lens
Exposure Compensation
±2EV (1/3 EV increments)
D-Range Optimizer
Advanced, Standard, Off
Shutter
Type: Electronically-controlled, vertical-traverse, focal-plane type
Shutter Range: 30-1/4000 second, Bulb (1/3 EV step)
Flash sync speed: 1/160 second
Super SteadyShot
Image sensor-Shift mechanism with indicator in viewfinder
Super SteadyShot Compensation capability: Approx. 2.5 to 3.5 EV decrease in Shutter speed (varies according to shooting conditions and lens used.)
Anti-Dust
System: Charge protection coating on Low-Pass Filter and image sensor shift mechanism.
Exposure mode
Auto, P (Programmed AE with program shift), A (Aperture priority), S (Shutter priority), M (Manual)
Scene mode
Night Portrait, Beach, Sports, Close-up, Landscape, Portrait, No Flash
Drive modes
Single, Continuous Advance (approx. 2.5fps), 10/2 second self-timer, Single bracket, Continuous bracket, WB bracket
Continuous Shooting
Up to 2.5 fps
JPEG: Unlimited number of frames
RAW: 4 frames
RAW+JPEG: 3 frames
Sensitivity
AUTO, 100, 200, 400, 800, 1600 and 3200 ISO equivalents
Creative Style modes
Standard, Vivid, Portrait, Landscape, Night view, Sunset, B&W, Adobe RGB (Except for Adobe RGB, all other color modes use the sRGB color space)
Exposure bracketing
0.3/0.7 Ev increments; Number of brackets: 3 frames
Flash
Flash metering: ADI, Pre-flash TTL
Guide number: 12 at ISO 100 (39 feet/12 meters)
Coverage: 18mm
Recycling time: Approximately 4 seconds
Flash modes: Auto (Built-in Auto Pop-up), Fill-flash, Rear flash sync, Slow Sync, High Speed Sync, Wireless off camera flash (with Flash HVL-F56AM, F42AM)
Viewfinder
Type: Eye-level system with penta-Dach-mirror
Focusing screen: Spherical Acute Matte
Field of view: Approximately 95%
Magnification: 0.74x (with 50mm lens focused on infinity)
Diopter control: -3.0 to + 1.0 m-1
Eye-relief: 20.8mm from the eyepiece, 16.7mm from the eyepiece frame at -1 diopter (-1 m-1)
LCD monitor
2.7-inch TFT color LCD with Clear Photo design and tilt option
Total pixels: 230,000 (approx.)
Live View
Penta-mirror tilt mechanism
Image Format:Exclusive image sensor for Live view
Metering method: 1200-zone evaluative
Metering Range: 2 to 17EV (Multi segment, Center weighted, Spot) at ISO 100 with F1.4 lens
Recording media
CompactFlash Type I and Type II, Microdrives and Memory Stick Duo/PRO Duo with adapter.
Self-timer
Approx. 10 seconds / 2 seconds
Printing output control
Exif Print, PRINT Image Matching III, PictBridge
Interface
USB: High-Speed with a USB 2.0 compatible computer, Video output NTSC / PAL (selected on the camera)
Power
Sony NP-FM500H 7.2V 1600 mAh Li-ion rechargeable battery
Condition indication: 4-stage indicator when camera is turned on
Life using CIPA standard: Approx. 730 pictures (Viewfinder mode) or Approx. 410 images (Live view mode)
Dimensions (W x H x D)
5.15 x 4 x 3 inches (130.8 x 98.5 x 74.7 mm)
Weight
1 lb 4.5 oz (582g) (without battery, lens and recording media)
Operating temperature
32-104 °F (0 - 40 °C)
Standard Accessories
SAL-1870 DT 18-70mm f3.5 Zoom lens (27 - 105 35mm eq), NP-FM500H rechargeable battery, BC-VM10 battery charger, Video and USB cables, Shoulder strap with eyepiece cap and Remote Commander clip, Body cap, Software/USB Driver CD-ROM
NOTE: No Memory Stick media nor adaptors are included.
(Specifications as provided by the manufacturer)
Visitors of Steves can visit the stores below for real-time pricing and availability. You can also find hot, soon to expire online offers on a variety of cameras and accessories at our very own Camera Deals page.