Canon Powershot SX110 IS Review
Canon Powershot SX110 IS Review
First Look posted 10/24/2008
Conclusion and samples posted 10/29/2008

Click to take a QTVR tour of the SX110 IS



The Canon Powershot SX110 IS is the successor to the PowerShot SX100 IS from 2007. With a 10x optical zoom lens featuring built-in Optical Image Stabilizer (IS), Advacned Face detection, DIGIC III processor and a 3.0-inch LCD, this compact super-zoom is packed with high-end features. Canon desinged the SX110 IS for parents that are looking for an afforable and compact model that offers point-n-shoot simplicity with great zooming capabilities. The SX110 IS is available in two stylish colors, Silver or Black.
The PowerShot SX110 IS boasts a powerful 10x optical zoom lens with built-in Optical Image Stabilization (IS) technology, which enables users to capture images with great flexibility, minimizing motion blur. This system uses Canon's sophisticated gyroscopic sensors to detect vertical and horizontal movements, then moves the lens accordingly to compensate for such movement, which offers maximized stabilility and focus when using the telephoto capabilities of this camera.


Canon equiped the PowerShot SX110 with enhanced Face Detection technology and a Face Selector button, along with the new Face Color skin tone optimizing function, which allows users to capture the sharpest and brightest portraits. Furthermore, with the new Easy exposure mode, this camera allows beginners to capture great image, reguardless of past experience.
With Canon's innovative DIGIC III image processing engine, the SX110 IS offers robust performance with faster start-up times, shorter processing intervals, and fast and accurate Autofocus. This will ensure users are able to capture sharp images, not matter what situation arrises.
This light-weight model incorporates a 3-inch "wide view" LCD monitor with 5 levels of brightness adjustment, reduced anlges with reflect light, and over 230,000 pixels of resolution. All together, these features will allow the user to frame subjects, browse the menu or review images without any hassle, even in bright sunlight.


Powershot SX110 IS Features:
9-Megapixel CCD for images up to 3456x2592
Canon 10x zoom (36-360mm equiv.) with Optical Image Stabilization
Macro closeup focus to 0.39 inches!
Widescreen 16:9 aspect ratio for HDTV display
Large 3.0-inch color LCD with with 230K pixels and 100% frame coverage
Program AE, Shutter-priority, Aperture-priority, full Manual
Full Auto plus 14 pre-prgrammed Scene modes (including all new Easy mode)
Movie mode w/sound, 640x480 or 320x240 (30fps) up to 4GB or 60 minutes per clip
Shutter speeds from 15 secs to 1/2500 sec in Tv and Manual mode.
Evaluative, Center-weighted average or Spot Metering
1.2 frames per second continuous shooting
ISO sensitivity: Auto, High ISO Auto or 80, 100, 200, 400, 800, 1600 presets
Built-in flash with Auto, Fill, Red-eye reduction and Slow-sync modes
SD/SDHC/MMC memory card compatible, 32MB included
Powered by two standard AA type batteries
USB 2.0 Hi-Speed data transfer to host computer
PictBridge and Canon Direct Print compatible

The PowerShot SX110 IS digital camera is available now for an estimated selling price of US$279.99. It ships with: two Alkaline AA batteries, 32MB SD memory card, USB interface cable, AV cable, wrist strap and Canon's software suite.
Physical Views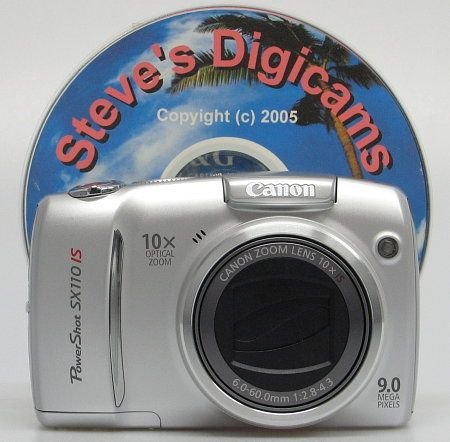 The Powershot SX110 IS and a standard CD for size comparison
Powershot SX110 IS Specifications
Type of Camera

Compact digital still camera with built-in flash, 10x Optical/4x Digital/40x Combined Zoom with Optical Image Stabilizer System

Image Capture Device
Type

9.0 Megapixel, 1/2.3 inch type Charge Coupled Device (CCD)

Total Pixels

Approx. 10.3 Megapixels

Effective Pixels

Approx. 9.0 Megapixels

Lens
Focal Length

6.0-60mm f/2.8-4.3 (35mm film equivalent: 36-360mm)

Digital Zoom

4x

Focusing Range

Normal: 1.6 ft./50cm-infinity (W), 3.3 ft./1m-infinity (T)
Macro: 0.39 in.-1.6 ft./1-50cm (W)

Autofocus System

TTL Autofocus

Viewfinder & Monitor
Viewfinder

None

LCD Monitor

3.0-inch low-temperature polycrystalline silicon TFT color LCD with wide viewing angle

LCD Pixels

Approx. 230,000 pixels

LCD Coverage

100%

Aperture and Shutter
Maximum Aperture

f/2.8 (W) - f/4.3 (T)

Shutter Speed

15-1/2500 sec. (settable in Tv and M)

Exposure Control
ISO Sensitivity

Auto, High ISO Auto, ISO 80/100/200/400/800/1600 equivalent (Standard output sensitivity. Recommended exposure index)

Light Metering Method

Evaluative*, Center-weighted average, Spot**
* Control to incorporate facial brightness in Face Detection AF
** Metering frame is fixed to the center/linked to AF frame

Exposure Control Method

Program AE, Manual; AE Lock, Program Shift, Safety Shift, Auto ISO Shift

Exposure Compensation

+/-2 stops in 1/3-stop increments

White Balance
White Balance Control

Auto, Preset (Daylight, Cloudy, Tungsten, Fluorescent, Fluorescent H, Flash), Custom

Flash
Built-in Flash

Auto, Auto w/ Red-eye Reduction, Flash On, Flash On w/ Red-eye Reduction, Flash Off; FE lock, Safety FE, Slow Synchro

Flash Range

1.6-9.8 ft./50cm-3.0m (W), 3.3-6.6 ft./1.0-2.0m (T) (when sensitivity is set to ISO Auto)

Recycling Time

12 sec. or less (battery voltage=3.0V)

Flash Exposure Compensation

+/-2 stops in 1/3-stop increments

Shooting Specifications
Shooting Modes

Auto, P, Av, Tv, M, Easy, Portrait, Landscape, Special Scene (Foliage, Snow, Beach, Sunset, Fireworks, Aquarium, Night Scene, ISO 3200), Indoor, Kids & Pets, Night Snapshot, Movie

Photo Effects

My Colors
Vivid, Neutral, Sepia, Black & White, Custom

Self-Timer

Activates shutter after an approx. 2-sec./10-sec. delay, Custom

Wireless Control

N/A

Continuous Shooting

Normal: approx. 1.2 fps; AF: approx. 0.7 fps; LV: approx. 0.7 fps (Large/Fine)

Image Storage
Storage Media

SD/SDHC Memory Card, MultiMediaCard, MMC Plus Card, HC MMC Plus Card

File Format

Design rule for camera file system, DPOF Version 1.1

Image Compression

Normal, Fine, SuperFine

JPEG Compression Mode

Still Image: Exif 2.2 (JPEG)
Movie: AVI (Image: Motion JPEG; Audio: WAVE (Monaural))

Number of Recording Pixels

Still Image: 3,456 x 2,592 (Large), 2,816 x 2,112 (Medium 1), 2,272 x 1,704 (Medium 2), 1,600 x 1,200 (Medium 3), 640 x 480 (Small), 3,456 x 1,944 (Widescreen) Movie: 640 x 480 (30 fps/30 fps LP), 320 x 240 (30 fps) available up to 4GB or 60 minutes per clip, 160 x 120 (15fps) up to 3 minutes per clip

Number of Recordable Images

Large (L)

Medium 1 (M1)

Medium 2 (M2)

SF

F

N

SF

F

N

SF

F

N

File Size (KB)
3,888
2,302
1,100
2,720
1,620
780
2,002
1,116
556

32MB

7

12

26

10

17

37

14

26

52

2GB

499

841

1,707

714

1,181

2,363

960

1,707

3,235

8GB

1,996

3,364

6,822

2,855

4,723

9,446

3,837

6,822

12,927




Medium 3 (M3)

Small (S)

Widescreen (W)

SF

F

N

SF

F

N

SF

F

N

File Size (KB)
1,002
558
278
249
150
84
2,946
1,727
825

32MB

29

52

99

111

171

270

9

16

35

2GB

1,862

3,235

6,146

6,830

10,245

15,368

653

1,117

2,276

8GB

7,442

12,927

24,562

27,291

40,937

61,406

2,612

4,465

9,096

Time of Recordable Movies

Standard, Color Accent, Color Swap
Compact
640 x 480
320 x 240
160 x 120
30 fps
30 fps LP
30 fps
15 fps

32MB

15 sec.

30 sec.

43 sec.

3 min. 30 sec.

2GB

16 min. 47 sec.

33 min. 02 sec.

46 min. 33 sec.

3 hr. 24 min. 54 sec.

8GB

1 hr. 07 min. 06 sec.

2 hr. 12 min. 03 sec.

3 hr. 06 min. 04 sec.

13 hr. 38 min. 45 sec.

Note: N=Normal F=Fine SF=SuperFine
Storage Capacity varies depending on camera settings. This data is estimated from Canon's standard shooting conditions. Figures for Movie Mode represent total capacity of the particular media.
Playback Specifications
Playback Modes File

Still Image: Single, Magnification (approx. 2x-10x), Jump, Auto Rotate, Rotate, Resume, My Category, Transition Effects, Histogram, Index (9 thumbnails), Over Exposure Warning, Slide Show, Red-eye Correction, Resize, Image Inspection Tool, Easy
Movie: Normal Playback, Special Playback, Auto Rotate, Resume, Easy

Erasing Specifications
Erase Modes

Still Image: single image, all images
Movie: any movie file

Interfaces
Computer Interface

USB 2.0 Hi-Speed (mini-B jack)

Video Out

NTSC/PAL

Audio Out

Monaural

Other

Memory card slot; direct connection to Canon SELPHY Compact Photo Printers, PIXMA Photo Printers and PictBridge-compatible printers via camera's USB 2.0 Hi-Speed cable

Power Supply
Power Source

1. AA-size Alkaline Battery (x2)
2. Rechargeable AA-size Ni-MH Battery (x2)
3. AC Adapter Kit ACK800 (optional)

Shooting Capacity

Still Image: approx. 220 shots (AA-size Alkaline Battery), approx. 450 shots (AA-size Ni-MH Battery)*
*LCD screen on. The above figures comply with CIPA testing standards and apply when fully-charged batteries are used.

Playback Time

Approx. 300 min. (AA-size Alkaline Battery), approx. 480 min. (AA-size Ni-MH Battery)

Physical Specifications
Operating Temperature

32-104°F/0-40°C

Operating Humidity

10-90%

Dimensions (WxHxD)

4.35 x 2.77 x 1.76 in./110.6 x 70.4 x 44.7mm

Weight

Approx. 8.64 oz./245g (camera body only)

(Specifications as represented by the manufacturer)




Visitors of Steves can visit the stores below for real-time pricing and availability. You can also find hot, soon to expire online offers on a variety of cameras and accessories at our very own Camera Deals page.