Pentax K100D Super SLR Review
Pentax K100D Super SLR Review
Review posted 9/17/2007

Click on the K100D Super for a QuickTime VR tour



The Pentax K100D Super combines 6.1 effective megapixels of resolution with a host of advanced technology, including both Shake Reduction and Dust Removal systems, to deliver high-quality digital SLR photography and user-friendly operation. Compatible with a multitude of Pentax lenses and combining a TTL phase-matching 11 point wide autofocus system (SAFOX VIII) and a sophisticated 16-segment multi-pattern metering, the K100D Super delivers outstanding image reproduction. A large 2.5 inch LCD monitor with 210,000 pixel resolution, and a friendly Mode Dial offering Auto Picture and Picture modes as well as Scene modes make using the K110D Super as simple as point and shoot. All these features combine in a lightweight 20.1 oz, compact body designed with a high-rigidity stainless-steel chassis that is built to last.
The Pentax-developed Shake Reduction (SR) system in the K100D Super effectively offers a two- to three-stop advantage for sharp, blur-free images even under difficult shooting conditions. The SR mechanism is designed to minimize camera shake by oscillating the CCD image sensor vertically and horizontally at high speed using magnetic force, while adjusting the speed of oscillation in proportion to the amount of camera shake detected by a built-in sensor. As a result, the system does not require special anti-shake lenses and can be used with almost all existing Pentax interchangeable lenses.
The K100D Super features an auto sensitivity control function, which automatically sets the optimum standard output sensitivity up to equivalent ISO of 3200, based on the subject's brightness level and the lens focal length. Since this function allows the use of higher shutter speeds in poor lighting situations, it helps photographers reduce camera shake and prevent blurred images
The K100D Super's user-friendly features include a comfortable eyelevel viewfinder, a 2.5 inch color LCD monitor, a generous LCD data panel, and an innovative Auto Picture mode for automatic selection of the proper exposure program. Offering quick, effortless operation and easy portability, the K100D Super is the ideal digital SLR for all levels of photographers, including first-timer digital SLR users and families.
The K100D Super is equipped to make camera operations simple and effortless for the user. From the multi-function four-way controller to the responsive electronic select dial and the large, easy-to-use mode dial, all switches and dials are efficiently and functionally laid out around the K100D Super's compact body to assure smooth, fingertip control. The built-in flash automatically pops up in dimly lit or backlit situations. The K100D Super records up to 5 images consecutively at a speed of approximately 2.8 frames per second, allowing the user to capture a series of the subject's action or movement.
The K100D Super includes Pentax Photo Laboratory 3 software for Windows and Macintosh OS which features the reliable SILKYPIX image-processing engine for RAW data processing, and the Pentax Photo Browser 3 that offers faster data processing speed and better operability than the previous version, and can convert RAW images to the DNG format.
On the date this review was posted Pentax was offering a web-bundle of the K100D Super body with a Pentax 18-55mm zoom lens for an affordable $599 (US).



Pentax K100D Super Features:
6.1 effective megapixels of resolution
Compact, ultra-lightweight body, weighs only 20.1 oz
Compatible with Pentax interchangeable lenses (some will require an adapter)
Shake reduction (SR) mechanism
Dust removal system
11-point wide-frame AF system
16-segment multi-pattern metering system
Auto sensitivity control up to iso 3200 (equivalent)
Top shutter speed of 1/4000 second
Slow shutter speeds noise reduction function
Continuous shooting at 2.8 images per second
Auto Picture mode for point-and-shoot photography
2.5 inch color LCD monitor
Penta-mirror viewfinderwith a 0.85X magnification and a 96 percent field of view
SD memory card compatible with Save-by-Day Storage feature
Powered by AA Batteries or optional CR-V3 Lithium batteries
compatible with PictBridge, DPOF, Exif Print and PRINT Image Matching III systems,
Playback functions; histogram, nine-image thumbnail and 12X zoom display
Six digital filters (black-and-white, sepia, color, slim, brightness and soft-focus) for easy post-shooting image processing
High-speed USB 2.0 connectivity
Optional wireless remote controller and wired cable release

The Pentax K100D Super box includes 4x AA alkaline batteries, I-USB17 USB Interface Cable, I-VC28 Video Cable, camera strap (O-ST53), hot shoe cover, Eyecup FO (replacement, SLR body mount cover, software CD-ROM (Pentax Photo Laboratory 3, Pentax Photo Browser 3) and User Guide and excellent Software operating guide.
Optional accessories include the AC Adapter Kit K-AC10U, Cable Switch CS-205, Remote Control F, Magnifying Eyepiece O-ME53 (1.2x) and the DSLR Gadget Bag.
Physical Views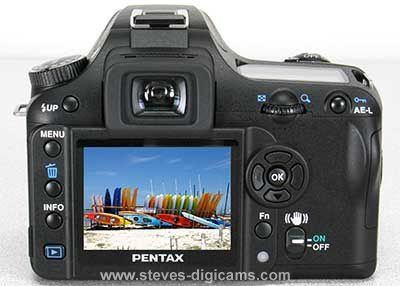 K100D Super Specifications
Type
Interchangeable lens Single-Lens-Reflex type digital still camera with TTL auto exposure,autofocus and built-in retractable P-TTL auto flash.
Lens Mount
Pentax KAF mount
Compatible Lenses
Pentax KAF2, KAF and KA mount lenses; K-mount lenses - usable with restrictions; S-mount lenses - usable with adapter and restrictions; 67/645 lenses - usable with adapter and restrictions
Image Sensor
Interline interlace CCD with a primary color filter
Size: 23.5mm x 15.7mm (diagonal line: 28.40mm)
Effective Pixels
6.1 megapixels.
Recorded Pixels
6M: 3008 x 2008 pixels.
4M: 2400 x 1600 pixels.
1.6M: 1536 x 1024 pixels.
Sensitivity
ISO Auto (200-3200), Selectable ISO (200, 400, 800, 1600, 3200)
File Formats
JPEG, Exif 2.21, RAW, DCF, DPOF, PRINT Image Matching III
Quality Levels
RAW (uncompressed), JPEG (Best, Better, Good)
Storage Media
SD (Secure Digital) and SDHC
White Balance
Auto: TTL control using image sensor.
Preset: Auto, Daylight, Cloudy, Shade, Tungsten light, Fluorescent light, Flash, Custom white balance and Manual.
Color LCD Monitor
2.5 inch, 210,000 pixel low-reflection TFT color LCD with histogram display, 140-degree angle of view
LCD Function
Single frame, zoom in/out up to 12X, nine-image index, slide show, image rotation, Digital filter, shooting data indication (including date and histogram), exposure warning, quick view (instant display of image after shooting)
Video Output
NTSC/PAL switchable
Data Interface
USB 2.0 Hi-Speed
Capture Modes
Program AE, Auto Picture Mode, Picture Mode, Scene mode Shutter-Priority AE, Aperture-Priority AE, Metered Manual, Bulb
Continuous Shooting
Approx. 2.8 fps., JPEG (up to 5 fps.), RAW (up to 3 fps.)
Shutter
Electronically controlled vertical-run focal-plane shutter with electronic release.
Speeds: 1/4000 sec. to 30 sec. and Bulb
Viewfinder
Pentamirror with Natural-Bright-Matte II focusing screen; Viewfinder Coverage - 96%; Viewfinder Magnification - 0.85x (with 50mm f1.4 lens); Diopter Adjustment -2.5m-1 to +1.5m-1
Viewfinder Indication
AF frame; Spot AF frame; Focus point indication (high lighted in red) Flash information; Continuous AF; Picture mode (Normal, Portrait, Landscape, Macro, Moving Object, Night scene portrait); In-focus; Shutter speed; Aperture value; Exposure compensation indicator; Exposure compensation factor/Number of recordable images; Shake reduction; Manual focus; ISO sensitivity warning; Auto exposure lock indicator
Exposure Metering
TTL open-aperture 16-segment metering.
Spot metering and center-weighted metering selectable.
Metering range (at ISO200 with 50mm F1.4 lens): EV1 to EV21.5
Exposure compensation
±2EV (in 1/3 or 1/2EV steps)
Auto Bracketing
3 frames (proper/over/under) within range of ±1.5EV (1/2EV steps) or ±1.0EV (1/3EV steps)
Simultaneous use with exposure compensation possible.
Drive Modes
Single-shot, Continuous Advance, self-timer (2 or 12 sec.), Auto Bracketing, Remote Control (0 or 3 sec. delay)
Autofocus
TTL phase-matching 11-point autofocus system (SAFOX VIII) with selectable wide/spot AF
Applicable illumination range: EV 1 to EV19 (at ISO200 with 50mm f1.4 lens).
AF-Single (with focus lock), AF-Continuous, Manual
Shake Reduction
CCD Image Sensor Shift
Dust Reduction
Dust removal system
Built-in Flash (Retractable P-TTL)
Guide number: 15.6 (at ISO200/m).
Angle of view coverage: 28mm (35mm-equivalent).
Synchronization speed: 1/180 sec.
Auto, Flash-Off, flash-on, Auto+red-eye reduction and Flash-on+red-eye reduction functions available.
Flash Synch
Via hot shoe (with X-contact for dedicated flash unit).
Standard PC flash sync connector
Sensitivity range: ISO200 to ISO1600.
Flash synchronization: up to 1/180 sec.
Self-timer
Electronically controlled type with 12- or 2-second delay.
Mirror lock-up mechanism available.
Mid-operation cancellation possible.
Remote Control
Infrared wireless remote control with optional remote controller.
Effective range: 5m (16.6 ft.) from front side of camera.
Instant release or 3-second-delay release switchable.
Power Source
2 CR-V3 batteries or 4 AA-sized batteries (lithium, Ni-MH, alkaline).
Optional AC adapter available.
Battery Life
CR-V3: Approx. 730 frames no flash, Approx. 630 frames with flash used 50% of the time
AA Lithium: Approx. 660 frames no flash, Approx. 570 frames with flash used 50% of the time
AA NiMH rechargeable 2500mah: Approx. 430 frames no flash, Approx. 300 frames with flash used 50% of the time
AA Alkaline: Approx. 80 frames no flash, Approx. 60 frames with flash used 50% of the time
Dimensions
129.5mm x 92.5mm x 70mm (5.1 x 3.6 x 2.8 inches)
Weight
569g (20.1 oz.) (w/out battery)
(Specifications as represented by the manufacturer, subject to change)
Visitors of Steves can visit the stores below for real-time pricing and availability. You can also find hot, soon to expire online offers on a variety of cameras and accessories at our very own Camera Deals page.