Olympus FE-280 Zoom Review
Olympus FE-280 Zoom Review
Features & Controls
The FE-280 features a 3x optical Olympus zoom lens with a 36mm - 108mm (35mm equivalent) focal length and a maximum aperture of f3.1-f/5.9. This is an all-glass lens constructed of 6 lenses in 5 groups with 4 aspherical lenses.
When powered down the lens retract inside of the body and is protected by an automatic lens barrier.
The contrast detection autofocus system has a range of:

Normal Mode: (Wide): 23.6" (0.6m) - infinity; (Tele): 39.4" (1.0m) - infinity
Macro Mode: (Wide): 3.9" (0.1m) - infinity; (Tele): 23.6" (0.6m) - infinity
Super Macro Mode: 2.0" (5cm)



The built-in speedlight has modes for: Auto, Red-Eye Reduction, Fill-In, and Off. The maximum working range is:

Wide: 0.33 ft. (0.1m) - 18.0 ft. (5.5m)
Tele: 2.0 ft. (0.6m) - 9.2 ft. (2.8m) at ISO 800.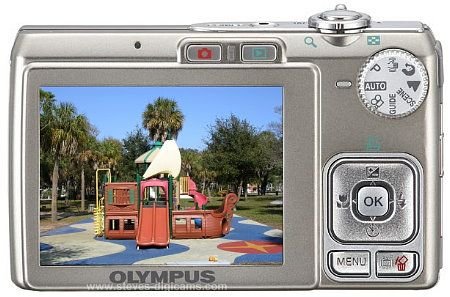 The 2.5-inch (6.4cm) color LCD has 230,000 pixels and is used for framing, review and accessing the menu system. There is no optical viewfinder.

Controls on the back: At the top is the red camera button for Record mode and the green arrow button for Playback mode. The Mode Dial has positions for: Auto, Program, Blur reduction mode (uses Digital Image Stabilization), Portrait, Landscape, Scene, GUIDE, and Movie. The 4-way controller is for navigating menus, changing settings and selecting playback images. Press "up" to adjust Exposure compensation or set DPOF settings in Playback mode, press "left" for macro focus, press "down" for the self-timer and press "right" to change flash modes. The MENU button calls up and dismisses the menu system, pressing the OK button in the center of the 4way accepts selections. The "Backlight Boost" button raises the brightness of the LCD's backlight for help in framing under severe lighting (harsh sunlight, etc.), and also acts as the Delete button in playback mode.






Located on top is the Power button, and the Shutter release with the Zoom lens controls mounted around it. They also serve as the Magnify and Index options in playback mode.

On the right side are the I/O ports: The Multi-terminal handles USB 2.0 (full speed, not high speed) data as well as Audio/Video output (NTSC/PAL selectable.)



The FE-280 stores its data on 48MB of internal memory or on an optional xD-Picture Card. xD cards are currently available up to 2GB in capacity.
Approx. Still Image Capacity
Approx. Movie Capacity
The FE-280 is powered by a LI-42B 3.7v 740mAh Li-ion battery pack. Olympus does not specify the battery runtime. The included AC charger lets you charge one battery while using another, to charge a fully depleted pack takes approx. 120 minutes. Lithium battery packs can be charged or "topped off" at any time without shortening the service life of the battery.
Visitors of Steves can visit the stores below for real-time pricing and availability. You can also find hot, soon to expire online offers on a variety of cameras and accessories at our very own Camera Deals page.