Olympus E-3 SLR Review
Body, Imager & Lenses
Constructed with a magnesium alloy, the E-3 is lightweight yet strong and rugged and uses new casting technology to create a stronger magnesium chassis for greater durability. The body has a comforting size and weight measuring 5.59 inches (142mm) by 4.56 inches (116mm) by 2.93 inches (74.5mm), excluding protrusions, and weighing 28.2 ounces (800 grams).



Does this image make you shudder? Don't worry, the E-3 body, built-in flash, terminal covers and LCD are all splash proof and dust proof. You'll also find splash and dust resistant models of Zuiko Digital lenses that are as tightly sealed as the camera.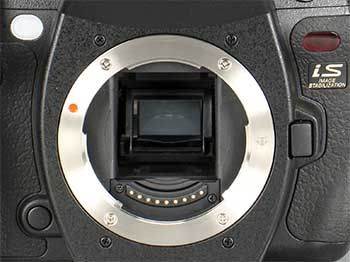 Here's the E-3's lens mount. It follows the Four Thirds Specification which defines the standard diagonal length of the 4/3-type image sensor, suitable image circle of lens and an interface between lens and body. This makes promotes compatibility among camera bodies and lenses regardless of manufacturer.
There are some sensors and buttons around the mount.The red oval in the upper right is a remote sensor. Below it is the lens release button. Moving to the upper left you can see the white balance sensor. And below that is a preview button.



Live MOS Sensor and 11 point AF Sensor
Live MOS Sensors, like the one in the E-3, offer image quality comparable to a CCD sensor with the low power requirements of a CMOS sensor. Redesigned sensor elements with greater photosensitive surface area and significantly improved imaging in low-light environments round out the technology in the sensor.



The camera's Live MOS image sensor is complemented by Olympus' TruePic III Image Processor that produces crystal clear photos using all the pixel information for each image to provide the best digital images possible with accurate natural color, true-to-life flesh tones, brilliant blue skies and precise tonal expression in between. TruePic III also lowers image noise in images shot at higher ISO settings, enabling great results in low-light situations.

The secret to the camera's high-speed focusing is a unique Twin cross type (fully biaxial) 11 point AF sensor, based on proprietary Olympus micro-sensing technologies, that achieves equally effective performance on both the vertical and horizontal axis. With most biaxial sensors, performance on the vertical and horizontal axes is not equal, and there is often a perceived difference in response time when using different lenses. However, unlike systems that respond at nominally lower f-stop values simply by boosting sensitivity, the E-3's AF sensor features a totally redesigned hounds tooth-pattern phase detection sensor layout that uses micro-lamination technologies to achieve superior real-world performance.
The 11 AF target points on the E-3 can be selected to work individually or dynamically in combination with adjacent target points. Once a photographer knows the general direction of a moving subject the AF area can be selected based on the anticipated motion to maintain accuracy.



Exclusive Supersonic Wave Filter
The E-3's proven Dust Reduction System, with the Supersonic Wave Filter (SWF) self-cleaning ultrasonic sensor unit, eliminates dust particles on the sensor by silently vibrating an amazing 30,000 times per second, ensuring spot-free images.



Digital Specific "Smart" Lenses
Olympus Supersonic Wave Drive (SWD) lenses on the E-3 enable auto focusing at ultra-high speed with precise and quiet operation. Mechanical focusing is also available for easy and accurate manual focusing by hand.
Olympus continues to offer more for demanding photographers with the introduction of four new lenses. Each incorporates at least one ED (Extra-low Dispersion) lens element to effectively reduce chromatic aberration across the entire image area and return optimal results.



Zuiko Digital ED 12-60mm (24-120mm) 1:2.8-4.0 SWD
Featuring the revolutionary new SWD autofocus system, this splash proof 5x zoom lens brings the world's fastest AF performance in the hands of E-3 owners. Its 12mm (24mm) wide-angle capabilities ensure great versatility as does the small minimum focus distance of just 25cm.
Supersonic Wave Drive AF system: World's fastest AF system when combined with Olympus E-3
5x zoom
25cm closest focusing distance
Mechanical manual focusing
Circular aperture diaphragm
Extreme wide angle capabilities from 12mm (24mm)
Splash proof
Available November 2007
Zuiko Digital ED 50-200mm (100-400mm) 1:2.8-3.5 SWD
This ultra-fast SWD lens features AF speeds that are 2x quicker than the current Zuiko Digital 50-200mm lens. Its 4x zoom power extends to 200mm (400mm) enabling photographers to easily pick out and capture subjects from great distances - no matter if in the tropics or in the desert thanks to splash proof protection.
Supersonic Wave Drive AF system: Ultra-fast AF speeds
(2x faster than current 50-200mm lens)
4x zoom
1.2m closest focusing distance
Mechanical manual focusing
Circular aperture diaphragm
Lens hood with slide-window for PL filter
Splash proof
Available November 2007



Zuiko Digital ED 14-35mm (28-70mm) 1:2.0 SWD
It's a world first for a standard zoom lens: An exceptional 1:2.0 aperture across the entire zooming range. Combined with its 2.5x zoom, this lens provides pro photographers with a never-before-had level of flexibility. And together with the ultra-fast AF speeds afforded by the SWD system, a great photo moment need never be missed again.
World's first standard zoom with 1:2.0 aperture across entire focal range
2.5x zoom
Ultra-fast Supersonic Wave Drive AF system
Mechanical manual focusing
Circular aperture diaphragm
Lens hood with window for PL filter
Splash proof
Available early 2008
Zuiko Digital ED 70-300mm (140-600mm) 1:4.0-5.6
With magnification muscle extending to 300mm (600mm), this Zuiko Digital lens is remarkably powerful. Nevertheless, it remains astoundingly portable. Measuring a mere 127mm and weighing just 620g, it's real proof that high-performance zoom power doesn't need to impede mobility.
4.3x zoom
Tremendous telephoto capabilities to 300mm (600mm)
Extremely compact and lightweight
Available late October 2007
Olympus also offers the Zuiko Digital 2.0x Teleconverter EC-20
Double the focal length of the master lens without affecting performance of the master lens. With this new teleconverter which is compatible with all Zuiko Digital lenses, photographers can get twice as close to their subject without the need for an additional lens.
Doubles the focal length of the master lens
Attachable with all Zuiko Digital lenses: from Fisheye and Macro to Super Telephoto
Digital-specific converter: thin, compact and high image quality
Splash proof
Available November 2007
User Upgradeable Firmware
The Smart Lens Design allows users to shoot with the most current firmware versions of each particular E SLR System component. You can update the camera's firmware system using:
Internet-Enabled Computer
Camera Connected via USB 2.0 or Firewire (IEEE 1394)
Olympus Software; one Button Update
The firmware information is collected for the lens, flash, and body and updated accordingly - no tricky file downloading or installation procedure necessary.
Visitors of Steves can visit the stores below for real-time pricing and availability. You can also find hot, soon to expire online offers on a variety of cameras and accessories at our very own Camera Deals page.