Nikon D40 SLR Review

Nikon Capture NX supports all Nikon digital SLR models. This versatile image processing and editing software extends the capabilities and offers comprehensive control of NEF images unmatched by any other software. Capture NX also features significant new image enhancement technologies that not only allow photographers to maintain a faster workflow, but also offer advanced image editing capabilities.
The NEF (Nikon Electronic Format) file format is the digital equivalent of a film negative. It allows for extensive non-destructive editing and preserves the integrity of the original RAW image data. A NEF file consists of three key components that include raw image data captured by the imaging sensor, thumbnail images of the raw data, and a unique instruction set that retains camera settings from the moment a picture was taken. During post-production in Capture NX, these original camera settings can be tweaked, edited and saved as a variation of the instruction set, thereby leaving the original raw data unaffected, yet achieving the effects of the editing on the final image.
Nikon Capture NX 30-day trial is included in the D40 package and operates unrestricted in "try it before you buy it" mode for 30 days. It can also be downloaded from the Nikon USA web site for both Windows and Mac users.





Nikon Capture Editor's window gives you quick access to the image information and tools you need to get the most out of your NEF files. The camera settings used for the active image can be displayed or hidden to give you more image preview area. Along the top is the Quick Tools palette. The major editing tools are organized in two palettes consisting of drop-down/expanding sub-menus. Image adjustments are shown in realtime on the preview screen. You can toggle the display of the tool palettes by pressing the TAB key.





Here you can see the "Camera Settings" palette showing information for file name, date, image size/quality, color, device used (D80), lens used, focal length, flash sync mode, etc.

Quick Tools
Direct Select - Basic selection tool
Hand - Move image around in freehand fashion
Zoom - Zoom in on image in active window

Rotate - Rotate image 90° clockwise or counter-clockwise
Straighten - Level the image in the active window
Crop - Select portion of image to be saved

Black Control point - Neutralize the dark tones of the image
White Control point - Neutralize the light tones of the image
Neutral Control point - Correct a color cast in your photograph

Color Control point - Perform advanced color changes in a selective fashion
Red-Eye Control point - Manually remove the red-eye from an image

Selection Brush - Selectively paint in or paint out the enhancements found in the current step
Lasso & Marquee Tools - Create a selection on your images that will limit where an enhancement affects your image
Selection Gradient - Gradually blend between applying and removing the current step's effect on your image
Fill/Remove Tool - Either fill or remove the current effect, either in the entire image or an area within a selection





Base Adjustments
The Base Adjustments Palette revels a wealth of image adjustment options to choose from:
Camera - color mode, white balance, tone compensation, saturation and image sharpening.

RAW - exposure compensation, hue adjustment, color Moire reduction, dust off, and auto color aberration

Light & Color - color balance, color booster, d-lighting, LCH, levels&curves, and photo effects.

Detail - noise reduction, unsharp mask, and auto red-eye, cropping&resizing, straightening.

Lens - vignette control, fisheye lens.
Adjust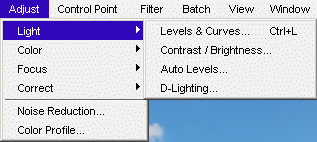 The Adjust tab gives access to many of the same options listed above under Base Adjustments. Below you can see a detailed view and description of all options.




Curves - The Curves palette allows adjustments to be made to specific portions of the tone range, making it possible to enhance the image while preserving detail.





Contrast/Brightness - Here you can alter the contrast and brightness of image.





Auto Levels - Use this to enable Capture NX to analyze you image to determine the correct adjustments to spread the available color information within you image across the entire range of tonal possibilities.





D-Lighting - Revels details in shadows and highlights, correcting for underexposure, back lighting, or insufficient flash, without harming the properly exposed areas of you image.





LCH - This editor enables you to individually control the Luminosity, Color lightness, and Hue of the active image using individual editor dialogs.





Color Balance - The Color Balance palette offers simple controls for adjusting overall brightness, contrast, and color balance for the entire image.





Color Booster - Color Booster enables you to optimally adjust the saturation or the vividness of colors. Also features a "Protect Skin tones" option that allow you to boost the saturation without affecting skin tones.





Saturation/Warmth - Provides you with an efficient method of adjusting both the saturation and warmth of colors within you images.





Gaussian Blur - Use this enhancement palette to dramatically reduce the appearance of detail through the image. This is often used selectively to reduce visual impact of objects or areas within an image in order to draw the viewer's eyes away from that object or area.





High Pass - This feature attempts to block all image details, apart from those details that contain very strong edge definitions. This results in a neutral grey image with only the edges of the original image appearing.





Unsharp Mask - The Unsharp Mask increases the contrast of the edges in the image while leaving other areas untouched. The amount of sharpness is determined by three factors: intensity, halo width, and threshold.





Distortion Control - Provides controls to reduce both barrel and pincushion lens distortions.





Color Aberration Correction - Use to adjust and control potential color fringes that can occur in your images.





Noise Reduction - Reduces the effects of digital noise in your images.





Color Profile - Provides you with image-specific color management options within Capture NX. Use these options to apply a profile or convert the current profile to prepare an image for a specific color managed workflow.
Visitors of Steves can visit the stores below for real-time pricing and availability. You can also find hot, soon to expire online offers on a variety of cameras and accessories at our very own Camera Deals page.