Canon EOS 1D Mark III SLR Review
Canon EOS 1D Mark III SLR Review
Review posted 8/29/2007

Click to take a QTVR tour of the EOS-1D Mark III



Canon's flagship EOS-1D Mark III is the most advanced EOS Digital SLR Canon has ever produced. It has a new 10.1 megapixel CMOS sensor (APS-H size) with the EOS Integrated Cleaning System and a 3.0-inch LCD monitor providing Live View capability. The 1D Mark III has a redesigned 100% viewfinder, a new 45-point AF system, and can shoot up to 10 fps continuously with a maximum burst of 110 shots. Dual "DIGIC III" Image Processors work in tandem to speed up every process and a new, lighter body has improved weather sealing and shutter durability. Read on - we have a lot of information to share about this phenomenal camera!
The EOS-1D Mark III CMOS sensor has an expanded sensitivity range of ISO 50-6400. 14-bit A/D conversion allows fine gradation and a significant drop in digital and shadow noise. With its generous 28.1 x 18.7mm image size, the sensor captures every nuance of your scene from highlight to shadow. Efficient noise reduction ensures an extremely high signal-to-noise ratio. Framing is natural because the sensor's 3:2 aspect ratio is the same as in 35mm cameras, and the sensor's large size has an effective angle of view that's just 1.3 times the focal length indicated on Canon EF lenses.
With a maximum continuous shooting speed of approximately 10 frames per second, for up to 110 shots, the EOS-1D Mark III must be the world's fastest digital SLR. Bursts are first recorded to the camera's internal memory to ensure maximum speed and then transferred to memory cards for storage. The number of shots remaining during a burst is displayed on the right side of the viewfinder.
The EOS-1D Mark III raises the bar for auto focus performance. It uses a 45-point high density AF system that provides not only the industry's largest continuous AF coverage area, but also the greatest range of control over focusing point selection. The focusing point can be selected automatically by the camera (based on high-speed microcomputer analysis of image content), or you can manually select any of 19 cross-type AF points which can be complemented by 26 additional Assist Points for pin sharp accuracy.
A processing unit devoted solely to focusing the 1D Mark III uses advanced algorithms that ensure the fastest, most accurate AF performance under the widest variety of conditions, with processing up to 3x faster and a full stop darker than on the EOS-1D Mark II N. The One-Shot AF mode is ideal for more static subjects. The camera rapidly selects the optimum focusing point and the subject is instantly brought into focus even if it is off-center. The AI Servo AF mode is excellent for moving subjects. Aided by a highly "intelligent" predictive focusing algorithm, it precisely tracks subject movement, even at speeds of up to 10 fps. Even with erratic or rapid subject movement, the photographer can shoot continuously, concentrating solely on image composition.
The 1D Mark III is clad in a magnesium alloy shell, chassis and top panel, providing impressive strength without excessive weight. All of the 1D Mark III controls and external cover seams are sealed from water and dust. Even the perimeter of the 1D Mark III's hot-shoe is ribbed for water resistance, enabling flash photography with Canon's Speedlites.
Canon has also introduced a new, lightweight lithium-ion battery system that provides feedback on the LCD monitor, including number of shots taken on a charge, percentage of battery power remaining and whether the battery should be reconditioned with the charger. With the new battery installed, the EOS-1D Mark III body is about 1/2 pound (approx. 225g) lighter than the EOS-1D Mark II body.
Designed to maximize performance between the capture and recording stages of digital photography, the EOS-1D Dual "DIGIC III" chips give the camera two of Canon's newest processing units, working in parallel. This technology works to dramatically enhance image quality and deliver the speed and power needed to combine 10 million pixels and 10 frames per second. The entire electronic system was totally re-designed, giving the camera its incredible combination of speed and image quality. Digital noise is significantly reduced in shadow areas, and color reproduction is superior.
The 3.0-inch LCD monitor on the EOS-1D Mark III has a Live View option, where the photographer can compose and shoot directly from the LCD monitor. Achieved via a menu setting (by raising the SLR camera's mirror), the Live View function enables the photographer to zoom in and navigate the composition at 5x or 10x normal size, while enabling critical manual focus and allowing more attention to detail. Users can even choose a grid overlay, perfect for architectural photography.
EOS-1D Mark III Features:
10.10 megapixel, 1.11 x 0.74 in./28.1 x 18.7mm (APS-H size sensor)

Lens mount: Canon EF, TS-E, and MP-E lenses (except EF-S lenses)

High-sensitivity, high-resolution, single-plate, CMOS sensor

Recording Format: DCF 2.0 (Exif 2.21): JPEG, RAW and RAW+JPEG (simultaneous recording possible)

Color Space: Selectable between sRGB and Adobe RGB

Interface: USB 2.0 Hi-Speed, mini-B port. NTSC/PAL for video output

Viewfinder Type: Eye-level SLR with fixed pentaprism, nearly 100% view

Metering Modes: 63-zone TTL full aperture metering

ISO Speed Range: Equivalent to ISO 100-3200 (in 1/3-stop or whole stop increments)

Shutter Type: Vertical-travel, mechanical, focal-plane shutter with all speeds electronically controlled

Remote Control: Canon N3 type terminal

Drive Modes: Single, silent, high-speed continuous (approx. 10 fps), low-speed continuous (approx. 3 fps), 10- or 2-sec. self-timer

LCD Type: 3.0 in. TFT color, liquid-crystal monitor, approx. 230,000 pixels

Direct printing from the camera to PictBridge-enabled printers

Self-cleaning sensor: IR-cut filter in front of CMOS sensor automatically vibrates at ultrasonic rates

One dedicated lithium-ion battery LP-E4, AC power can be supplied via the AC Adapter Kit ACK-E4

Exposure control: Program AE (shift able), shutter-priority AE, aperture-priority AE, depth-of-field AE, E-TTL flash AE, manual, flash metered manual

EOS External Flash or Dedicated Speedlites: E-TTL II auto flash with all EX Series Speedlites

Exposure Control Systems: Program AE (shift able), Shutter speed-priority AE, Aperture-priority AE, E-TTL II program AE (Evaluative flash metering, Averaged flash metering), Manual

Metering Range: EV 0-20 (ISO 100 at 73°F/23°C with EF 50mm f/1.4 USM lens, ISO 100)

Focusing Modes: Autofocus (One-Shot AF, Predictive AI Servo AF), Manual Focus (MF)

Depth-of-field preview possible in Live View mode

Color Balance Settings: Auto, Daylight, Shade, Cloudy, Tungsten Light, White Fluorescent Light, Flash, five Custom WB settings (1-5), user-set Color Temperature (2,500~10,000K), five Personal White Balance PC-1 to PC-5 (Total 10 WB types)

Image Playback with Histogram, Single image with information, Single image, 4-image index or 9-image index. Highlight alert in single image display formats, any overexposed highlight areas will blink. Playback magnification 1.5X - 10X

Custom functions: 20, with 65 possible settings. Personal functions: 27

Dimensions (W x H x D): 6.1 x 6.2 x 3.1 in./156 x 156.6 x 79.9mm

Weight: 40.7 oz./1,155g
Physical Views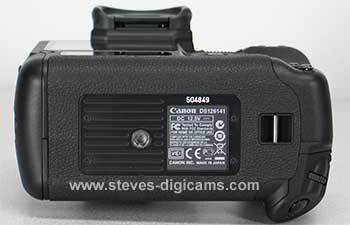 Visitors of Steves can visit the stores below for real-time pricing and availability. You can also find hot, soon to expire online offers on a variety of cameras and accessories at our very own Camera Deals page.