Panasonic Lumix DMC-LS2 Review
Panasonic Lumix DMC-LS2 Review
Features & Controls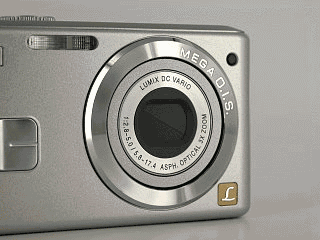 The all-glass aspherical Lumix DC VARIO ELMARIT 3x zoom lens is equivalent to a 35-105mm zoom on a 35mm camera. It has a F2.8 to F5.0 maximum aperture. This lens is constructed of 7 elements in 6 Groups (3 Aspherical Lenses.) No lens cap is needed, a built-in shutter protects the lens when the camera is powered down.
The MEGA Optical Image Stabilizer has a built-in gyrosensor that detects any hand movement and relays a signal to a tiny microcomputer inside the camera, which instantly calculates the compensation needed. A linear motor then shifts the Optical Image Stabilizer lens as necessary to guide incoming light from the image straight to the CCD. The MEGA OIS has two modes of operation:
Mode 1 - The stabilizer operates continuously and assists during composition.

Mode 2 - The stabilizer is only activated when the shutter release is pressed. There is a greater stabilizing effect in this mode.
The TTL contrast-detect auto focus system has a working range of:
Normal: 19.7 in. (50cm) - infinity
Macro: 1.97 in. (5cm) - infinity
Users may choose from selectable AF settings. In addition to the 5-point, 3-point high speed, 1-point normal speed and Spot autofocus, the LS2 can be set to 1-point high-speed autofocus. This setting nearly eliminates the time lag that often occurs with high-magnification zoom shots, letting users capture those great, spontaneous moments.



The built-in speedlight features Auto, Auto Red-eye reduction, Slow-sync Red-eye, Fill and Forced Off modes. The working flash range is Wide: 11.8 in. - 12.1 feet (0.3-3.7m) / Tele: 11.8 in. - 6.9 feet (0.3-2.1m) at ISO Auto.



The 2.0-inch color LCD has only 85,000 pixels of resolution - it's used for framing, review and menu operations. There is no optical viewfinder.



Controls on the back: The DISPLAY button toggles the amount of overlay information is shown on the LCD. The Drive mode button selects normal or sequential shooting mode, in playback it is for deleting images. The 4-way selector in Record mode toggles the flash mode when pressed "Right." When pressed "Up" it adjusts exposure compensation. Press "Left" to activate the Self-timer and press "Down" to use the Quick Review mode to examine the last image captured. In Playback mode the 4-way selector is used to select images and of course in both record and play modes it is used to navigate the menu screens. The MENU / SET button calls up and dismisses the menu system and accepts selections.



Controls on the top include the combination shutter release and zoom control ring. The zoom ring is used in playback to enlarge the image or display an index page. The button to the right of the shutter release turns the MEGA O.I.S. on/off. Below that is the Power on/off switch.
The Mode Dial has positions for:
Movie - Capture motion JPEG without audio, length is limited only to available memory

flower icon - Macro focus mode for closeup photography

E - Economy mode, point-n-shoot mode for maximum battery life

camera icon - The normal Program AE point-n-shoot mode

Play - Playback of still images, movie or audio notes

heart icon - Simple mode for beginners, minimal menu choices

SCN1 - Scene: Settable for Portrait, Sports, Food, Scenery, Night Scenery, Night Portrait, Fireworks, Party, Snow, Baby, Soft Skin, Starry Sky, Candle, Soft Skin, Baby1, Baby2

SCN2 - Scene: Settable for Portrait, Sports, Food, Scenery, Night Scenery, Night Portrait, Fireworks, Party, Snow, Baby, Soft Skin, Starry Sky, Candle, Soft Skin, Baby1, Baby2


The V Out port sends the video to a television set, the video format is user selectable for NTSC or PAL standard. This is also the USB 1.1 data I/O port, it is Mass Storage compliant and also supports the PictBridge direct-print standard.


An optional AC power adapter or external battery pack can be connected to the DC IN port.



Still images and movie clips are stored on 14MB of internal memory or optional removable Secure Digital flash memory cards. We had no problems using a fast SanDisk Ultra II 256MB SD card. Panasonic claims compatibility with SD cards up to 2GB.

Approximate Storage Capacities
The DMC-LS2 can be powered by two AA alkaline or two rechargeable nickel-metal hydride (Ni-MH) batteries. Included are two Panasonic Oxyride batteries that allow you to take up to 250 photos. Alkaline batteries let you take about 175 photos and nickel-metal hydride batteries allow up to 390 photos.
Visitors of Steves can visit the stores below for real-time pricing and availability. You can also find hot, soon to expire online offers on a variety of cameras and accessories at our very own Camera Deals page.