Nikon Coolpix L2 Review
First Look posted 2/21/2006
Full Review posted 4/3/2006
Introduction & Physical Views

Click on the Coolpix L2 to take a QuickTime VR tour


The COOLPIX L2, COOLPIX L3 and COOLPIX L4 are entry-level digital compact cameras that combine high-quality components like a 3x Zoom-Nikkor lens and a bright 2.0-inch LCD with in-camera image-improvement features, in lightweight and compact bodies. All three cameras employ a high quality 3x optical Zoom-Nikkor lens to provide the ability to zoom in for tight portraits, or zoom out to take in expansive outdoor scenes. The CCD imagers offer high performance with effective megapixel values of 6.0 for the COOLPIX L2, 5.1 for the COOLPIX L3, and 4.0 for the COOLPIX L4. All three cameras also feature a bright, 2.0-inch color LCD with new icons and a new color scheme that's easier on the eyes.
These cameras all incorporate Nikon's exclusive technology for improving the image during and after capture. The D-Lighting function selects and creates a copy of images with excessive backlight or insufficient flash illumination, adding light and detail wherever needed while keeping other areas as they were. The Face-priority AF function automatically detects and then focuses in on people's faces, regardless of where they are in the frame, ensuring superb crisp-focus portraits. The In-Camera Red-Eye Fix function analyzes each image, automatically finding and then correcting the accidental red-eye that sometimes occurs in flash photography, for more natural-looking portraits.
A choice of 15 different Scene modes - 4 with Scene assist - makes it so much easier to achieve desired results in a wide range of everyday situations. Just choose the Scene mode best suited to the subject at hand, and the COOLPIX L2, L3 and L4 automatically select the ideal settings for exactly the picture you had in mind, whether indoor party or outdoor nighttime fireworks display. These cameras also offer movie-shooting capability in three sizes: TV movie size (640) for viewing on TV or computers, convenient Small size (320), and Smaller size (160) for extended recording or Internet usage.
The design of these models is streamlined and comfortable to hold, and features a smooth and elegant finish. The curved grip contributes to both design elegance and shooting stability. Adding to their convenient portability is the advantage of AA-size battery compatibility. One of the most widely available battery sizes in the world, in alkaline, lithium or NiMH rechargeable form. All three cameras are compatible with widely available SD memory cards. 23MB of internal memory for the COOLPIX L2 and L3 and 10MB for the COOLPIX L4 allow the user to keep right on shooting when no additional memory is available, as well as easily moving images from one SD card to another.
USB connectivity eases transfer of data to computers and other peripherals. Printing is simplified as well, with PictBridge capability enabling connection to a compatible printer without the need of a computer in between. The latest version of Nikon PictureProject offers convenient options allowing users, for example, to import wireless images automatically into a slideshow as well as tools to edit, organize, design and share images. The software is designed to extend the enjoyment of taking pictures: transferring images from camera to computer, organizing images so they are easy to find, editing them to add an extra sparkle, designing ways to show off the pictures and sharing them with friends and family.

Coolpix L2 Features:
6-megapixel effective CCD imager
Nikkor 3x optical zoom lens (38-116mm in 35mm equivalent)
Compact, durable and lightweight body
Macro focus with AF as close as 1.6 inches
Exclusive Face Priority AF makes taking incredible portraits easy
256-segment Matrix metering
Large 2.0-inch glare-resistant color monitor
Automatic exposure and 15 pre-programmed Scene modes
640x480 @ 30fps movie mode w/sound, length limited only by memory card capacity
Built-in flash with auto, fill, slow sync, and red-eye reduction
Nikon's D-Lighting automatically brightens dark images in playback mode
In-Camera Red-Eye Fix™ automatically fixes most instances of red-eye in the camera
23MB internal memory and SD memory card slot
USB connectivity, PictBridge direct-print compliant
Powered by two standard AA type batteries
Physical Views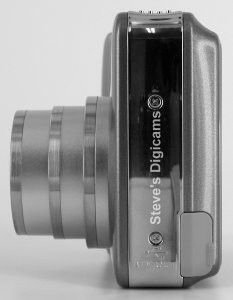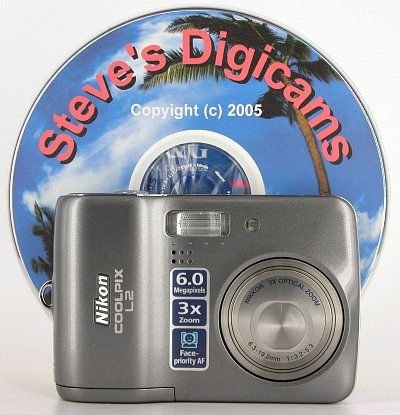 The Coolpix L2 compared to a standard CD disc.


The 5-megapixel Coolpix L3 and the Coolpix L2
Coolpix L2 Specifications
Effective pixels:
6.0 million
CCD:
1/2.5-inch high-density CCD (6.18 million total pixels)
Image modes:
6M* High (2816), 6M Normal (2816), 3M (2048), PC (1024), TV (640)
Lens:
3x Zoom-Nikkor; 6.3-19.2mm (35mm format equivalent to approx. 38-116mm); f/3.2-5.3; 5 elements in 5 groups; Digital zoom: up to 4x
Focus system:
Contrast gradient TTL
Focus range (approx.):
Normal: 30cm (1 ft.) to infinity
Macro: 10cm (3.9 in.) to infinity
LCD monitor:
2.0-inch type, 86,000-dot TFT LCD monitor with brightness adjustment
Storage media:
Internal memory (approx. 23MB), SD memory card
Shooting modes:
Auto, 4 modes with Scene assist (Portrait, Landscape, Sports, Night Portrait), 11 Scene modes (Party/Indoor, Beach/Snow, Sunset, Dusk/Dawn, Night Landscape, Close Up, Museum, Fireworks Show, Copy, Back Light, Panorama Assist), Voice Recording, BSS (Best Shot Selector), Color options, Blur Warning, Date Imprint, Self-timer (10 sec.)
Movie: With sound:
TV movie (640) at 30fps/15fps, Small size (320) at 30fps/15fps, Smaller size (160) at 15fps
Capture modes:
1) Single
2) Continuous (approx. 1.7fps)
3) Multi-shot 16
Number of frames (w/internal memory):
6M High: approx. 8, 6M NORMAL approx. 16, 3M Normal approx. 29
Built-in flash:
Range: Approx. 0.3-3.0m/1 ft. - 9 ft. 10 in. (W), Approx. 0.3-1.75m/1 ft. - 5 ft. 9 in. (T)
Flash modes: Auto, Auto with Red-eye Reduction (In-Camera Red-Eye Fix), Flash Cancel, Anytime Flash and Slow sync.
Interface:
USB, Audio Video output
Supported languages:
German, English, Spanish, French, Italian, Dutch, Russian, Swedish, Japanese, Simplified Chinese, Traditional Chinese, Korean, selectable in menu display
Power requirements:
Rechargeable Ni-MH Battery EN-MH1 x 2, AA-size battery (LR6 alkaline, ZR6 oxyride, or lithium) x 2, AC Adapter EH-65A (optional)
Battery life (approx.):
180 shots with alkaline, 600 shots with lithium, or 320 shots with EN-MH1 (based on CIPA standard)
Dimensions (WxHxD):
Approx. 91 x 60.5 x 26mm (3.6 x 2.4 x 1.0 in.) excluding projections
Weight (approx.):
120g (4.2 oz.) without battery and SD memory card
Supplied accessories*:
Rechargeable Ni-MH Battery EN-MH1 x 2, Battery Charger MH-71, USB Cable UC-E6, Audio Video Cable EG-CP14, Strap, PictureProject CD-ROM
Optional accessories:
Battery Charger MH-71, Rechargeable Ni-MH Battery EN-MH1 (EN-MH1-B2), AC Adapter EH-65A * Supplied accessories may differ by country or area.
PictureProject System Requirements
OS Macintosh: Mac® OS X version 10.1.5 or later (version 10.2.8 or later required for Burn Disc option) / Windows: Windows® XP Home Edition/Professional, Windows® 2000 Professional, Windows® Me, Windows® 98SE pre-installed models RAM Macintosh: 64MB or more recommended/ Windows: 64MB or more recommended (128MB with Pictmotion option) Hard disk 60MB required for installation Display 800 x 600 or more with 16-bit color (full color recommended) Others CD-ROM drive required for installation Only built-in USB ports are supported
Specifications are as represented by the manufacturer
Visitors of Steves can visit the stores below for real-time pricing and availability. You can also find hot, soon to expire online offers on a variety of cameras and accessories at our very own Camera Deals page.