Sanyo Xacti VPC-HD1a Review
Sanyo Xacti VPC-HD1a Review
Review posted 9/19/2006

Click to take a QTVR tour of the Xacti HD1a



The SANYO Xacti HD1a retains its title as the world's smallest high-definition compact digital media camera offering advanced, next-generation video performance. The palm-sized HD1a records both 720p high-definition video and 5.1-megapixel digital still images to a standard Secure Digital flash memory card. This compact media camera features a brilliant 2.2-inch LCD color display and a powerful 10x optical zoom lens with image stabilization. Like all the Xacti media cameras the HD1a can record high definition video and simultaneously capture still images with a simple press of the shutter button.
The "Web-SHQ" recording mode is designed specifically to capture video destined for the video iPod and other popular MPEG-4 capable personal media players. For optimal playback on such devices, video is captured at a resolution of 320 x 240 pixels and a smooth and natural 30 frames per second. An all new 16:9 shooting mode allows users to capture 3.8 megapixel stills in the same widescreen format as their high-definition videos for eye-catching viewing on a 16:9 television screen.
No camera is better than its lens and the HD1a features a powerful 10x optical zoom lens with a 38-380mm focal range (35mm equivalent) that keeps you close to the action. The all-glass lens has a maximum aperture of f/3.5 from wide to telephoto focal lengths. The HD1a incorporates a digital image stabilizer that compensates for distracting up-and-down or side-to-side camera movement, keeping your subject steady and easy to follow. It accurately distinguishes between unintentional camera shake and deliberate camera movement. This handy feature operates in both wide-angle and telephoto modes, giving every shot a solid, professional- looking feel.
The HD1a is designed for super fast start-up and shooting - the tapeless design eliminates the need to queue up a tape deck allowing you to begin shooting in as little as 1.7 seconds! When the HD1a is powered on, closing the color display puts the camera in standby mode - simply open the display and it automatically powers up and can begin immediately recording in as little as 1.7 seconds.
The HD1a can record over 21 minutes of 720p HD video on a 1GB SD card or over 42 minutes on a 2GB card and is compatible with the newer 4GB size cards for even longer recording. You can record in Standard Definition mode (640 x 480 pixels at 30fps progressive) for up to two hours on a 2GB SD card. It's easy to switch between high-definition and standard-definition recording modes by simply pressing the "HD/Norm" button on the side of the camera.
SANYO's proprietary high-definition imaging engine enables advanced image processing functions such as real- time MPEG-4 compression, noise reduction and high-definition processing. Recording in the global multimedia standard MPEG-4 delivers exceptional video clarity and detail in an unbelievably portable configuration. What's more, because MPEG-4 is exceptionally efficient in the way it records digital information, higher quality videos and stills can be saved in smaller files.
One of the more frustrating aspects of working with any digital media camera is juggling all the wires and connections necessary when you want to use it with external components for viewing or to download files. The HD1a streamlines the whole process with a docking station that provides an instant connection to a TV or PC. A wireless remote control further enhances both the playback and recording functions. The camera battery is automatically charged whenever it's placed in the docking station.
Connect the HD1a to a VCR or DVD Recorder to make back-up copies of recorded content. Still images and video clips are played back continuously and in chronological order. The HD1a offers convenient connection to your Windows or Mac PC. Simply "drag-and-drop" video clips and still images to the hard disk for emailing, editing or archiving. Still images can be printed directly to any PictBridge compatible printer without the need of a computer.

Xacti HD1a Features:
Compact, thin (1.4 inches) and durable metal alloy body
5.1-megapixel CCD imager with 10.2-megapixel interpolated mode
10× optical zoom lens with 38-380mm 35mm equivalent coverage
Digital image stabilizer for shake-free movies and stills
16:9 (3.8MP) still mode as well as widescreen video format (HD-SHQ / HD-HQ modes)
True 720p HDTV (1280x720) MPEG-4 movies @ 30fps with stereo audio
640x480 MPEG-4 movies @ 60fps or 30fps with stereo audio
320x240 "Web-SHQ" video mode; optimal for playback on many personal media players
Capture hi-resolution 5MP still images during movie recording
Automatic macro focus switching, Super Macro as close as 1cm
Wide viewing angle 2.2" color monitor, swivels 285°
Advanced TTL 5-point autofocus system with manual focus option
Program Auto, Aperture priority, Shutter-speed priority, Manual and 6 Scene modes
3-shot Sequential and 3-frame AE Bracketing modes
Voice recorder function: 33+ hours recording time with 2GB SD card
Evaluative metering on focus point, Center-weighted and Spot options
White Balance: Automatic, 5 presets or Custom
Talking Navigation Guide is helpful for first-time users
Color filters: Cosmetic, B&W, Monochrome, Sepia
ISO speeds: 50-400 still image, 200-1600 in movie mode
Built-in stereo microphones and speaker
Popup flash with red-eye correction mode
HD Component, S-Video and Composite video outputs
Secure Digital/SDHC memory card storage
Multifunction Docking Station and wireless remote control
High-capacity rechargeable Li-ion battery
Padded carrying case included
Exif Print, Print Image Matching III and PictBridge Compatible
USB 2.0 high speed plug-n-play connectivity for PC and Mac

The SANYO Xacti HD1a comes with the docking station, AC adapter, high capacity Li-ion battery, AV cable with S-Video, Component AV cable, USB cable, cable adapter, remote control, soft case, hand strap, lens cap and Sanyo Software Pack 7.4 with Ulead Photo Explorer 8.5 Basic, Ulead DVD MovieFactory 4.0 SE, Motion Director SE 1.1, Quicktime 7.0 (Mac/Win).
The HD1a will be available in September 2006 at an MSRP of US $699.99.

Physical Views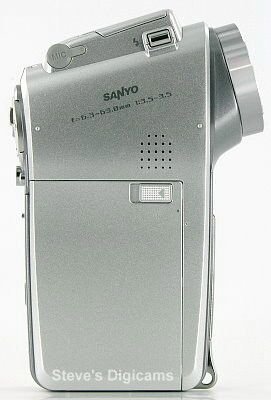 The Xacti HD1a compared in size to a standard CD.
Xacti HD1a Specifications
Effective Pixel Count
Approx. 5.1 megapixels
CCD
1/2.5 inch, 5.36-megapixel CCD (total)
Recording Media
SD memory card, SDHC memory card compatible
Recording File Format
Still: JPEG (DCF, DPOF, Exif Ver. 2.2 standard)
Video: MPEG4 (ISO standard)
Audio: 48 kHz sampling, 16-bit, 2-ch, AAC-compression (stereo)
Resolution (Pixels)
Still:
[10M] 3680 x 2760
[5M-H] 2592 x 1944 (low compression)
[5M-S] 2592 x 1944 (standard compression)
[3.8M (16:9)] 2592 x 1464
[2M] 1600 x 1200
[1.2M] 1280 x 960
[0.3M] 640 x 480

Sequential:
[5M-H] 2592 x 1944 (low compression)
[5M-S] 2592 x 1944 (standard compression)
[3.8M (16:9)] 2592 x 1464
[2M] 1600 x 1200
[1.2M] 1280 x 960
[0.3M] 640 x 480

Video:
<HD>
[HD-SHQ] 1280 x 720 (30 fps, 9 Mbps)
[HD-HQ] 1280 x 720 (30 fps, 6 Mbps)
<SD>
[TV-HR] 640 x 480 (60 fps, 6 Mbps)
[TV-SHQ] 640 x 480 (30 fps, 3 Mbps)
[TV-HQ] 640 x 480 (30 fps, 2 Mbps)
[Web-SHQ] 320 x 240 (30 fps)
[Web-HQ] 320 x 240 (15 fps)
Lens
f = 6.3 - 63 mm (equivalent to 38 - 380 mm on a 35 mm camera)
F: 3.5 (wide) - 3.5 (tele)
10.0x optical zoom lens
Auto focus 9 groups, 12 lenses, ND filter
Photo Range
Standard: 10 cm (wide)/1 m (tele) to infinity, Macro: 1 cm - 1 m
Shutter Speed
Still: 1/2 sec. - 1/2000 sec.
Flash: 1/30 - 1/2000 sec.
Lamp mode: max. 4 sec.
Sequential: 1/15 sec. - 1/2000 sec. (No flash)
Video: 1/30 sec. - 1/10000 sec.
Sequential Shooting
6 photos at 5 fps ([5M] mode), 10 photos at 5 fps ([1.2M] mode)
Digital Zoom
Shooting: max. 10x
Playback: max. 58x (in [10M] mode, depending on the resolution)
Focus
Auto (Stills: 5-point AF/spot AF, Video clips: continuous area AF)
Manual (22 steps)
Digital Image Stabilizer
Stills: no, Video: yes
Scene Select (Program AE)
Auto/Sports/Portrait/Night View/Landscape/Fireworks/Lamp
Filter Function
Standard/Cosmetic/Monochrome/Sepia
Photometry
Multi-section measuring/Center-weighted measuring/Spot measuring
Exposure Control
Program AE, Shutter priority, Aperture priority, Manual
Exposure Correction
±1.8 EV (in 0.3 EV steps)
Sensitivity
Still: Auto (ISO 50 - 200), Manual (ISO 50/100/200/400)
Video: Auto (ISO 200 - 800), Manual (ISO 200/400/800/1600)
Self-Timer
2 sec./10 sec.
White Balance
Auto: full auto TTL
Manual: Sunny/Cloudy/Fluorescent/Incandescent/Sampling
Flash
Auto/Forced/Off/Red-eye reduction (Slow Synchro mode possible in Night View mode)
Flash Range
GN = 6.4, 35 cm - 2.5 m [wide], 1.0 m - 2.5 m [tele])
Audio
Microphone: built-in stereo
Speaker: built-in monaural (L/R mixed output)
LCD Monitor
2.2-inch color display, 210,000 pixels (100% coverage, 4-level brightness), 285゚rotation
Interface
AV output (Video: component video/composite video/S-Video, NTSC/PAL, Audio: stereo)
USB 2.0 high-speed (Storage Class + PC Camera + Video Class)
Interfacing via docking station or connecting adaptor
Multi-Language Display
11 languages: Japanese, English, French, German, Italian, Spanish, Dutch, Russian, Korean, Traditional and Simplified Chinese
Power Source
Lithium-ion battery (DB-L40, included: 1200 mA), AC adaptor (VAR-G8, included)
Approx. Battery Life
Still: CIPA standard 170 images
Video: 75 min.
Playback: 220 min.
Dimensions
(W x H x D)
3.15 x 4.68 x 1.42 inches
80 x 119 x 36 mm (excluding protrusions)
Volume: 204 cc
Weight
Approx. 7.41 oz / 210 g (main unit only)
8.3 oz / 235 g (including battery and SD card)
(Specifications as represented by the manufacturer)






Visitors of Steves can visit the stores below for real-time pricing and availability. You can also find hot, soon to expire online offers on a variety of cameras and accessories at our very own Camera Deals page.