Sanyo Xacti VPC-C6 Review
Sanyo Xacti VPC-C6 Review
Review posted 1/18/2006

Click to take a QTVR tour of the Xacti C6



The SANYO Xacti C6 is a super-slim camera that captures high resolution 6-megapixel still images, VGA quality motion video with stereo audio with 60fps playback and a voice recorder function -- and it all fits right in your pocket! The C6 is compact and ergonomically designed so it can be easily operated with just one hand. Compared to its predecessor, the Xacti C5, the C6 employs a new low-noise, 6-megapixel CCD sensor and uses 9-pixel mixing technology which allows it to record much brighter and clearer video in low-light situations.
Features inherited from the C5 include a swiveling 2-inch trans-reflective color LCD screen, real-time interpolation up to 10.2 megapixels and a precision 5× optical zoom lens that remains internal to the camera body with a fast and accurate 5-point auto focus system. Most instances of camera shake will be eliminated or greatly reduced by the digital image stabilization system. Never again will precious photo opportunities be missed, because the versatile Xacti C6 can take high-resolution digital still images while simultaneously recording motion video.
The C6 captures still images in standard JPEG-format and records video in the high-quality MPEG-4 standard. Both formats are recorded to a Secure Digital memory card (sold separately). CD-quality stereo sound is captured in the AAC format. When using a 1GB Secure Digital memory card, you can record up to 1 hour of VGA resolution (640×480 pixels) video at 30 frames-per-second in the "TV-HQ" mode (MPEG-4 bit rate: 2 Mbps). The Xacti C6 achieves the world's first 60 fps (frames-per-second) TV output. The result is notably smoother video playback on your TV screen.


(The Xacti C6 is available in gold, red and black colors)

The C6 is the world's lightest (at 5.6 oz., including battery and a standard SD memory card), thinnest (0.9 inches) and smallest (2.7 × 4.2 inches) model among video cameras with a 1-Megapixel-or-higher image sensor and an optical zoom lens.
Still images and video files recorded by the C6 can be quickly uploaded via a USB 2.0 high speed interface to a PC or Mac for viewing, editing and sharing via e-mail. Images and video can also be played back directly on a TV, or transferred to a VCR or DVD player. A-V outputs provide for stereo audio, RCA video and S-Video connections from the camera or from the included docking station.
To ensure the best possible image reproduction the C6 features Exif Print and Print Image Matching III compatibility plus you can print directly to any PictBridge compatible photo printer.

Xacti C6 Features:
Compact and ultra-thin (less than an inch!) metal alloy body
6-megapixel CCD imager with 10.2-megapixel interpolated mode
5× optical zoom lens with 38-190mm 35mm equivalent coverage
Digital image stabilizer for shake-free stills and movies
9-pixel mixture technology for improved video recording in low light
Capture hi-resolution still images during movie recording
Automatic macro focus switching with Super Macro to 1cm
2.0" swiveling TFT color LCD monitor
Advanced TTL 5-point autofocus system with manual focus option
Program Auto, 7 Scene modes and Movie recording
Up to one hour of 640×480 / 30fps, MPEG-4 video recording with stereo sound on a 1GB SD memory card
Composite video and S-Video outputs for TV viewing
MPEG-4 Stereo Audio provides superb 48 kHz, 16-bit, 2-channel sound
Voice recorder function: up to 16.8 hours recording w/1GB card
Evaluative metering on focus point, Center-weighted and Spot options
White Balance: Auto, 5 presets or Custom
Talking Navigation Guide is helpful for first-time users
Color filters: Cosmetic, B&W, Sepia
ISO speeds from 50-400 still image, 450-3600 in movie mode
Built-in stereo microphones and speaker
Built-in flash with red-eye correction mode
Secure Digital/SDHC card storage
Multifunction Docking Station and wireless remote control
Rechargeable Li-ion battery and charger included
Leather carrying case included
Exif Print, Print Image Matching III and PictBridge Compatible
USB 2.0 high speed plug-n-play connectivity for PC and Mac

The Xacti C6 includes Sanyo Software Pack 7.2 (Ulead Photo Explorer 8.0 SE Basic, Ulead DVD MovieFactory 3.5 SE, Motion Director SE 1.1, QuickTime 6.5), Docking Station, AV interface cable, USB cable, AC power adapter, Li-ion Battery, Lens Cap, Soft Case, Remote Control, Cable Adapter, Power Cord, Neckstrap, Quick Guide. The C6 will be available in early January 2006 with an MSRP of $599.



Physical Views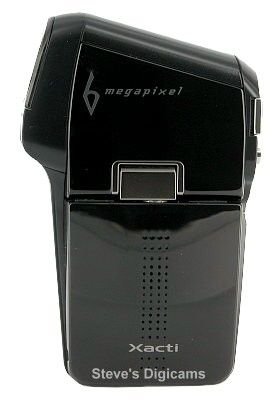 The 4-megapixel Xacti C4, 5-megapixel Xacti C5 and the Xacti C6.
The Xacti C6 compared in size to a standard CD.
Xacti C6 Specifications

Camera Type

High-resolution still image and MPEG-4 motion video recorder

Sensor Type

CCD

Sensor Size

1/2.5 inch

Gross Pixels

6.37 million

Effective Pixels

6.00 million

Resolution

10M : 3,680 × 2,760 (interpolated)
6M : 2,816 × 2,112
3M : 1,536 × 2,048
2M : 1,600 × 1,200
0.3M : 640 × 480

Digital Zoom

12X

Optical Zoom

5X

Focus

TTL-type AF (5-point auto or spot focus), manual focus (16 steps), Single or Continuous AF

LCD Monitor Size

2.0 inch TFT
Approx.210,000 pixels

Image Format

JPEG

Movie Mode

ISO standard MPEG-4
with MPEG-4 audio (AAC compression) 48 kHz sampling rate, 16-bit stereo, length limited only by memory card space

640 × 480 (TV-SHQ is 30fps 3 Mbps / TV-HQ is 30fps 2 Mbps)
320 × 240 (TV-S is 30fps 640 kbps / Web-HQ is 15fps 384 kbps)
176 × 144 (Web-S is 15fps 256 kbps)

ISO Sensitivity

Still :
Auto (ISO50~200)
ISO50
ISO100
ISO200
ISO400
(up to ISO3600 when Lamp scene is selected)

Motion :
Auto (ISO450~3600)
ISO450
ISO900
ISO1800
ISO3600

Lens Focal Length

f=6.3~31.7mm (38~190mm equiv. in 35mm camera)
Aperture Range
F3.5~F4.7

Shutter Speed

Still : 1/2~1/2,000 sec. (Flash On : 1/30~1/2,000 sec., Lamp mode : Max.4 sec.)
Motion : 1/30~1/10,000 sec.

Self-Timer

2 sec. / 10 sec.

Flash Mode

Auto
Flash On
Flash Off

White Balance

Auto
Daylight
Cloudy
Fluorescent Light
Incandescent Light
Custom Set

Terminal

S-AV Out (Stereo audio / NTSC or PAL video format)

Connector Interface

USB 2.0 high speed

Recording Media

Secure Digital cards (up to 2GB)
SDHC cards up to 8GB after firmware upgrade

Power

Lithium-ion Battery (DB-L20)

Dimensions (WHD)

2.68 × 4.25 × 0.91 in.
68 × 108 × 23mm (Volume 124 cc)

Weight

4.9 oz. / 140g (camera body only)
5.6 oz. / 159g (with battery and memory card)

Power Source

Lithium-ion Rechargeable Battery (DB-L20 3.7v 720mAh)
VAR-AL20 Charging Adapter

Up to 140 still images (CIPA standard) can be captured or up to 60 minutes of TV-SHQ video can be recorded per charge. A total playback time of up to 150 minutes.
(Specifications as represented by the manufacturer)




































Visitors of Steves can visit the stores below for real-time pricing and availability. You can also find hot, soon to expire online offers on a variety of cameras and accessories at our very own Camera Deals page.