Sony DSLR-A100 Review
First Look posted 6/5/2006
Full review posted 12/11/2006



Click to take a

QTVR

tour of the

A100





The a (alpha) DSLR-A100 digital single lens reflex (D-SLR) camera is the first product to come from Sony's aquisition of Konica Minolta's D-SLR and technologies. The DSLR-A100 is based heavily on the Konica Minolta Maxxum 5D and incorporates a higher resolution 10.2-megapixel image sensor, improved 40-segment metering, higher resolution 2.5-inch Clear Photo LCD Plus, and a new Anti Dust technology. The DSLR-A100 will have the highest resolution available in its class. It will be introduced along with 19 high-quality Sony lenses and a wide range of accessories.
The DSLR-A100 camera helps to combat blurry pictures through the use of higher light sensitivity (up to ISO 1600) and Super SteadyShot image stabilization, a Sony technology that shifts the image sensor to compensate for camera movement. Because Super SteadyShot is built into the camera body, all compatible lenses are image-stabilized allowing from 2 to 3-1/2 stops of latitude in exposure. This means hand-held telephoto shooting at lower shutter speeds and more opportunities to shoot in natural lighting without a tripod or a flash.
The DSLR-A100 can optimize dynamic range, meaning the range from highlights to shadows, including gain and contrast, through in-camera hardware processing. Sony's Dynamic Range Optimizer (DRO) analyzes the captured image data and instantly determines the best exposure and color tonality of an image before JPEG compression. Unlike software optimization of a processed image, DRO is performed in the hardware. It is the first hardware-based DRO solution with the speed required for high-speed shooting.
The high-speed Bionz LSI image processing engine allows you to capture pictures at lightning
speed. The camera will offer high-speed burst shooting at up to three frames per second
continuously, at 10.2-megapixels and the finest JPEG compression. For those action shots,
you're limited only by the speed and capacity of your media card. The Bionz image processing engine also performs intelligent power management. The supplied lithium-ion battery gives you up to 750 shots per full charge, depending on usage patterns and environmental conditions.
Interchangeable lens cameras are prone to dust collecting on the image sensor when the lenses are changed, the dust appears as annoying spots in photos. The DSLR-A100 offers a novel approach to fighting dust. The image sensor has an indium tin oxide coating to avoid static build-up and helps prevent dust from adhering. And when the camera is turned on or off, an anti-dust feature is activated that literally shakes off the dust particles.
The DSLR-A100 also features eye-start auto focus, which starts focusing your picture before
you even press the shutter; a 2.5-inch Clear Photo LCD Plus™ screen for wide-angle viewing
and exceptional color reproduction; JPEG and RAW file format support; and a comfortable
camera grip with easily-accessible function and mode dials. There is a slot for CompactFlash
Type I/II cards and Microdrives. The camera also accepts Memory Stick Duo and Memory
Stick PRO Duo™ media cards through he use of an adaptor.
DSLR

-A100 Features
Lightweight and durable magnesium alloy chassis
Sony

a

Alpha/Minolta-A bayonet lens mount

10.2-megapixel Sony

CCD

sensor with 10M/5M/2.5M image sizes
Recording choice of

JPEG, RAW,

or

RAW

plus Fine

JPEG

Super SteadyShot anti-shake system with viewfinder indicators
Anti-dust system automatically shakes dust off the imager
Large 2.5-inch

TFT

color Clear Photo

LCD

Plus
Pentaprism viewfinder with 95% coverage and Eye Start AF
9-point AF with Wide, Spot and Focus Area Selection
Image adjustments: Contrast, Saturation, Sharpness (5 levels)
Shooting modes: Full-auto, Programmed AE with program shift, Aperture priority, Shutter priority, Manual and Scenes


TTL

metering: 40-segment honeycomb-pattern, Center-weighted or Spot
White Balance: Auto, six presets and Manual color temperature
Unlimited Continuous 3fps shooting Large/Fine

JPEG

images, up to 6

RAW

Shutter speeds: 30 to 1/4,000 seconds, 1/160 sec. flash sync

ISO

Range: 100, 200, 400, 800, 1600 (with lo80 and hi200)
Built-in

TTL

popup flash with red-eye reduction.
Hot shoe for Sony/Minolta Program Flash units
CompactFlash I/II card slot, Microdrive and

FAT32

compatible
Video Out with selectable

NTSC

or

PAL

timing
High capacity lithium-ion battery pack and charger included
Exif Print,

PRINT

Image Matching

II,

PictBridge compatible
The DSLR-A100 camera body will retail for about US$899. The DSLR-A100K kit, which includes the camera body and an 18-70mm zoom lens, will be about US$999, both ship by late July 2006.

Physical Views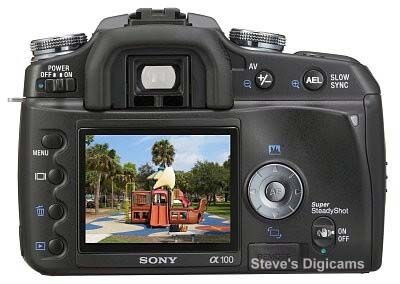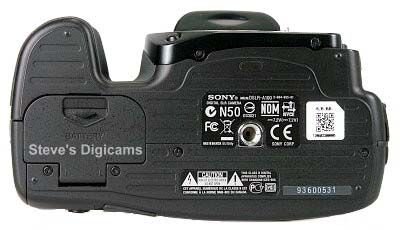 Sony
DSLR

-A100 Specifications
Imager
Sony SuperHAD 23.6 × 15.8mm (APS-C size)

CCD,

interlace scan with primary-color filter, approx. 10.8 million total pixels, 10.2 million effective pixels, 3:2 aspect ratio
Lens Mount
Sony

a

Alpha/Minolta A-type bayonet

1.5x focal length multiplier
File format

RAW, JPEG

(DCF2.0 compliant,

DPOF

(ver. 1.1), Exif 2.2)
Number of recorded pixels
10M Large: 3872 × 2592

5M Medium: 2896 × 1936

2.5M Small: 1920 × 1280
Image quality
Standard, Fine,

RAW, RAW

+JPEG (Fine)
Autofocus system
Through-the-lens (TTL) phase-detection system,

CCD

line sensors (9 points, 8 lines with center cross-hair sensor)
Autofocus area
9-Point Wide Focus Area
Focus area is selectable between Wide focus area and Spot focus areas with Focus Area
Selection
Focus modes
Single-shot

AF,

Continuous AF (with predictive focus control), Automatic AF


DMF

is selectable in menu. Auto tracking focus point display
Focusing sensitivity
EV-1 -

EV18

(ISO 100)
AF illuminator
Available (with pre-flash) 3.3-16.4 ft. (1-5m)
White-balance control
Automatic, Preset (Daylight, Shade, Cloudy, Tungsten, Fluorescent, Flash), Custom, Color temperature 2500-9900k with 19-step
Magenta/Green compensation
Exposure metering

TTL

metering using 40-segment honeycomb-pattern

SPC

(40-segment Honeycomb-pattern/Center-weighted/Spot metering)

Metering range: EV 1 - 20 (EV 4 - 20 in spot metering)

* at

ISO100

with f/1.4 lens
Exposure Compensation
+/- 2EV (1/3 EV increments)
D-Range Optimizer
Advanced, Standard, Off
Shutter
Type: Electronically-controlled, vertical-traverse, focal-plane
Shutter Range: 30-1/4000 second, Bulb

Flash sync speed: 1/160 second (with Super SteadyShot

OFF

), 1/125 second (with Super SteadyShot ON)

Noise reduction: Available (at shutter speed longer than 1 second,
ON/OFF selectable)
Super SteadyShot

CCD

-shift mechanism with

LED

indicator in viewfinder
Anti-shake effect: Equivalent to 2 - 3-1/2 stops in shutter speed

(Actual effect varies depending on shooting conditions and the lens used.)

Exposure mode
Auto, P (Programmed AE with program shift), A (Aperture priority), S (Shutter priority), M (Manual)
Scene mode
Night Portrait, Beach, Sports, Close-up, Landscape, Portrait
Drive modes
Single, Continuous 3fps, 10 second self-timer, Single bracket, Continuous bracket, WB bracket
Continuous Shooting
Up to 3 fps


JPEG

: Unlimited number of frames



RAW

: 6 frames



RAW

+JPEG: 3 frames
Sensitivity

AUTO

(100-800), lo80 (ISO 80 Low key), 100, 200, 400, 800, 1600 and hi200 (ISO 200 High key)

ISO

equivalents
Digital Effect Control modes
Standard, Vivid, Portrait, Landscape, Evening, Night / Night Portrait,


B&W,

Adobe

RGB

Image adjustments
Contrast, Saturation, Sharpness (5 levels)
Exposure bracketing
0.5/0.3 Ev increments; Number of brackets: 3/5 frames
Flash
Flash metering:

ADI,

Pre-flash

TTL,

Manual flash control
Guide number: 12 (in meters at

ISO

100), 17 (in meters

ISO

200)

Coverage: 18mm

Recycling time: Approximately 3 seconds

Control: Manual switchover. Lift-up for Fill Flash, push down for Flash Cancel.

Flash modes: Auto, Fill Flash, Flash Cancel, Red-eye Reduction (pre-flash),
Wireless/Remote Off-camera Flash, Rear Flash Sync., High Speed Sync.

Flash compensation: +/- 2 EV in 1/2 stop increments

External flash
Sony

HVL

-F56AM (MAXXUM 5600HS) and

HVL

-F36AM (MAXXUM 3600HS),

HVL

-RLAM ringlight*,

HVL

-MT24M macro twin flash*

* Macro Flash Controller is necessary.

Viewfinder
Type: Eye-level roof mirror pentaprism
Focusing screen: Spherical Acute Matte

Field of view: Approximately 95%

Magnification: 0.83x (with 50mm lens focused on infinity)

Diopter control: -2.5 to + 1.0 m-1

Eye-relief: 20mm from the eyepiece, 16mm from the eyepiece frame in -1 m-1

Eyepiece cup is removable.

LCD

monitor
2.5-inch

TFT

color Clear Photo

LCD

Plus, wide-view with anti-reflection coating
Total pixels: 230,000 (approx.)
Recording media
CompactFlash Type I and Type

II,

Microdrives and Memory Stick Duo/PRO Duo with included adapter. Compatible with


FAT12, FAT16, FAT32

file systems
Playback
Navigation system: (Enlarged display, Automatic rotate function)

Number of frame/s displayed: 1, Index (4, 9, 16 selectable)

Display mode: Image only, Image + text, Image + text + histogram

Enlarged playback (Up to approximately 6-12x), Luminance limit Display,
File browser, Slideshow, Instant bracket playback
Interval recording
Interval time: 30 seconds/1-10, 15, 20, 30, 45, 60 minutes, 2 -240 frames. Start timer is equipped. (Setting: 0.5 to 24H, in 0.5 increments)
Self-timer
Approx. 10 seconds / 2 seconds
Printing output control
Exif Print,

PRINT

Image Matching

II,

PictBridge
Interface

USB

: High-Speed with a

USB

2.0 compatible computer, Video output

NTSC

/

PAL

(selected on the camera)
Remote function
Remote data storage: available.
Supported Operating Systems
Windows Me, Windows 2000 Professional, Windows XP (Home / Professional), Mac OS X v.10.3 and later.
Power
Sony NP-FM55H Li-ion rechargeable battery
Condition indication: 5-stage indicator when camera is turned on

External power: 6V DC with adapter AC-VQ900AM

Life: Approx. 500 frames w/flash, 750 frames w/out flash
Dimensions (W x H x D)
5.2 × 3.7 × 2.8 inches (133.1 × 94.7 × 71.3mm)
Weight
19.24 ounces (545g) (without battery and recording media)
Operating temperature
32-104 °F (0 - 40 °C)
Standard Accessories
Software CD (Picture Motion Browser for Sony v1.1 Windows, Image Data Converter SR Ver. 1.1 Windows &
Macintosh,

USB

Driver), Battery NP-FM55H,
Battery Charger BC-VM10, Neck Strap, Shoe-Cap, Eyepiece Cap,
Eyepiece Cup, Body Cap,

USB

Cable, Video Cable
(Specifications as provided by the manufacturer)

Visitors of Steves can visit the stores below for real-time pricing and availability. You can also find hot, soon to expire online offers on a variety of cameras and accessories at our very own Camera Deals page.