Olympus SP-350 Review
Features & Controls
The SP-350 features a 3X (38-114mm in the 35mm format) f/2.8-4.9 all-glass aspherical zoom lens. When the camera is powered down the lens is retracted inside of the body and a builtin shutter closes to protect the lens.
It uses a contrast detection autofocus system with a focus-assist lamp to help illuminate the subject for accurate focusing. The focusing range is:
Normal AF - (Wide) 7.9" (0.2 m) to infinity
(Tele) 11.8" (0.3 m) to infinity
Macro - (Wide) 7.9" (0.2 m) to infinity
(Tele) 11.8" (0.3 m) to infinity
Super Macro - 0.8" (2cm) to infinity.
Optional Lenses: The WC0N-07F Wide Conversion lens decreases the magnification of your subject by 0.7x when your camera lens is set to the wide-angle position. This will help you include more in the picture when shooting skylines, group shots, or houses, just to name a few types of shooting situations.
The TCON-17F Telephoto Converter lens will increase the magnification of your subject by 1.7x when your camera lens is set to the telephoto position. This will help you bring in the subject when you can't get closer, for example, shooting sports or concerts. Both lenses requires the CLA-9 lens adapter.



The built in flash has modes for: Auto, Fill-in, Fill-in & Red-Eye Reduction, Off, Auto & Red-Eye Reduction. The maximum flash range is (Wide) 12.5 ft. (3.8 m), (Tele) 7.2 ft. (2.2 m).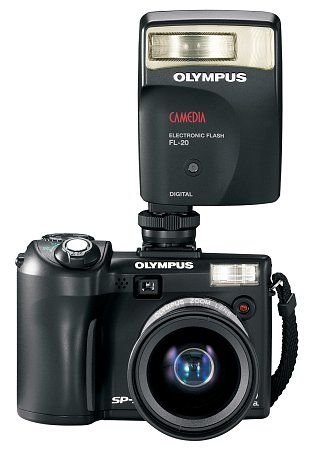 The SP-350 is equipped with a TTL flash hot shoe for Olympus compatible speedlights. The compact FL-20 is a perfect match when you need more flash illumination.



You can frame your pictures with the color LCD or to save precious battery power you can use the optical finder. This is a coupled viewfinder with approx. 80% to 85% coverage. It has no dioptric adjustment. Next to the finder are two LEDs that indicate the flash and focus status.



The SP-350 features a large, wide-view 2.5-inch color LCD that can be used for framing, review and menu operations.



On the top of the "beefy" handgrip is the shutter release with the zoom lens control mounted around it. In playback mode the zoom lever functions as the index and magnified image control. The Mode Dial has positions for: Auto, Program AE, Manual, Aperture priority, Shutter-speed priority, MyMode, Scene (24 scenes total), Movie, and Playback.



Controls on the back: Above the LCD is the Power button, Flash mode (delete in playback) button and the Auto Exposure Lock (DPOF in playback) button. The DISP/GUIDE button turns the color LCD on/off and controls the amount of information displayed on it. The QUICK VIEW button lets you review the last image captured quickly. The 4-way controller lets you navigate menus and select images during playback, the OK/MENU button accepts menu selections and calls up the menu system.




The I/O ports:


DC INput jack for an optional AC power supply.



USB 2.0 high speed for downloading to the host computer. It also allows for Direct printing to any PictBridge compatible printer. AV Out handles monaural audio and video (NTSC or PAL) to connect to a TV set with the supplied cable.



The SP-350 is equipped with ~25MB of internal memory and a xD-Picture Card slot for further memory expansion. The chart below shows the approx. storage with a 512MB card.
The SP-350 can be powered by two standard AA-type batteries, alkaline, NiMH (nickel metal hydride), or lithium cells. It can also be powered by a one-use CRV3 type lithium battery. Check out our NiMH rechargeable battery page for more info on NiMH battery types.



The optional PT-030 clear polycarbonate housing is for anyone looking to pursue underwater digital photography when diving, snorkeling or surfing - and it is also ideal for use during activities that call for ultimate protection from the elements such as skiing, fishing, sailing, or even in certain industrial situations.
A clear and durable polycarbonate case provides an attractive shield for your digital camera as you explore your underwater surroundings at depths up to 131 feet. A tight O-ring main seal with safety lock, along with stainless steel and nickel-plated brass hardware, help to ensure protection from corrosion for years to come.
The Olympus Digital Underwater Housings give you full control over your camera. Each one features a large, responsive shutter button, precision zoom lever, and durable controls to lend you access to everything your Olympus digital camera has to offer.
Visitors of Steves can visit the stores below for real-time pricing and availability. You can also find hot, soon to expire online offers on a variety of cameras and accessories at our very own Camera Deals page.