Canon Powershot SD500 Review
Canon Powershot SD500 Review
CameraWindow
USB Transfer Utility
When you connect the camera to your computer via the USB port it will automatically initiate the CameraWindow interface shown above with three tab options:
Acquire Images - download your images to the computer
Set to Camera - change your MyCamera startup options, start a Slide Show, make changes to the camera settings or Upload images to the camera
Image Download is a simple and automatic thing. You can change the output folder and sub-folder location in ZoomBrowser. It can be set to save images in a new sub-folder using the capture date or other parameters. This options transfers ALL files in the camera, if you want to selectively download images then use the List Images option (see next frame).





This screen lets you can see thumbnails and view any of the images in the camera. You can selectively tag and transfer as many images as desired. You can also launch ZoomBrowser to print or view or tag images to be resized and sent via email.





The Camera Settings screen, here you can set an owner's name, set time and date quickly from your PC, check the battery level, format the SD card or check the available free space.

---
ZoomBrowser EX
Organize, Edit, Print, Email
Zoom Browser is like a graphical Explorer for your image files. It has three main display modes: Zoom Mode (shown here), Scroll Mode and Preview Mode (shown below). You can double-click to view an image or movie or use the Task Menu on the left side to:
Acquire & Camera Settings - same as the CameraWindow options: Acquire Images, Set to Camera and Remote shooting.

View & Classify - Slide Show, Rename Multiple Files, Classify into Folder and Search

Edit - Edit Image, Edit Movie and Process RAW Images

Export - Export Still Images, Export Movies, Export Shooting Properties, Export as a Screen Saver, Export as a Wallpaper, Backup to CD

Print - Easy Photo Print, Layout Print, Contact Sheet Print

Internet - Email Images, downsize, compress and email images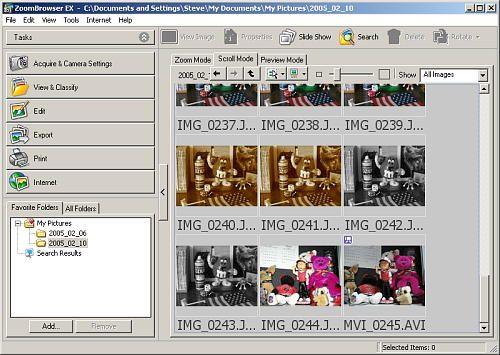 Scroll Mode


Preview Mode




You can view one, two, three or four images in the View window. Images can be synchronized (locked) as shown here for side-by-side comparisons regardless of the display magnification.








Image Correction lets you adjust RGB color, brightness, saturation and contrast.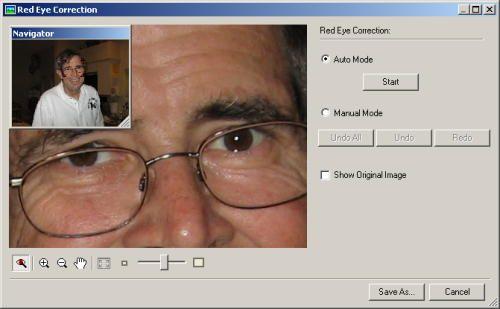 RedEye Correction lets you automatically/manually fix most instances of flash red-eye.


Select a thumbnail and click on Properties to display image info.
Visitors of Steves can visit the stores below for real-time pricing and availability. You can also find hot, soon to expire online offers on a variety of cameras and accessories at our very own Camera Deals page.