Canon Powershot S2 IS Review
Canon Powershot S2 IS Review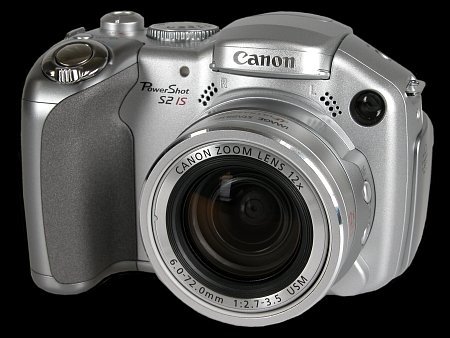 Review posted 6/21/05

Click to take a QTVR tour of the S2 IS



The five megapixel Canon PowerShot S2 IS allows consumers from the novice to the photo enthusiast the ability to capture high quality still images and movie clips. The image stabilized 12x optical zoom lens (36-432mm equivalent) makes tack-sharp long telephoto shooting positively practical. Despite its long range, the lens is ultra-compact and retracts securely into the camera when it is powered down. In addition, there are two levels of close-up shooting, Macro and Super Macro. Super Macro mode enables extreme close-up shooting to 0 cm from the end of lens barrel.
The camera's compact ergonomic design includes strategically placed controls for convenient telephoto and movie shooting, plus a large rubberized grip, which makes holding the camera easy, well balanced and secure. The grip even includes a soft back and bottom to maximize comfort during long periods of shooting. The PowerShot S2 IS also features a variable-angle 1.8 inch LCD screen. By positioning the vari-angle LCD monitor appropriately, the user is free to compose shots, even self portraits, without having to move or twist into uncomfortable positions.
Users will enjoy the flexibility of a full array of exposure control settings similar to SLR models, including Program, Shutter and Aperture-priority AE modes, and Manual Mode. In addition, there are 18 Shooting Modes including six Special Scene Modes, which are Foliage, Snow, Beach, Fireworks, Indoor and Night Snapshots, for optimum results in certain shooting situations . The PowerShot S2 IS has a maximum shutter speed of 1/3200 second and can capture still photos continuously at rates up to 2.4 fps
The PowerShot S2 IS also records high quality movies with stereo sound in VGA resolution at 30 frames per second (fps). Individual movie clips can last as long as 60 minutes or produce file sizes up to 1GB on SD media cards. What's more, powerful features such as optical and digital zooming, manual focus, Photo Effects and My Colors are available for greater freedom and flexibility while shooting movies. Have you ever missed a photo-op because you had to switch from video to still or vice versa? Not anymore! Now with the new MovieSnap feature it is possible to capture still images at resolutions up to five megapixels while recording movies.
Direct Printing makes it simple, quick and convenient to produce high-quality photos without the need for a personal computer. Simply connect the S2 IS directly to a Canon Compact or Canon Direct Photo Printer or any PictBridge compatible printer and press the blue lighted Print/Share button and you are printing. True one-touch printing is that simple.
As with all modern PowerShot digital cameras, the PowerShot S2 IS has the latest advances in Canon technology including the proprietary DIGIC II Imaging Processor. DIGIC II enhances picture definition, crisp vibrant colors and quality, while helping increase the speed of the cameras' startup, autofocus, shutter response and playback as well as the image processing speed. The pace of image transfer is accelerated with the inclusion of a Hi-Speed USB 2.0 port. The USB 2.0 port is backwards compatible (at no increased speed) with computers featuring slower USB 1.1 connections.
For all of its features, versatility and capabilities, the camera is powered by four standard AA batteries and accepts either Alkaline (disposable) batteries or rechargeable Nickel-Metal Hydride (Ni-MH) batteries. Alkaline batteries are rated for approximately 130 shots before they need to be replaced, while higher capacity NiMH batteries provide peak performance and approximately 550 shots on a single charge.


Powershot S2 IS Features:
5-Megapixel CCD for images up to 2592 x 1944
Canon 12x optical zoom with Image Stabilization
Super Macro closeup focus to 0 inches!
Articulated 1.8-inch color LCD flips forward and rotates 270°
Program AE, Shutter-priority, Aperture-priority, full Manual
Image zone modes: Portrait, Landscape, Night scene and Stitch assist
Interval shooting and Exposure and Focus Bracketing
Movie w/stereo sound, 640x480 or 320x240, 30fps or 15fps
Shutter speeds from 15 secs to 1/3200 sec in Manual mode.
Evaluative, Center-weighted average or Spot (Center or AF-point)
High-speed 1.7 frames per second continuous shooting
Up to 60-second sound memos for still images
Sharpness, Contrast and Saturation is adjustable
ISO sensitivity: 50, 100, 200, 400 or AUTO
Built-in flash with Auto, Fill, Red-eye reduction and Slow-sync modes
Secure Digital (SD) memory card compatible, 16MB included
Powered by four standard AA type batteries
USB 2.0 Hi-Speed data transfer to host computer
PictBridge and Canon Direct Print compatible

The PowerShot S2 is supplied with a neck strap and interface cables for USB and stereo/video, as well as a 16MB SD memory card, powerful software, and user manuals. The PowerShot S2 will be available in June for an estimated street price of $499.99.

Physical Views


The Powershot S2 IS and a standard CD for size comparison
The 5-megapixel, stabilized 12x zoom S2 IS and Sony Cyber-shot H1
Powershot S2 IS Specifications
Image Sensor
1/2.5-inch CCD
RGB color filter array
Total number of pixels: Approx 5.3 million
Effective number of pixels: Approx. 5.0 million
Lens
Canon 12x optical 6.0 - 72.0 mm with Image Stabilization
(35mm film equivalent: 36 - 432 mm)
Construction: 11 elements in 9 groups, 1 aspheric element
Aperture: f/2.7 (Wide) - f/3.5 (Tele)
Multi-speed USM (ultrasonic motor) zoom mechanism
Optional 1.8x Tele-Converter lens available
Digital Zoom
Approx. 4x (Up to approx. 48x in combination with the optical zoom)
Viewfinder
Color LCD viewfinder with dioptric adjustment
0.33-inch TFT color LCD
Picture coverage 100 %
LCD Monitor
1.8-inch, low-temp polycrystalline silicon TFT color LCD
115,000 pixel resolution
180° tilt and 270° swivel
Picture coverage 100%
AF System
TTL autofocus
Focus lock and Manual focus are available
Focusing frame: 1-point AF
Focus Range
Normal: 50 cm (1.6 ft.) - infinity (W)/ 90 cm (3.0 ft.) - infinity (T)

Macro: 10 - 50 cm (3.9 in. to 1.6 ft.)
Super Macro: 0 - 10 cm ( 0 to 3.9 in.)
Shutter
Mechanical shutter + electronic shutter
Shutter Speeds
15 - 1/3200 sec.
1.3 sec. or slower shutter speeds are available in Shutter-priority mode or Manual mode. Slow shutter speeds of 15 to 1.3 sec. or slower operate with noise reduction.
Light Metering System
Evaluative, Center-weighted average or Spot (Center or AF-point)
Exposure Control System
Program AE, Shutter-priority AE, Aperture-priority AE or Manual exposure control AE lock is available.
Exposure Compensation
± 2.0 stops in 1/3-stop increments
Auto exposure bracketing (AEB) is available.
Sensitivity
Auto, ISO 50/100/200/400 equivalent
White Balance
TTL auto, pre-set (available settings: Daylight, Cloudy, Tungsten, Fluorescent, Fluorescent H, Flash) or Custom
Built-in Flash
Auto, on, off, Red-Eye Reduction on/off
Flash Range
Normal: 2.3-17.1 ft./0.7-5.2m (W), 2.3-13.1 ft./0.7-4.0m (T)
Macro: 1.0 ft.-2.3 ft./0.3-0.7m
(When sensitivity is set to ISO 100 equivalent.)
Flash Exposure
Compensation
± 2.0 stops in 1/3-stop increments, FE lock
Shooting Modes
Auto
Creative zone: Program, Shutter-speed priority, Aperture priority, Manual, Custom
Image zone: Portrait, Landscape, Night Scene
Special Scene: (Foliage, Snow, Beach, Fireworks, Indoor, Night Snapshot)
Stitch assist and Movie
Continuous Shooting
High-speed: approx. 2.4 shots/sec.
Normal: approx. 1.5 shots/sec. (Large/Fine mode)
Interval Shooting
Shooting interval: approx. 1 - 60 min. (1-min. increments)
Number of shots: 2 - 100 shots (Maximum number of shots varies according to SD card capacity.)
Self-timer
Activates shutter after an approx. 10-sec./approx. 2-sec. delay
Wireless Control
not available
PC-controlled Shooting
Available (USB connection only. Exclusive software program is included in the camera kit.)
Recording Media
Secure Digital (SD) memory card
16MB SD card included
File Format
Design rule for camera file system and DPOF 1.1 compliant
Image Recording Format
Still images:JPEG (Exif 2.2)*1 Movies: AVI (Image data: Motion JPEG; Audio data: WAVE (stereo))
Compression
Super Fine, Fine, Normal
Number of
Recording Pixels
Still images:
Large: 2592 x 1944 pixels
Medium 1: 2048 x 1536 pixels
Medium 2: 1600 x1200 pixels
Small: 640 x 480 pixels

Movies:
640 x 480 pixels Fine (30fps)
640 x 480 pixels (at 15fps)
320 x 240 pixels (at 30fps)
A maximum file size of 1 GB and a maximum of 1-hour recording are available in one movie shooting session.
Frame Rate 15 frames/sec. or 30 frames/sec.

Playback Modes
Single (histogram displayable), Index (9 thumbnail images), Magnified (approx. 10x (max.) in LCD monitor/viewfinder), Sound memos (recording/playback up to 60 sec.) or Slide show
Direct Print
Direct Print to Canon CP printers and PIXMA printers, and PictBridge compliant
Display Languages
21 display languages provided (English, German, French, Dutch, Danish, Finnish, Italian, Norwegian, Swedish, Spanish, Simplified/Traditional Chinese, Japanese, Russian, Portuguese, Korean, Greek, Polish, Czech, Hungarian, Turkish)
My Camera Settings
The start-up image, start-up sound, shutter sound, operation sound and self-timer sound can be customized using the following methods:
1. Using the images and sounds recorded on a camera.
2. Using downloaded data from your computer using the supplied software.
Interface
USB 2.0 HI-Speed (mini-B, PTP [Picture Transfer Protocol])
Audio/Video output
(16bit stereo audio @44.1k Hz, video is NTSC or PAL selectable)
Power Source
1. Four AA-size alkaline batteries (included in the camera kit)
2. Four AA-size rechargeable NiMH batteries (NB4-200) (sold separately)
3. Compact Power Adapter (CA-PS700) (sold separately)
Battery Performance
Alkaline: 130 shots, 800 min playback
NiMH: 550 shots, 900 min playback
Operating Temperature
0 - 40 °C (32 - 104 °F)
Operating Humidity
10 - 90 %
Dimensions
113.0 x 78.0 x 75.5mm
(4.45 x 3.07 x 2.97 in. ) (excluding protrusions)
Weight
Approx. 405 g (14.3 oz.) (camera body only)
(Specifications as represented by the manufacturer)





























Visitors of Steves can visit the stores below for real-time pricing and availability. You can also find hot, soon to expire online offers on a variety of cameras and accessories at our very own Camera Deals page.