Canon EOS Digital Rebel XT SLR Review
Canon EOS Digital Rebel XT SLR Review
Physical Views
(Shown here is the silver XT, it is also available in all-black)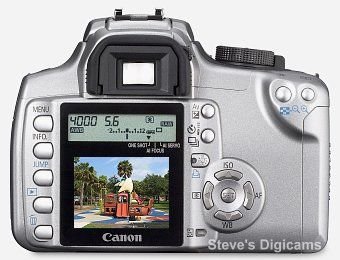 Compare Digital Rebel XT and Digital Rebel
Compare Digital Rebel XT and Nikon D70
Compare Digital Rebel XT and Pentax *ist DS
EOS Digital Rebel XT Specifications
Type

Digital, single-lens reflex, AF/AE camera with built-in flash

Recording media

CF card (Type I or II) *Compatible with Microdrive and 2GB and larger CF cards

Image size
Compatible lenses

Canon EF lenses (including EF-S lenses)
(35mm-equivalent focal length is equal to approx.1.6 times the marked focal length)

Lens mount
Type

High-sensitivity, high-resolution, large single-plate CMOS sensor

Pixels

Effective pixels: Approx. 8.00 megapixels
Total pixels: Approx. 8.20 megapixels

Aspect ratio
Color filter system
Low-pass filter

Located in front of the image sensor, non-removable

Recording format

Design rule for Camera File System 2.0

Image type

JPEG, RAW (12bit)

RAW+ JPEG
simultaneous recording

Possible

Finished image size

(1) Large/Fine: Approx. 3.3 MB (3456 x 2304 pixels)

(2) Large/Normal: Approx. 1.7 MB (3456 x 2304 pixels)

(3) Medium/Fine: Approx. 2.0 MB (2496 x 1664 pixels)

(4) Medium/Normal: Approx. 1.0 MB (2496 x 1664 pixels)

(5) Small/Fine: Approx. 1.2 MB (1728 x 1152 pixels)

(6) Small/Normal: Approx. 0.6 MB (1728 x 1152 pixels)

(7) RAW: Approx. 8.3 MB (3456 x 2304 pixels)

* Exact file sizes depend on the subject, ISO speed, processing parameters, etc.

File numbering

Consecutive numbering or auto reset

Color space

sRGB or Adobe RGB

Processing parameters

Parameter 1 and 2, set 1 to 3 (three custom parameter sets), B/W

Interface
USB 2.0 Hi-Speed (Print/PTP, PC connection selectable)
Video output (NTSC/PAL)
Type

Auto, daylight, shade, cloudy, tungsten light, white fluorescent light, flash, custom

Auto white balance

Auto white balance with the imaging sensor

Color temperature correction
White balance correction: ±9 stops in full-stop increments
White balance bracketing: ±3 stops in full-stop increments
* Blue/amber bias or magenta/green bias possible
Color temperature information transmission
Type
Coverage
Magnification

0.8x (-1 diopter with 50mm lens at infinity)

Eyepoint
Built-in dioptric adjustment
Focusing screen
Mirror
Quick-return half mirror
(Transmission:reflection ratio of 40:60, no mirror cut-off with EF600mm f/4 or shorter lenses)
Viewfinder information

AF information (AF points, focus confirmation light), exposure information (shutter speed, aperture value, AE lock, exposure level, AEB in progress, exposure warning), flash information (flash ready, red-eye reduction enabled, red-eye reduction lamp on, high-speed sync, FE lock, flash exposure compensation), maximum burst, CF card information

Depth-of-field preview

Enabled with depth-of-field preview button

Type

TTL-CT-SIR with a CMOS sensor (TTL secondary image registration, phase detection)

AF points
Metering range

EV 0.5 - 18 (at 20°C/68°F, ISO 100)

Focus modes

One-Shot AF, AI Servo AF, AI Focus AF, Manual focusing (MF)

AF point selection
Selected AF point indicator

Superimposed in viewfinder and indicated on LCD panel

AF-assist beam

Small series of flashes fired by built-in flash
Effective range: Approx. 4.0m/13.1ft. at center, approx. 3.5m/11.5ft. at periphery

Metering modes

35-zone TTL full aperture metering

• Evaluative metering (linkable to any AF point)

• Partial metering (approx. 9% of viewfinder at center)

• Center-weighted average metering

Metering range

EV 1 - 20 (at 20°C/68°F with 50mm f/1.4 lens, ISO 100)

Exposure control

Program AE (Full Auto, Portrait, Landscape, Close-up, Sports, Night Portrait, Flash Off, Program), shutter-priority AE, aperture-priority AE, depth-of-field AE, manual exposure, E-TTL II autoflash

ISO speed

Basic Zone modes: Automatically set (ISO 100 - 400)
Equivalent to ISO 100, 200, 400, 800, 1600

Exposure compensation

Manual: ±2 stops in 1/3- or 1/2-stop increments (can be combined with AEB)
AEB: ±2 stops in 1/3- or 1/2-stop increments

AE lock

Auto: Applied in One-Shot AF mode with evaluative metering when focus is achieved
Manual: By AE lock button in all metering modes

Type

Electronically-controlled, focal-plane shutter

Shutter speeds

1/4000 to 30 sec. (1/3- and 1/2-stop increments), bulb, X-sync at 1/200 sec.

Shutter release

Soft-touch electromagnetic release

Self-timer
Remote control

Remote Switch RS-60E3
Remote Controller RC-5/RC-1

Type

Retractable, auto pop-up flash

Flash metering

E-TTL II autoflash

Guide No.

13/43 (ISO 100, in meters/feet)

Recycle time

Approx. 3 sec.

Flash-ready indicator

Flash-ready icon lights in viewfinder

Flash coverage

17mm lens angle of view covered

FE lock

Provided

Flash exposure compensation

±2 stops in 1/3- or 1/2-stop increments

EOS-dedicated Speedlite

E-TTL II autoflash with EX-series Speedlite

Zooming to match lens focal length

Provided

Drive modes

Single, continuous, and self-timer/remote control

Continuous
Max. burst

JPEG (Large/Fine): Approx. 14 shots
RAW: Approx. 5 shots, RAW+JPEG (Large/Fine): Approx. 4 shots
* With a Canon 512MB CF card.
* Varies depending on the subject, ISO speed, processing parameters, CF card, etc.

Type

TFT color liquid-crystal monitor

Monitor size

1.8 in.

Pixels

Approx. 115,000

Coverage

100% with respect to the effective pixels

Brightness adjustment

Five levels provided (Gray level chart displayed during adjustment)

Interface languages

15

Display format

Single image (with or without info), shooting information, 9-image index, magnified view (Approx. 1.5x - 10x), autoplay, image rotation, and jump (by 10/100 images or date)


Highlight warning

In the shooting information mode, any overexposed highlight areas with no image information will blink.

| | |
| --- | --- |
| ..Image Protection and Erase | |

Protect

Single images can be erase-protected or not.

Erase

One image or all images in the CF card can be erased (except protected images).

Compatible printers

CP Direct, Bubble Jet Direct, and PictBridge-compatible printers

Printable images

JPEG images (DPOF printing possible)

Easy Print feature

Provided

..DPOF: Digital Print Order Format

DPOF

Version 1.1 compatible

Custom Functions

9 Custom Functions with 24 settings

Battery

Battery Pack NB-2LH, quantity 1
* AC Adapter Kit ACK700 enables a household AC outlet to supply power.
* Battery Grip BG-E3 enables 2 NB-2LH or 6 size-AA batteries to supply power.

Battery life

*The above figures apply when a fully-charged Battery Pack NB-2LH is used.
* The figures above are based on CIPA (Camera & Imaging Products Association) testing standards.

Battery check
Power saving

Provided. Power turns off after 1, 2, 4, 8, 15, or 30 min.

Date/Time battery

CR2016 lithium battery, quantity 1

Dimensions (W x H x D)

126.5 x 94.2 x 64 mm / 5.0 x 3.7 x 2.5 in.


Weight

485 g / 17.1 oz. (body only)

Working temperature range

0°C - 40°C / 32°F - 104°F

Working humidity
*All the specifications above are based on Canon's testing standards.
*The camera's specifications and physical appearance are subject to change without notice.


Visitors of Steves can visit the stores below for real-time pricing and availability. You can also find hot, soon to expire online offers on a variety of cameras and accessories at our very own Camera Deals page.