Nikon Coolpix P1 Review

WiFi Setup & Software
The Coolpix P1 can connect to any computer (Windows XP Pro or Home Edition with SP1 or SP2, Mac OS X 10.3 or later) with Nikon's PictureProject software that has builtin 802.11b or 802.11g WiFi or is hooked up to a standard WiFi access point or router .





The included Wireless Camera Setup Utility makes it quick and easy to configure the camera to "talk" to your WiFi enabled computer or network. You connect the camera to your computer with its USB cable, run the Setup program, follow the onscreen prompts and a few minutes later it's done.

I was amazed how simple it was to get the P1 configured to my D-Link DI-624M router considering I had it setup for maximum wireless security with 128-bit WEP encryption enabled. The setup utility prompts you for all the wireless info that you can easily enter if you have your router's setup screens displayed in your browser - I just cut-n-pasted the 26 digit hexadecimal key which ensured that I got it all entered correctly.

The WiFi novice does not need to know much to get it all going and it works in Ad-hoc mode (connect to a computer with builtin WiFi) or Infrastructure mode (connect to WiFi LAN access point or router). Most notebook computers have WiFi builtin and WiFi routers for home or business users are incredibly cheap these days.

You setup a Profile for each wireless computer or printer that you wish to access, for most people this will only be one but you just as easily configure profiles for your home as well as your business or your friend's house or whatever. Using the optional Nikon PD-10 wireless print adapter (about US$40) you can print wirelessly to any PictBridge enabled photo printer.








Rotate the Mode Dial to the Wireless position.


Select a pre-configured Profile.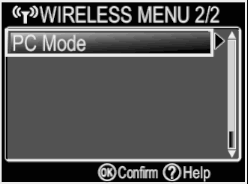 And select the wireless mode desired.
















When the P1 is connected to your computer or network router, the blue indicator light on the side is illuminated. It blinks when the camera is searching for the profiled device, lights steadily when connected and is off when not connected. To save battery power the camera may switch to blinking status if no data is transferred within a set time period.








Pictures are transmitted to your computer. Like a cellphone you'll see a signal strength meter in the upper left of the screen - more bars is better.








When all the pictures have been transferred the camera disconnects to save power.










Pictures transferred from the camera to your computer are automatically stored in your My Pictures folder (WinXP) or Picture folder (Mac) and if PictureProject is installed, it is launched and displays the transferred images.
Visitors of Steves can visit the stores below for real-time pricing and availability. You can also find hot, soon to expire online offers on a variety of cameras and accessories at our very own Camera Deals page.